Flat Iron Farm Hosts Bluegrass for Hospice 10/25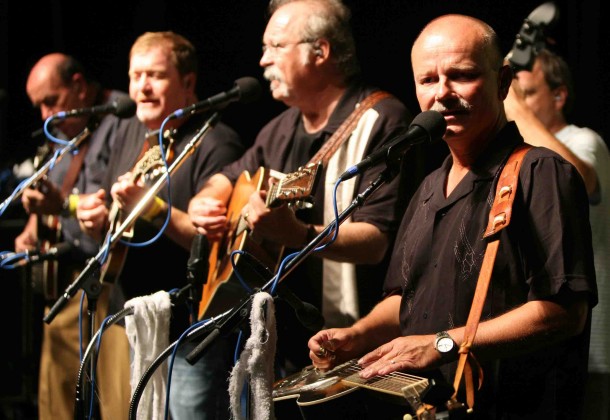 Posted for
Great Mills Trading Post
Leading Edge
In its sixth year at Flat Iron Farm in Great Mills, Maryland, Bluegrass for Hospice, on Oct. 25, 2014, will feature Washington DC's "The Seldom Scene."
The annual event begins at noon with gates opening at 11 am. All proceeds go to support the Hospice House of St. Mary's County.
Flat Iron Farm in Great Mills, Maryland is located on Flat Iron Road just 1.5 miles south of its intersection with MD Route 5.
Throughout the day, Bluegrass Music can be heard by local favorites: Charlie Thompson & Bottom County Bluegrass, Bubby Abell & Spoon Creek, Bluegrass Gospel Express, and David Norris. Added this year for the first time will be Recycled Bluegrass and the Smoke Creek Rounder's. As always, Troy Jones will provide the sound for the day.
The Seldom Scene is an American bluegrass band formed in 1971 in Bethesda, Maryland. The band formed out of a fun weekly jam session that was held in the basement of banjo player Ben Eldridge. These sessions included John Starling on guitar and lead vocals, Mike Auldridge on Dobro and baritone vocals, and Tom Gray on bass. Then mandolinist John Duffey, who had previously played with the Country Gentlemen, was invited to the jam sessions at the time when Auldridge arranged for the group to play as a performing band.
It has been more than 40 years since they began playing together and The Seldom Scene have become one of the single greatest contributors to the progression of bluegrass while setting a new standard and attracting new audiences to Bluegrass music.
Their legendary weekly DC-area residencies included bluegrass versions of country music, rock, and even classical pop. The band's popularity soon forced them to play more than once a week—but they continued to maintain their image as being seldom seen, and on several of their early album covers were photographed with the stage lights on only their feet, or with their backs to the camera. The Seldom Scene has performed at the White House many times, and continues to tour year-round. The current lineup of Seldom Scene are founding member Ben Eldridge (banjo), Lou Reid (mandolin/vocals), Dudley Connell (guitar/vocals), Ronnie Simpkins (bass/vocals), and Fred Travers (dobro/vocals).
So what does it take for a bluegrass band to remain popular for more than four decades? For the Seldom Scene, it's taken not only talented musicians, a signature sound, and a solid repertoire, but also a sheer sense of fun.
The longtime pillars of the bluegrass world are back with their latest titled CD, LONG TIME…..SELDOM SCENE. This is The Seldom Scene's first ever release with Smithsonian Folkways, and captures the identity and playfulness that have endeared the group to audiences around the world for so long.
The newly recorded collection features fresh interpretations of the 16 most requested tunes and is the band's first studio album since the GRAMMY nominated album Scenechronized in 2007. It's a family reunion in all the best ways, featuring the current-and longest running- lineup, joined by founding members Tom Gray and John Starling and guests Chris Eldridge, Emmylou Harris, and Rickie Simpkins. They will have this CD available with them at the Bluegrass for Hospice.
There will be many vendors with an array of merchandise to sell 50/50 raffles throughout the day, including a $500.00 money raffle, door prizes, and a silent auction with many fantastic items donated by the local community.
Fine seafood and other specialties will be available for sale provided by the 3rd District Optimist Kruzin' Kafe, and alcohol is BYOB. The event is held inside at the closed and covered arena which is handicap accessible, with portable bathroom facilities located outside. Non-perishable food items will also be collected for the Helping Hands Food Pantry in Hollywood, MD.
Sponsors for Bluegrass for Hospice-2014 are: Ms. Christine R. Wray & Mr. John E. Felicitas; Hearing Professionals; Jan Barnes-Century 21 New Millennium; and many, many more.
Tickets are $25.00 in advance and $30.00 at the door. To purchase tickets in advance send a check or money order payable to "Hospice of St. Mary's" along with a self-addressed stamped envelope to P.O. Box 741, California, MD 20619.
The deadline for advanced tickets to be mailed is October 15, 2013. You can also get them instantly online through Brown Paper Tickets by going to www.bluegrassforhospice.com/4. Children under 12 are admitted for free with a paying adult.   For more information on this year's Bluegrass for Hospice-2014, call (301) 737-3004 or go online at www.bluegrassforhospice.com.
Since the beginning, 5 years ago, Bluegrass for Hospice has turned over $97,000 to the Hospice of St. Mary's, Hospice House.