New Flag Is Part of Defender's Day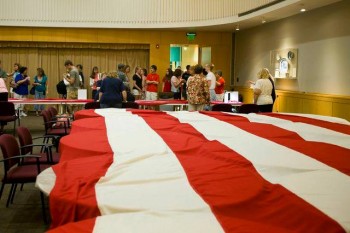 More than 1,200 volunteers have laid stitch after stitch in row after row at the Maryland Historical Society this summer to recreate the Star-Spangled Banner, the flag that inspired the writing of our national anthem.
And to commemorate the completion of the sewing, the flag will be flown in many places, including during Defender's Day Weekend Friday, Sept. 13, through Sunday, Sept. 15, at Fort McHenry National Monument and Historic Shrine. Defender's Day honors the successful defense of Baltimore from British attack during the War of 1812 and the writing of "The Star-Spangled Banner" in 1814.
The Maryland Historical Society is recreating the 30 x 42 foot Star-Spangled Banner flag. Using authentic materials, volunteers have put in countless hours and more than 150,000 stitches to the flag. The flag will also be used for school programs and other public events in the Bicentennial year of the writing of the national anthem and the defense of the city of Baltimore.
On Sunday, Sept. 15, the effort also will be highlighted in a story that airs on CBS News Sunday Morning with Charles Osgood.
The historical society is partnering with Fort McHenry, the United States Mint, and the U.S. Army. For information, go to the historical society's web site.