Fire Scout Boss Returns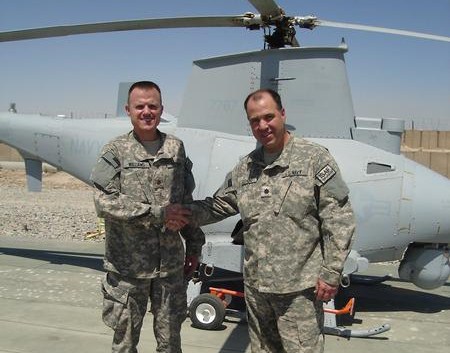 Just in time for the holidays, a member from Fire Scout Detachment Alpha returned here after an eight-month deployment in Afghanistan.
Lt. Cmdr. Tom Williams, Alpha detachment's assistant officer in charge, returned to Pax River mid-November after supporting Fire Scout's first land-based deployment.
Williams is not a returning individual augmentee, rather he is a Navy Reservist assigned to the Navy Reserve Program Executive Office for Unmanned Aviation and Strike Weapons (PEO U&W) and a Navy civilian assigned to NAVAIR's Avionics department (AIR 4.5.1).
"It's an honor to say I made a contribution to Fire Scout's first deployment in Afghanstan," said Williams. "I am eager to share what I've learned over the last several months with my team here."
Earlier this year, leadership from the Fire Scout program office (PMA-266) selected Williams to deploy with the detachment because of his background and experience with unmanned air vehicles.
In 2008, during his first Reserve deployment to Iraq, Williams supported the Tiger Shark UAV program. In 2010, he deployed to Afghanistan as a civilian to support the Persistent Ground Surveillance System's Joint Capability Technology Demonstration.
"Tom was a perfect fit for this tour of duty," said Dave Maier, Vertical Take Off and Landing UAV team lead for PMA-266. "He played an instrumental role in the day-to-day operations because of his expertise."
As assistant officer in charge of a 28-person detachment, Williams covered Fire Scout's night operations. He coordinated all facets of the flight including accepting an aircraft for tasking; interacting with air traffic control and battle space commander; and tactical coordination of the mission.
Williams also had a collateral duty as a maintenance officer. The government-owned/contractor-operated deployment required oversight from Williams to ensure contractors followed Navy standard operating procedures.
"The successes we achieved in a short time are amazing and very rewarding," said Williams. "We went from just having mounds of dirt on a unprepared site when we first arrived in Afghanistan, to actually flying the Fire Scout in just one month's time, giving us the ability to provide our customer with real-time full motion video."
Williams returns to his civilian role with an increased breadth of knowledge on the Fire Scout aircraft and sensors, which he believes will help with development of other UAVs.
"A lot of what I learned on this deployment is directly transferrable to AIR 4.5," said Williams. "I have a greater understanding of Fire Scout's capability which can be applied to other UAVs we are working on here."
Willams looks forward to future opportunities as a reservist.
"I plan to continue to serve as a reservist as long as I possibly can," Williams added. "I am having fun and I know I am still making a difference."
Source: PEO(U&W) Public Affairs