F-35 Completes Flight Test Milestones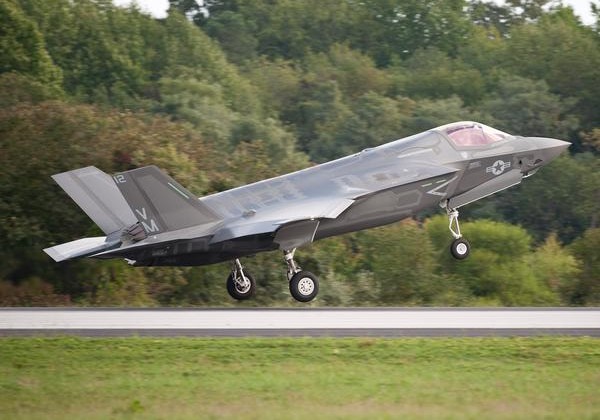 Morning Coffee is a robust blend of links to news around the internet concerning the Naval Air Station Patuxent River economic community. The opinions expressed here do not necessarily reflect those of the Leader's owners or staff.

The F-35 Lightning II achieved 3 flight test milestones in Point Mugu Sea Test Range airspace last week, according to PCBDESIGN007. In three separate tests the stealthy fighter demonstrated air-to-air combat capability, completed the first flight test with the next level software load, and accomplished a landing at the maximum test speed and drop rate. An F-35B sequentially engaged two aerial targets with two AIM-120 Advanced Medium Range Air-to-Air Missiles during a Weapon Delivery Accuracy mission.
Senator Ben Cardin (D-Md.) believes firm rules are needed to ensure that a wind farm under development on the Eastern Shore doesn't interfere with fighter jet testing at NAS Pax River, reports the AP via the Washington Post. Mr. Cardin met Monday with defense contractors and Southern Maryland economic development officials to discuss issues involving the air station and said the Great Bay wind power project remains a concern.
NAVAIR News points a spotlight on Don Balcom, a NAVAIR mechanical engineer and participant in the NAVAIR Leadership Development Program. Mr. Balcom, a mechanical engineer working for the Target Engineering Support Branch within NAVAIR's Atlantic Targets and Marine Operations Division, has become an award-winning international Paralympic runner. While in the Navy, Mr. Balcom was diagnosed with Retinitis Pigmentosa and was subsequently discharged and declared legally blind by age 31. He is also involved with the Individuals with the Targeted Disabilities Advisory Team.
Adm. Mike Rogers, the new head of the NSA and US Cyber Command, told his employees yesterday to forget Edward Snowden and concentrate on the mission, reports Breaking Defense. "One of the things I try to tell the work force out there is this is not what is going to define us," he said.
The Department of Veterans Affairs official internal data show it failed to treat three out of five veterans within its 14-day target period for care, reports USA Today. Those numbers may actually be even worse according to an audit released last week that shows rampant fraud in keeping official appointment records. Some 13 percent of schedulers at 216 VA health facilities said they were instructed in how to falsify the wait times they reported to VA headquarters. At least one instance of false scheduling occurred at 64 percent of the facilities, the audit showed.
The Navy is considering implementing large-scale commercial components into a new amphibious assault ship as a way to both achieve performance goals and lower construction costs, reports DoDBuzz. The LXR, a new amphibious ship, could be a new design or a configuration of several existing ships.
The biggest threat to Navy carrier strike groups (CSG) may be saturation strikes from Chinese anti-ship cruise missiles, according to Politico. A paper written by cruise missile and military specialists states that, due to the low cost of developing, deploying and maintaining cruise missiles, the Chinese believe that cruise missiles possess a 9:1 cost advantage over the expense of defending against them. China assumes that "quantity can defeat quality" by simply saturating a CSG with a variety of high-speed, low-altitude, cruise missiles.
A Chinese general told a global audience at a regional security conference this weekend that American rhetoric about the South China Sea risks provoking Beijing, reports The Wall Street Journal. Maj. Gen Zhu Chenghu used salty language to suggest that the US would not be a reliable ally if China came to blows with any of its neighbors. "As US power declines, Washington needs to rely on its allies in order to reach its goal of containing China's development," he said. "But whether it will get involved or use military intervention once there is a territorial dispute involving China and its neighbors, that is another issue."