F-35s, Microwave Missiles – US Counters N Korea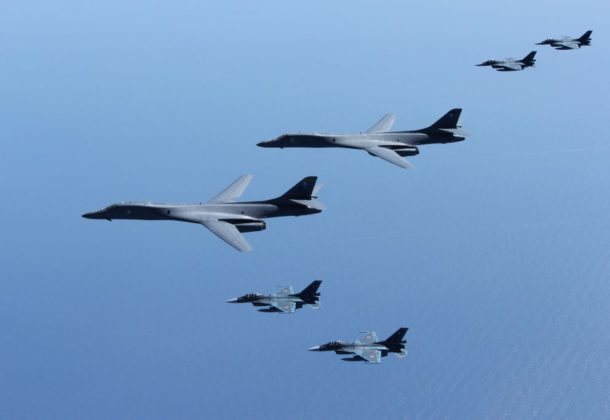 B-1B Lancer bombers flanked by USMC F-35 Lightning II and JASDF F-2 fighters execute a bilateral mission over the Pacific Ocean on Nov. 18, 2017. Photo by Japan Air Self Defense Force
Morning Coffee is a robust blend of links to news around the Internet concerning the Naval Air Station Patuxent River

economic community. The opinions expressed here do not reflect opinions of the Leader's owners or staff.
NBC News reports on a US microwave weapon able to fry North Korean missile controls. The weapons, known as CHAMPS, are fitted on air-launched cruise missiles and delivered from B-52 bombers and have a range of 700 miles. Aviation Week reports that an F-35 armed with missiles could destroy a North Korean ballistic missile within seconds of its launch.
The New York Times reports that the US missile defense may have failed in Saudi Arabia, despite November's official report that Saudi forces shot down a ballistic missile fired by Yemen's Houthi rebel group at Saudi Arabia's capital, Riyadh.
The US's state-of-the-art Raptor fighter jet malfunctioned after landing at a South Korean base in Gwangju, 170 miles south of Seoul, but then couldn't move and had to be towed to a hangar during joint war games, reports Stars and Stripes.
The Trump administration's military buildup would cost $683 billion more than current spending plans over the next decade, reports Defense News. The Congressional Budget Office analysis sets the resulting base budget at $688 billion by 2027, more than 20 percent larger than peak defense spending during the 1980s.
Politico reports top Pentagon officials, lawmakers, and defense industry executives say few concrete steps have been taken to meet President Donald Trump's vision of a military buildup. DefSec James Mattis says a 3 percent to 5 percent annual funding increase is needed to make the vision a reality.
The Arab League, Turkey, and Jordan warn the US against moving its embassy to Jerusalem, reports DW News. Trump continues to mull recognizing the city as Israel's capital, a move anticipated to fuel violence in the region. The Trump administration allowed a deadline to pass Monday for signing a waiver that keeps the embassy in Tel Aviv, reports The Washington Post.
Military Times reports on the details of the 2018 National Defense Authorization Act that passed the Senate and was sent on to the president last month. A provision in the act requires the Army to prepare 8,000 to 10,000 surplus M1911 pistols for civilian sale in fiscal 2018. The legislation details how the iconic firearms can be transferred to the Civilian Marksmanship Program that allows eligible civilians to purchase surplus military weapons.
Foreign object damage is blamed for 2016 Harrier crash off North Carolina's Atlantic coast, reports Marine Corps Times. The object was likely a "28 threads-per-inch fastener with a 5/16th-inch double hexagon bolt head," according to a redacted copy of the crash investigation.
A North Carolina-based defense contractor was sentenced to five years in prison for defrauding the government of more than $15 million through two separate conspiracies, reports Military Times. Philip Mearing, 48, is the former president of Global Services Corp. and in that role, with associates Kenneth Bricker and Ken Deines, made fraudulent payments to dummy corporations, according to the US Attorney's Office for the Eastern District of Virginia.
The Navy's second stealthy destroyer heads to sea for the first time, reports Navy Times. The future USS Michael Monsoor carefully navigated the winding Kennebec River to reach the North Atlantic, and will be at sea for several days before returning to Bath Iron Works for tweaks and adjustments.
Contracts:
PAE Applied Technologies LLC, Fort Worth, Texas, is being awarded $64,669,679 for modification P00059 to a previously awarded cost-plus-fixed-fee contract (N00421-14-C-0038) to exercise an option for range engineering, operations and maintenance services in support of the Naval Air Warfare Center Aircraft Division, Atlantic Test Range and the Atlantic Targets and Marine Operations Division. Services to be provided include system operations, laboratory and field testing, marine operations and target support, engineering, range sustainability, maintenance, data reduction and analysis. Work will be performed in Patuxent River, Maryland, and is expected to be completed in December 2018. Fiscal 2018 research, development, test and evaluation (Navy); fiscal 2018 operations and maintenance (Navy); and working capital (Navy) funds in the amount of $27,920,366 will be obligated at time of award, $2,415,146 of which will expire at the end of the current fiscal year. The Naval Air Warfare Center Aircraft Division, Patuxent River, Maryland, is the contracting activity.
Leidos Inc., Reston, Virginia, has been awarded an $11,664,071 modification (P00003) to contract W911W4-17-C-0009 to maintain command, control, communications, computers and information management services in support of US Army Intelligence and Security Command; and Army G2. Work will be performed in Fort Belvoir, Virginia; Arlington, Virginia; Shaw Air Force Base, South Carolina; Huntsville, Alabama; Kuwait; and Belgium, with an estimated completion date of April 30, 3018. Fiscal 2018 operations and maintenance (Army) funds in the amount of $1 were obligated at the time of the award. US Army Contracting Command, Warren, Michigan, is the contracting activity.
CORRECTION: A Sept. 12 announcement of a $180,000,000 contract to provide design-build, construction, and medical repair and renewal services for medical facilities, systems, and equipment at government medical facilities located throughout the U.S., Alaska, Hawaii, and US territories, originally omitted Kirlin Builders LLC, Rockville, Maryland (W912DY-18-D-0010), due to a protest of the initial contract award. All other information in the announcement was correct.