F-35B's Gun Pod Trials Completed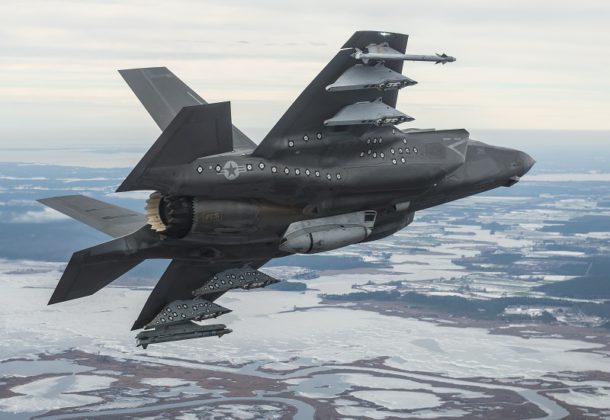 Morning Coffee is a robust blend of links to news around the Internet concerning the Naval Air Station Patuxent River

economic community. The opinions expressed here do not reflect opinions of the Leader's owners or staff.
Many in Israel are wary about President Donald Trump's $110 billion deal with Saudi Arabia, reports Defense News. The deal could total up to $350 billion over the next decade. "We have also to make sure that those hundreds of billions of dollars of weapons to Saudi Arabia will not, by any means, erode Israel's qualitative edge, because Saudi Arabia is still a hostile country without any diplomatic relations and nobody knows what the future will be," Israel's energy minister said.
In a speech Sunday, President Trump urged Arab and Islamic leaders to unite and do their share to defeat Islamist extremists, Reuters reports, making an impassioned plea to "drive out" terrorists while toning down his own harsh rhetoric about Muslims.
North Korea's main spy agency has a special cell called Unit 180 that is likely to have launched some of its most daring and successful cyber attacks, reports Reuters. North Korea has been blamed in recent years for a series of online attacks, mostly on financial networks, in the US, South Korea, and many other countries. Cyber experts believe North Korea was behind the latest ransomware cyber attack, WannaCry.
US officials continue to push diplomatic and economic measures, hopeful that with the help of China, it can pressure Kim Jong Un to halt North Korea's missile tests voluntarily, Military Times reports. The Trump administration sees no good military options in North Korea. Military leaders fear that any pre-emptive strike would almost certainly set in motion a "cataclysmic chain of events resulting in profound loss of life."
DefSec James Mattis has made three appointments to his team at the Pentagon, The Hill reports. Stephen Kitay is the new deputy assistant secretary of defense for space policy; Sergio de la Peña is the deputy assistant secretary of defense for Western Hemisphere affairs; and Vayl Oxford is the director of the Defense Threat Reduction Agency.
Researchers have found that insomnia and sleep apnea are on the rise for active-duty military personnel, Military Times reports. "Sleep disorders are a serious problem that interferes with the ability of soldiers to do their jobs effectively," said Harris Lieberman of the US Army Research Institute of Environmental Medicine.
Russia's Defense Ministry says its Navy ships will fire missiles during drills from May 24-27 off the Libyan coast, Russian Beyond the Headlines reports. The maneuvers of the Russian fleet — seven ships and a submarine — will take place under the supervision of NATO reconnaissance planes and ships.
Contracts:
Northrop Grumman Systems Corp., San Diego, California, is being awarded $13,000,000 for firm-fixed-fee delivery order 0044 against a previously issued basic ordering agreement (N00019-15-G-0026) to procure one multi-function active sensor for the MQ-4C Triton unmanned aircraft system. Work will be performed in Baltimore, Maryland, and is expected to be completed in February 2021. Fiscal 2017 research, development, test and evaluation (Navy) funds in the amount of $13,000,000 are being obligated at time of award, none of which will expire at the end of the current fiscal year. The Naval Air Systems Command, Patuxent River, Maryland, is the contracting activity.
CGI Federal Inc., Fairfax, Virginia, was awarded a $13,849,802 firm-fixed-price contract for the Army Contract Writing System. Bids were solicited via the Internet with nine received. Work locations and funding will be determined with each order, with an estimated completion date of May 21, 2027. US Army Contracting Command, Rock Island Arsenal, Illinois, is the contracting activity (W52P1J-17-D-0031).