F-35s Gaining Foothold in Europe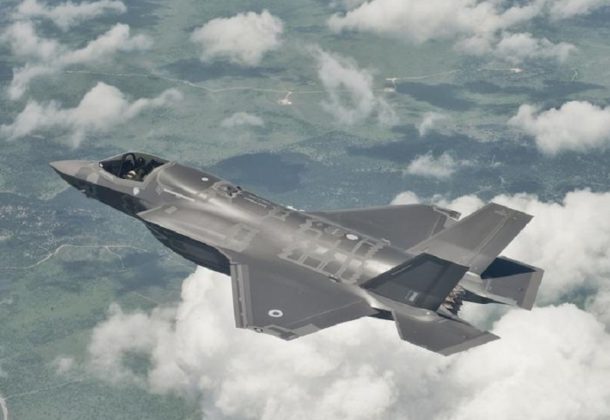 Morning Coffee is a robust blend of links to news around the internet concerning the Naval Air Station Patuxent River

economic community. The opinions expressed here do not reflect opinions of the Leader's owners or staff.
The F-35 is rapidly gaining a foothold in the US and Europe, reports Reuters. The jet's high-end sensors will give it a bigger role across all domains than previous fighter planes, says Gen. Tod Wolters, top commander of US and NATO air forces in Europe. Norway, Great Britain, and Italy will have received 40 F-35s by the end of the year, with the first Dutch jets to arrive next year, and the first US jets in FY2021. "It's a game-changing system," Wolters says. "We're in the process of integrating the F-35 into the complete environment, not just the airspace."
The US is pressing China and Russia to strictly enforce United Nations sanctions to get North Korea to give up its nuclear weapons, reports The Associated Press. President Donald Trump is frustrated over the lack of progress on North Korea's denuclearization plans, reports The Washington Post.
CIA official Michael Collins says China is waging a "quiet kind of cold war" against the US, using all its resources to try to replace America as the leading power in the world, reports The Associated Press. He says China doesn't want to go to war, but it is working on multiple fronts to undermine the US in ways that are different than the more well-publicized activities being employed by Russia.
Days after President Donald Trump challenged whether the US should honor its commitments to defend tiny NATO member Montenegro, the Pentagon reassured its Eastern European allies it would continue to be a deterrent presence against Russian aggression and committed an additional $200 million to the defense of Ukraine, reports Military Times.
The US Africa Command's armed unmanned surveillance flights over Niger have put a scare into local militants, Stars and Stripes reports. Earlier this year, the command began drone flights there, adding more firepower in the country where an Oct. 4 attack on a team of Green Berets raised questions about whether troops were carrying out dangerous missions without sufficient backup.
The US Army will ultimately replace all of its unmanned aircraft systems with new ones to meet the missions it envisions carrying out in the future, but the service's current Textron-made Shadow system may be the first to be unseated by a new UAS, reports Defense News.
The Harry S. Truman Carrier Strike Group pulled into Naval Station Norfolk over the weekend to little of the usual fanfare. It was not a homecoming, reports The Virginian-Pilot. The ship's return after a little over three months is the first in a broader strategy for the military to become more unpredictable. The carrier remains mission-ready and could be deployed at any time over the next several months. This leaves potential US foes uncertain about troop movements, reports Navy Times.
The latest design concept for a national World War I memorial has been approved by the US Commission of Fine Arts, reports Military Times. Plans call for the memorial to built at Pershing Park along Pennsylvania Avenue in Washington, DC, by 2020.
Military.com features Sam Folsom, thought to be the last living Marine Corps World War II combat pilot. Lt. Col. Folsom was one of the first echelon of 17 Marine fighter pilots with Marine Fighter Squadron 121 tasked with defending Guadalcanal. A late update to the story notes that Lt. Col. Folsom is not the only surviving Marine Corps WWII combat pilot, and tells readers there will be a follow-up story.
Contracts:
BANC 3 Inc., Princeton, New Jersey (W909MY-18-D-0015); Barbaricum LLC, Washington, District of Columbia (W909MY-18-D-0016); Dynamis Inc., Fairfax, Virginia (W909MY-18-D-0017); Polaris Alpha Advanced Systems Inc., Fredericksburg, Virginia (W909MY-18-D-0018); Fibertek Inc., Herndon, Virginia (W909MY-18-D-0019); Intuitive Research and Technology Corp., Huntsville, Alabama (W909MY-18-D-0020); MicroTechnologies LLC, Vienna, Virginia (W909MY-18-D-0021); Middle Bay Solutions II LLC, Huntsville, Alabama (W909MY-18-D-0022); Manufacturing Techniques Inc., Kilmarnock, Virginia (W909MY-18-D-0023); and Trideum Corp., Huntsville, Alabama (W909MY-18-D-0024), will compete for each order of the $192,000,000 cost-plus-fixed-fee contract for rapid acquisition of materials for prototyping. Bids were solicited via the Internet with 13 received. Work locations and funding will be determined with each order, with an estimated completion date of July 22, 2021. US.Army Contracting Command, Aberdeen Proving Ground, Maryland, is the contracting activity.
Chemring Sensors & Electronic Systems Inc., Dulles, Virginia, was awarded a $14,339,127 firm-fixed-price contract for engineering changes to the Husky Mounted Detection systems. One bid was solicited with one bid received. Work will be performed in Dulles, Virginia, with an estimated completion date of Nov. 23, 2020. Fiscal 2018 research, development, test and evaluation funds in the amount of $2,820,397 were obligated at the time of the award. US Army Contracting Command, Aberdeen Proving Ground, Maryland, is the contracting activity (W909MY-18-C-0010).