F-35 Scores Big Buy & Big Success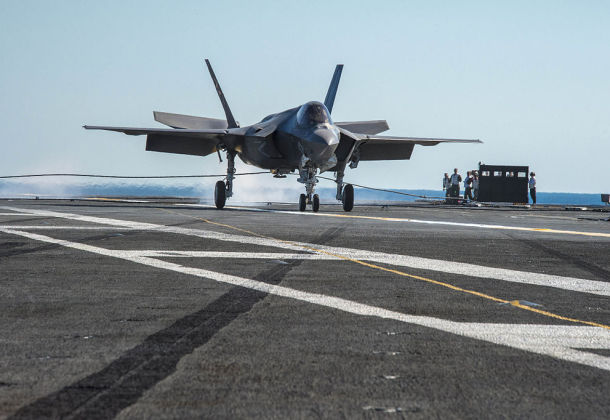 Morning Coffee is a robust blend of links to news around the internet concerning the Naval Air Station Patuxent River economic community. The opinions expressed here do not necessarily reflect those of the Leader's owners or staff.

The Pentagon ordered its eighth group of F-35 fighters for $4.7 billion, a 57 percent price drop from the first purchased from Lockheed. The deal, reports Reuters, includes 29 for the US and 14 for Israel, Japan, Norway, Britain, and Italy. In the days leading up to the purchase the F-35 surpassed expectations in its first sea trials. National Security writer Loren Thompson, reporting in Forbes, heaps more praise on the F-35's performance in its first sea tests.
Working to avoid another stopgap government-funding measure (the current one expires expire Dec. 11),  Senate and House Appropriations chairs, Sen. Barbara Mikulski, D-Md. and Rep. Harold Rogers, R-Ky. are focused only on a longer-term funding bill. However, House conservatives continue threats to shutdown government to protest White House immigration action, reports Defense News.
There is some military optimism regarding the defense budget as a Republican majority congress comes into office, according to Bloomberg, but Senator Jeff Sessions, R-AL, head of Senate Budget Committee come January and other lawmakers may prove more interested in deficit reduction than increased Pentagon spending. And the Texan Republican taking over the House Armed Services Committee, Mac Thornberry, wants procurement reform before lifting sequestration caps, reports International Business Times.
The Navy's plans to cap deployments at seven months could be sunk by sequestration, reports Navy Times.
Military families are contacting congress members this week to protest cuts to military housing and health care benefits proposed in upcoming budget cutting efforts, reports The Hill.
Russia and China will conduct joint naval exercises in the Mediterranean next spring, USNI.org reports from the Russian TASS Russian news agency, and another joint exercise in the Pacific.
China showed off its road-mobile JY-26 "Skywatch-U" 3-D long-range air surveillance radar at China Airshow in Zhuhai, highlighting the nation's interest in countering stealth aircraft  such as B-2 bombers and F-22 and F-35 jet fighters, reports Defense News.
CACI International has won a $182 million task order to provide integrated logistics and acquisition support to the Naval Sea Systems Command PEO Integrated Warfare Systems. The company won this contract through the Navy's SeaPort-e contract. PEO Integrated Warfare Systems delivers enterprise solutions for Naval warfare systems in the areas of air defense, missile defense, undersea warfare, anti-submarine warfare, and anti-surface warfare within the Fleet and Joint Forces. Under the task order, CACI will develop and manage cross-program and cross-organization policies and practices for acquisition and integrated logistics support, reports Washington Technology from a CACI release.