Is F-35 'Ready to Go at 50 Below'?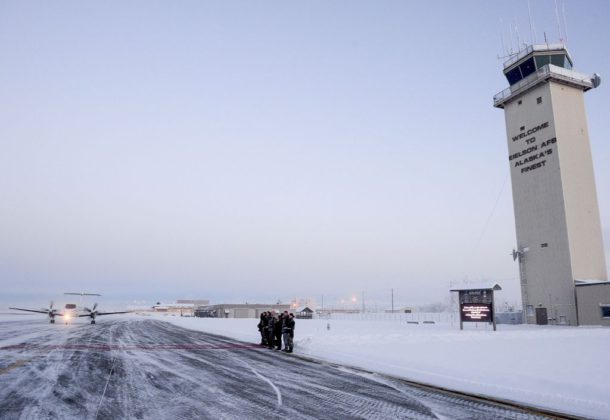 Morning Coffee is a robust blend of links to news around the Internet concerning the Naval Air Station Patuxent River

economic community. The opinions expressed here do not reflect opinions of the Leader's owners or staff.
ExecutiveGov reports the Air Force plans to test the F-35A fighter jet in harsh Alaskan weather conditions at Eielson AFB, where an AF news release on the testing reports the Icemen Team remains "Ready to go at 50 below!"
DoD's top weapons buyer seeks oversight shift from the Pentagon back to the services, reports Aviation Week, although the JSF, which spans multiple services, is an exception, said Ellen Lord, DoD new head of acquisition, technology, and logistics.
Influential Armed Services' congressman calls on the Navy to enter its oldest 11 cruisers into a service-life extension program rather than retire them at the end of their 35-year hull life in the coming years, reports Defense News.
Researchers discover a serious security flaw in the security protocol known as WPA2 that protects tens of millions of consumer, business, and government Wi-Fi networks, reports Politico. The vulnerability affects any wireless device from computers and smartphones to Internet-connected thermostats and televisions.
North Korea warns countries at the UN: Don't join the US in military action against us and you will be safe from retaliation, MSN reports.
A US monster nuclear submarine heading to South Korea may be packed with Navy SEALs, reports Business Insider. The USS Michigan appears to have two silos for the tiny submarines that transport SEALs and their equipment to their covert missions in enemy territory.
The top Democrat on the Senate Armed Services Committee, Jack Reed (D-RI),  after a trip to the demilitarized zone between North and South Korea, says South Koreans are "confused" and "a little bit shaken" by President Donald Trump's rhetoric on North Korea, The Hill reports.
President Trump says now an increase of US nuclear weapons is not necessary, but that the country's nuclear arsenal must be in "tiptop shape," reports The Associated Press.
VA releases plans for sweeping health care overhaul that could send thousands of new veterans into the private sector for care, reports Military Times, at government expense.
Pentagon says Iraqi train-and-equip mission could end if attacks on Kurds continue, reports Defense News. The US-led task force in command of operations in Iraq and Syria issued a statement that urged all sides to avoid escalations, but downplayed the movement of Iraqi military vehicles into Kirkuk as "coordinated movements, not attacks," and called the predawn gunfire "a misunderstanding and not deliberate."
A group of Florida tomato growers could help derail NAFTA, reports The Washington Post. As the US, Canada, and Mexico prepare to discuss revisions to the North American Free Trade Agreement, there is fear that the talks could collapse around one of several "poison pill" provisions, one that includes the demands of the Florida tomato growers, who say Mexico is selling tomatoes in the US at artificially low prices. The Florida producers are pushing for stronger anti-dumping measures — an idea that has been soundly rejected by the Mexicans.
Trump said the Democrats are being unfair to his nominees, reports The Hill. "They're holding up every single nomination. … They're obstructing — I'm telling you they're not good politicians, but they're very good at obstruction," the president said.
Contracts:
Lockheed Martin Corp., Lockheed Martin Aeronautics Co., Fort Worth, Texas, is being awarded $11,566,000 for cost-plus-fixed-fee undefinitized delivery order 0144 against a previously issued basic ordering agreement (N00019-14-G-0020). This order provides support for the irst of class flying trials and the release of the military permit to fly for F-35B aircraft to operate from Queen Elizabeth class carriers in support of the government of the United Kingdom. Work will be performed in Fort Worth, Texas (68 percent); Samlesbury, United Kingdom (26 percent); Orlando, Florida (3 percent); and Patuxent River, Maryland (3 percent), and is expected to be completed in March 2018. International partner funds in the amount of $5,783,000 will be obligated at time of award, none of which will expire at the end of the current fiscal year. The Naval Air Systems Command, Patuxent River, Maryland, is the contracting activity.
Delphinus Engineering Inc., Eddystone, Pennsylvania (N4523A18D1055); QED Systems Inc., Virginia Beach, Virginia (N4523A18D1053); Pacific Ship Repair and Fabrication Inc., San Diego, California (N4523A18D1050); Propulsion Controls Engineering, Everett, Washington (N4523A18D1056); Platypus Marine Inc., Port Angeles, Washington (N4523A18D1051); Puglia Engineering Inc., Bellingham, Washington (N4523A18D1052); and Tecnico Corp., Chesapeake, Virginia (N4523A18C1054), are being awarded a firm-fixed-price, indefinite-delivery/indefinite-quantity, multiple award contracts (MAC) with a cumulative maximum ceiling value of $75,000,000 over a five year ordering period for the accomplishment of repair and maintenance requirements on Navy waterborne vessels, surface ships and submarines visiting or homeported in Bremerton, Everett, Keyport, and Bangor, Washington. Typical work under the scope of the MAC includes repair; maintenance; preservation; alteration; and modernization of equipment, systems, and sub-system components work while the ship is in dry dock, access from the dry dock floor, coordination and integration with other dry dock floor work, or integration into the repair value stream. Under the terms of the contracts, MAC holders will compete for individual delivery orders for a base year plus four one-year option periods. Work will be performed at the Puget Sound Naval Shipyard and Intermediate Maintenance Facility in Bremerton, Washington (85 percent); Naval Base Kitsap-Banger, Washington (10 percent); and Everett, Washington (5 percent), and is expected to be completed by October 2022. Fiscal 2018 operations and maintenance (Navy) funds in the amount of $7,000 combined ($1,000 per recipient) will be obligated at the time of award to satisfy the minimum guarantee to each MAC holder and will expire at the end of the current fiscal year. This contract was competitively procured via the Federal Business Opportunities website, with seven offers received and accepted. The Puget Sound Naval Shipyard and Intermediate Maintenance Facility/Northwest Regional Maintenance Center, Bremerton, Washington, is the contracting activity.