F-35 on the International Stage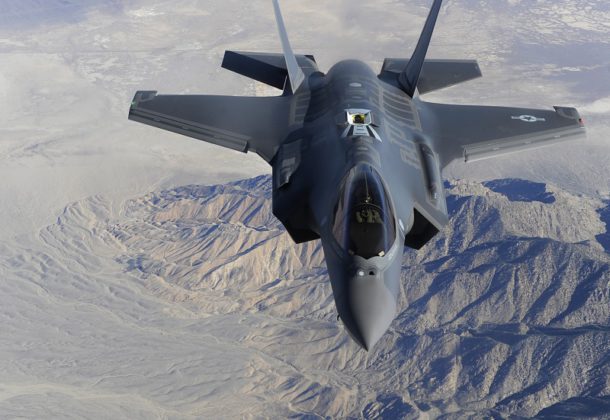 Morning Coffee is a robust blend of links to news around the Internet concerning the Naval Air Station Patuxent River

economic community. The opinions expressed here do not reflect opinions of the Leader's owners or staff.
Although the US Air Force's variant of the F-35 JSF has participated in other air shows, the demonstrations in the upcoming show in Paris will be the first opportunity for international audiences to see the F-35's aerodynamic capabilities, reports Defense News, including acrobatic and high G-force maneuvers on par with what viewers see during Blue Angels performances.
The Conversation asks, "What Went Wrong With the F-35, Lockheed Martin's Joint Strike Fighter?" The jet has turned out to be none of the things promised, the article states. The New Economy says, "[O]ne of the most ambitious and troubled military hardware projects in history, the Lockheed Martin F-35 Lightning II is as spectacular as it is expensive."
The US Navy still doesn't know what is causing problems with the oxygen systems in its training aircraft and fighters, Marine Times reports. VADM Paul A. Grosklags, commander of Naval Air Systems Command, told lawmakers this week that the service wasn't "doing well on the diagnosis."
The Advanced Display Core Processor, thought to be one of the fastest jet computer processors in the world, is being placed in the Air Force's F-15 fighter jets. The super high-speed computer is intended to improve the aircraft's electronic warfare ability, Defense Systems reports.
Defense News reports US aerospace and defense exports growth has slowed after its 60 percent increase from 2010 to 2015.
DefSec James Mattis told Congress this week, "For all the heartache caused by the loss of our troops during these wars, no enemy in the field has done more harm to the readiness of our military than sequestration," reports GovConWire. It will take years of stable budgets and increased funding to fix the problem, he said. Gen. Joe Dunford of the Joint Chiefs of Staff said anything less than 3 percent growth annually could lead to America falling behind competitors such as China or Russia, reports Defense News.
President Donald Trump has opened the door for sending more US troops into Afghanistan. He gave DefSec Mattis the authority to determine troop levels there, The New York Times reports. Mr. Mattis is believed to favor sending several thousand more American troops to strengthen the effort to advise Afghan forces. The secretary told lawmakers Tuesday that the US is not gaining in the fight to stabilize Afghanistan, Voice of America reports, and he vowed to present a strategy to Congress next month.
A suspected drone from North Korea photographed a US missile defense system in South Korea before it crashed near the border where it was found, reports Defense News.
A hundred years ago in a blinding fog, the US Coast Guard cutter McCulloch sank off the coast of California. USCG officials said this week that the McCulloch has been found, ABC News reports. Plans are to leave the ship there.
Contracts:
United Excel Corp., Merriam, Kansas (W91278-17-D-0021); DMCA Inc., Arlington, Texas (W91278-17-D-0022); ABM Government Services LLC, Hopkinsville, Kentucky (W91278-17-D-0023); J&J Worldwide Services, Austin, Texas (W91278-17-D-0024); Global Engineering and Construction LLC, Renton, Washington (W91278-17-D-0025); Barlovento LLC, Dothan, Alabama (W91278-17-D-0026); Kirlin Builders LLC, Rockville, Maryland (W91278-17-D-0027); Walsh Construction Co. II LLC, Chicago, Illinois (W91278-17-D-0028); and The Robins and Morton Group, Birmingham, Alabama (W91278-17-D-0043), will share in a $249,000,000 firm-fixed-price contract for two-phase design build for healthcare facilities in support of the US Army Medical Command. Bids were solicited via the Internet with 18 received. Work locations and funding will be determined with each order, with an estimated completion date of June 13, 2020. US Army Corps of Engineers, Mobile, Alabama, is the contracting activity.
Lempugh Inc., Laurel, Maryland, was awarded a $94,962,069 firm-fixed-price contract for the Army National Guard's non-commercial sustainment announcement program. Bids were solicited via the Internet with two received. Work location and funding will be determined with each order, with an estimated completion date of June 13, 2022. US Army National Guard Bureau, Arlington, Virginia, is the contracting activity (W9133L-17-D-0001).