F-35 Not Likely Combat Ready in 2018-19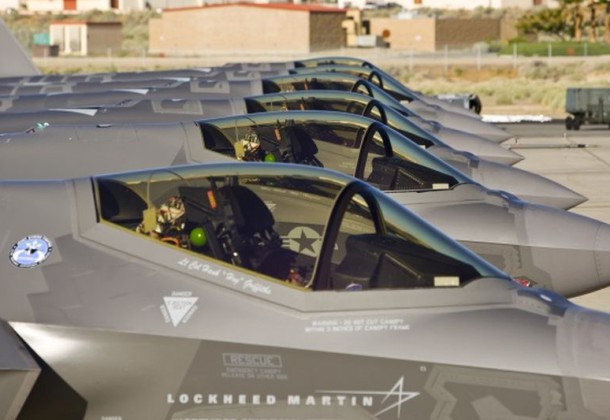 Morning Coffee is a robust blend of links to news around the Internet concerning the Naval Air Station Patuxent River

economic community. The opinions expressed here do not reflect opinions of the Leader's owners or staff.
Not likely the F-35s will be combat ready in 2018-19 according to Pentagon finds of more than 200 deficiencies in the stealth jets, reports International Business Times. The report says deficiencies "continue to be discovered at a rate of about 20 per month."
The Hill reports on the incoming Trump administration's desire to increase military spending and the many obstacles. Trump has said he wants to expand the Navy's fleet of 274 to 350 ships, which experts say will cost about $165 billion over 30 years, impossible without a dramatic increase in the defense budget, currently at $619 billion. Sen. John McCain (R-Ariz.) and Rep. Mac Thornberry (R-Texas), chairmen of the Armed Services Committees, are preparing a 2018 defense budget plan of about $640 billion.
According to Military Times, operation and maintenance costs were about 50 percent of the US defense budget in 2015, about $251 billion after the overseas contingency operations were accounted for, according to a report prepared by the Congressional Budget Office, which notes that growth despite a shrinking number of active-duty military personnel.
Philip Bilden, a private equity investment firm executive, is the leading contender for President-elect Donald Trump's Navy secretary, reports USNI. Mr. Bilden served s a military intelligence officer in the Army Reserve from 1986 to 1996 achieving the rank of captain. Navy Times reports Mr. Bilden served on the board of directors of the US Naval Academy Foundation and is reported to have close ties to retired Gen. James Mattis, Trump's pick for secretary of defense.
Amid allegations of multiple instances of plagiarism, Trump's choice for director of strategic communications at the National Security Council, Monica Crowley, will relinquish the post, reports The Washington Post.
Military Times reports on the broader profile for Veterans Affairs Under Secretary for Health Dr. David Shulkin will take on if confirmed as the next VA secretary. The VA budget totals $176.9 billion and employed about 365,000 workers in 2016.
Engineers fixed the power distribution system and the new aircraft carrier Gerald R. Ford is back on track and heads to sea this spring, says the Navy. Builder's sea trials are scheduled for March prior to acceptance trials and delivery in April, reports Defense News.com.
Time asks, what is a 'Hard Brexit,'  as Prime Minister Theresa May says Britain will make a clean break from the European Union's common market.
Outgoing CIA Director John Brennan rips into Trump for "talking and tweeting" about possibly easing sanctions against Russia, saying the president-elect lacks a full understanding of the threat Moscow poses to the US, reports Military Times.
Chesapeake Climate Action Network and Delaware Riverkeeper Network are among 19 groups that submitted a petition in 2012  to the US Environmental Protection Agency to require natural gas processing plants to publicly report their release of toxic chemicals. The groups filed a lawsuit in 2015 to demand a response from the EPA and this year, reports EPAOnline, the EPA released those proposed regulations.
A mysterious stranding kills 81 killer whales off Hog Key in southwest Florida, reports the San Francisco Examiner. NOAA's mammal stranding network first received a report of the beached whales near Hog Key, located in a dense network of islands off Southwest Florida, about 10 to 12 miles south of Pavilion Key, a popular camping site along the Wilderness Waterway in Everglades National Park.
The Charlotte Observer warns the president-elect  and congressional Republicans who have pledged to cut federal taxes to boost the economy should consider lessons learned in GOP-controlled states that adopted similar strategies, only to see growth falter and budget gaps widen, to such an extent that lawmakers in Kansas, Oklahoma, and Indiana are debating tax hikes.
Former astronaut and Navy pilot Gene Cernan, the last person to walk on the moon, died Monday in Texas following ongoing heath issues, reports Military Times. He was 82.
Contracts:
Leidos Inc., Reston, Virginia, has been awarded a $38,000,000 indefinite-delivery/indefinite-quantity contract for high power electromagnetic source research and development. Contractor will provide research and development of Next Generation High Power Electromagnetic (HPEM) sources and components. Work will be performed at Kirtland Air Force Base, New Mexico, and is expected to be complete by Jan. 4, 2022. This award is the result of a competitive acquisition with two offers received. Fiscal 201 research, development, test, and evaluation funds in the amount of $257,156 are being obligated at the time of award for the first task order. Air Force Research Laboratory, Kirtland Air Force Base, New Mexico, is the contracting activity (FA9451-17-D-0005). (Awarded on Jan. 9, 2017) 
Akima Intra-Data LLC, Herndon, Virginia, has been awarded a $14,243,860 firm-fixed-price contract for civil engineer services. Contractor will provide non-personal services for continued operational support and civil engineer services to include engineering, environmental, operations, maintenance and emergency management. Work will be performed at MacDill Air Force Base, Florida, and is expected to be complete by Feb. 28, 2018. This award is the result of a competitive acquisition with two offers received. Fiscal 2017 operation and maintenance funds in the amount of $7,797,580 are being obligated at the time of award. The 6th Contracting Squadron, MacDill AFB, Florida, is the contracting activity (FA4814-17-C-0002).
Forest Products, Rapid City, South Dakota (SPE8E6-17-D-0001); Sylvan Forest Products, Portland, Oregon (SPE8E6-17-D-0002); S&S Forest Products LLC, Boerne, Texas (SPE8E6-17-D-0003); and Middle Atlantic Wholesale Lumber Inc., Baltimore, Maryland (SPE8E6-17-D-0004), will share a maximum $28,000,000 fixed-price, indefinite-delivery/indefinite-quantity contract under solicitation SPE8E6-16-R-0008 for wood products. These were competitive acquisitions with seven offers received. These are two-year base contracts with three one-year option periods. Locations of performance are Arkansas, Illinois, Indiana, Iowa, Kansas, Kentucky, Louisiana, Maryland, Michigan, Minnesota, Mississippi, Missouri, Nebraska, North Dakota, Ohio, Oklahoma, Oregon, South Dakota, Texas, and Wisconsin, with a Jan. 16, 2019, performance completion date. Type of appropriation is fiscal 2017 through fiscal 2019 defense working capital funds. Contract funds will not expire at the end of the fiscal year. The contracting activity is the Defense Logistics Agency Troop Support, Philadelphia, Pennsylvania.
Northrop Grumman Systems Corp., Herndon, Virginia, was awarded a $9,639,023 cost-plus-fixed-fee, foreign military sales contract (Australia) for in-services support for the Counter-Rocket, Artillery, and Mortar sense and warn capability for the government of the Commonwealth of Australia. Bids were solicited via the Internet with one received. Work will be performed in Australia with an estimated completion date of Jan. 16, 2020. Fiscal 2010 other funds in the amount of $9,639,023 were obligated at the time of the award.  Army Contracting Command, Redstone Arsenal, Alabama, is the contracting activity (W31P4Q-17-C-0069).
Northrop Grumman Space & Mission Systems, Redondo Beach, California, has been awarded a $9,042,159 cost-plus-fixed-fee modification (P00012) to exercise Option 2 (Contract Line Item Number 0003) of previously awarded HR0011-15-C-0022 for Phase 3 of a Defense Advanced Research Projects Agency (DARPA) research program. The modification brings the total cumulative face value of the contract to $31,455,562 from $22,413,403. Work will be performed in Redondo Beach, California (68 percent); Manassas, Virginia (5 percent); Livermore, California (17 percent); Cincinnati, Ohio (5 percent); and Littleton, Colorado (5 percent), with an expected completion date of January 2018. Fiscal 2017 research, development, test and evaluation funds in the amount of $7,000,000 are being obligated at time of award. DARPA, Arlington, Virginia, is the contracting activity.