Eyesore Torn Down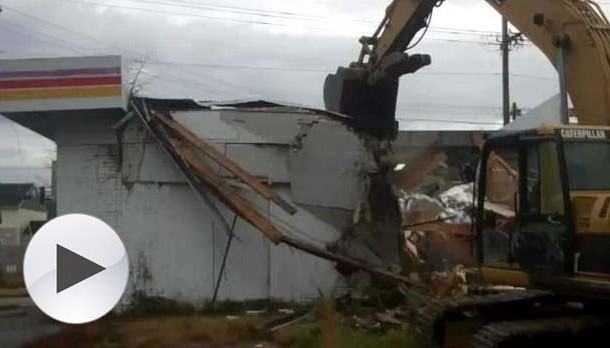 [youtube=http://www.youtube.com/watch?v=gIcmlZqLM-s]
Video by Jay Friess, editor
Workers from the Great Mills Trading Post demolished an boarded up gas station once owned by Besche Oil at the corner of Great Mills and Chancellor's Run Roads Wednesday morning, marking a victory for the St. Mary's County Community Development Corporation.
Workers checked ensure the building was unoccupied before tearing it down wall by wall.
This is the first of two properties to be torn down as part of a continued effort to improve the appearance of the community and create opportunities for new commercial development along Great Mills Road.  The second vacant property scheduled for demolition this month is the former Mike's Bar.
The Besche gas station property was recently acquired from Besche Oil Company by Malbee Properties, LLC for $450,000.  Brian Norris, spokesman for Malbee Properties, credited the Community Development Corporation with facilitating negotiations to bring about the purchase of the property.  There are no immediate plans for development of the property.