Enrolling Pax River's Future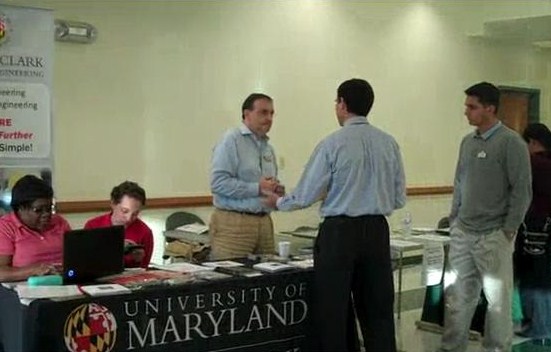 [youtube=http://www.youtube.com/watch?v=98skIBX38QU]
Video by Octavia Cady
The Southern Maryland Higher Education Center held its fall open house event last week, drawing new and continuing students to its California, Maryland location to show off the wide variety of programs it offers.
SMHEC Director Dr. Mel Powell had impressive statistics on hand to demonstrate how rapidly the Center has expanded in the last 16 years.
During fiscal year 2011, SMHEC generated over 3,412 class enrollments in 294 seminars. Currently, 14 university and college partners offer over 90 academic programs, including 46 master's degree programs, 10 bachelor completion programs, 17 graduate certificates, 13 graduate education certification programs, and five doctorates.
Academic programs at SMHEC are currently offered The Catholic University of America, Capitol College, The College of Notre Dame, George Washington University, Gratz College, Harrisburg University of Science & Technology, Johns Hopkins University, Towson University, The University of Maryland College Park, The University of Maryland University College, Webster University, Washington Adventist University, Stevenson University and Bowie State University.
In the fields of education and counseling, 37 academic programs have been recruited, including a doctorate, 19 master's programs, 10 graduate certification programs, and one graduate certificate program.
In the general field of management, SMHEC hosts master's degree programs in technical management, engineering management, business administration, project management, financial management, marketing management, human resources management, health care administration, and communications.  Bachelor completion programs are available in information systems management, management studies, business administration, and small business management and entrepreneurship.  A new executive leadership doctoral program is also currently being offered.
Specialized programs have also been recruited, including a Master of Social Work, an M.A. in contemporary communication, and master's degrees in school counseling, and in clinical and community counseling, as well as four post-graduate certificates in various fields of counseling.
Since its opening in the fall of 1995, some 1,335 individuals have completed their degrees, including 1,300 (or 97 percent of all graduates) that completed master's degree programs, 12 completing their bachelor's degree, 14 completing their doctorate and one completed a graduate certificate.