Engineering Club Checks Out NAVAIR, NASA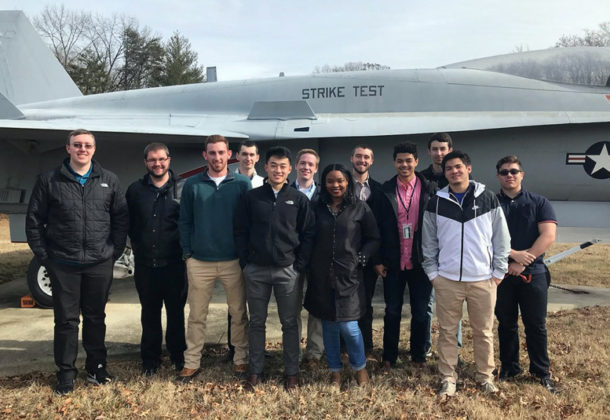 CSM Engineering Club members, from left, Matthew Kenlon, James Adkins, Patrick Kelly, Mark Nyman, Allan Li, Logan Maidl, Malani Wilson, Dillon Mandley, Derrick Jackson, Patrick Brogran, and Ryan and Troy Robinson visited NAVAIR on Feb. 9, 2018, to learn more about engineering career opportunities.
College of Southern Maryland's Engineering Club took a trip from the La Plata Campus to Naval Air Systems Command at Patuxent River Naval Air Station and NASA Goddard Space Flight Center in Greenbelt in February, getting a glimpse of possible career opportunities.
"I want my students to fully understand what engineers do and why the work they do is so needed," said CSM pre-engineering coordinator Shadei Jones, the club's adviser.
Engineering student Dillon Mandley of Charlotte Hall said the trips were eye-opening.
"The exposure that these trips provide is really empowering, to picture myself working for these amazing organizations and to know that I can truly make a difference and that it isn't that far-fetched," said Mr. Mandley of Charlotte Hall.
On Feb. 9, club members went to NAVAIR and talked to engineers, learning about internship opportunities there. On Feb. 16, the members visited NASA Goddard, where they were able to see the Science on a Sphere presentation about climate change, then visited the viewing area of the clean room in which the James Webb telescope was built and a replica is being built. Club members also learned about different materials used by NASA engineers for various space objects and then saw the test room for the Icesat2, where they spoke with many different NASA engineers.
The students were inspired by the visits.
"I heard one student say it was the best day of their life after we left the Science on a Sphere presentation," Ms. Jones said. "A cool highlight of the tour was when one of our students called his uncle who is an engineer at NASA and he came out and talked to the group. Our tour guide … encouraged [the students] to apply for NASA internships and she also said she would like to give the CSM robotics team a specialized tour of their robotic department, which is closed to the general public."
Mr. Mandley said the tours were a nice break from the day-to-day demands of school.
"At times it is easy to get caught up in the rigors of school especially as an engineering student, but it is so important to keep in mind your end-goal career-wise and that is where these experiences at NASA and NAVAIR come into play," Mr. Mandley said.
The students came back energized and enthusiastic about their fields of study, said CSM La Plata Campus Student Association Treasurer and Club President Camille De Jesus.
"Because these engineering students have met these NASA engineers that they dream to become, they are inspired from the many stories and words of motivation of these engineers," she said. "Engineering students are one of the most hard-working students with difficult workload year-round with constant math and science work. So, for them to go out to NASA allows them to be inspired and not lose sight of what they dream to do."
"I am so happy that CSM provides the resources that make things like this possible," Mr. Mandley said. "With that in mind, the potential for engineering students' success is limitless especially considering the area we are in. The STEM careers in D.C., Maryland and Virginia are plentiful, and it is part of the Engineering Club's mission to unite our students with these careers."
For information on CSM's mathematics, physics and engineering studies, visit the college's program site.
For more about the College of Southern Maryland, visit its Leader member page.