Engineer Like a Girl Makes a Difference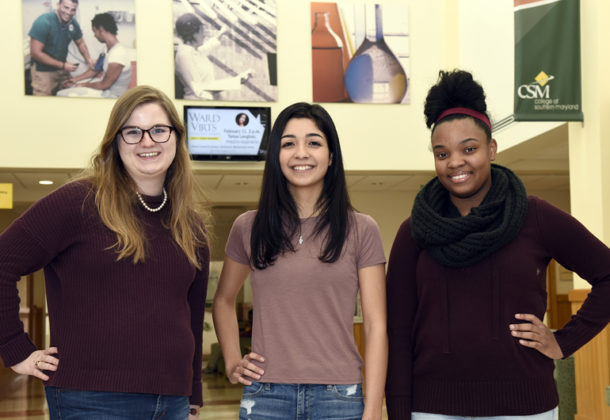 CSM engineering students, from left, Edelen Harless, Nicole Hedspeth, and Ma'lani Wilson were inspired as high school students through their participation in the college's Engineer Like a Girl program.
For three years now, College of Southern Maryland has offered Engineer Like a Girl, a week-long summer program with a goal of inspiring the next generation of female engineers.
Now in its fourth year, the program will be offered at both the Leonardtown and La Plata Campuses this summer. It will include workshops, hands-on activities, and projects in different engineering disciplines. There will also be a day to visit NAVAIR, where the girls will meet female engineers in the field.
At the Leonardtown Campus, Engineer Like a Girl will be offered from 9:30 am to 3:30 pm July 24-28. At the La Plata Campus, it will be offered from 9:30 am to 3:30 pm Aug. 6-10.
Girls can apply until April 20 and will be notified by May 18 if they have been accepted or placed on a waiting list. There is a $50 registration fee to hold the spot, but it can be waived with demonstrated financial need.
CSM's Pre-engineering Coodinator Shadei Jones conceived of the program three years ago and is now seeing the fruit of its impact. At least three of the young women who participated in the past — Edelen Harless, 19, of California; Nicole Hedspeth, 19, of Lexington Park; and Ma'lani Wilson, 18, of Waldorf — are now pursuing engineering degrees at CSM.
Jones thought high school-aged girls would benefit from early exposure to the many career opportunities in the high-demand field of engineering. Also, the program could prepare those students for facing subtle and not-so-subtle pushback that can occur when they enter a male-dominated field like engineering.
"As a female engineer, it was important for me to make sure young ladies always know how capable they are and to know that the field of engineering needs their contributions," Ms. Jones said.
Both Ms. Harless and Ms. Hedspeth were part of the 2015 camp, and Ms. Wilson attended the 2016 camp.
"Some of the highlights of the program were getting a tour of Pax River, listening to other women in the STEM career field that had either gone to CSM engineering or worked at Pax River," Ms. Harless said. "My key takeaway was that engineering wasn't going to be easy; however, it was an exciting career filled with many possibilities and absolutely something that I wanted to do and was worth the hard work." Ms. Harless began pursing a degree in electrical engineering at CSM in spring 2017 and hopes to some day work at Patuxent River Naval Air Station.
"I remember being told not to get discouraged while pursuing a career that was male-dominated," Ms. Hedspeth said of her week at the 2015 camp. "I really enjoyed meeting other girls interested in engineering as well as participating in activities that represent engineering, such as building a tower out of marshmallows and toothpicks or a cell phone detector." Ms. Hedspeth just finished her first semester at CSM, where she studies mechanical engineering.
Like Ms. Harless, the trip to Pax River NAS to meet women engineers was a highlight of Ms. Wilson's Engineer Like a Girl week. "It was fun and I was able to learn new things and meet new people and the woman who worked there," she said, adding that her career goal is to be an engineer in the Navy.
Ms. Wilson has already completed her first semester at CSM, where she is majoring in mechanical engineering. "I love it," she said.
Ms. Wilson offered advice for young women who are thinking about the engineering field. "Follow what you love," she said. "Women are in engineering, but it's not many. You are a strong young girl. You have to stand your ground and be who you are."
"The best part of this work is when the young ladies tell me that the program had changed their life or the summer program is the reason why they are attending CSM to pursue engineering," Ms. Jones said. "Then I know that we are doing more than hitting the mark, we are creating the next generation of female science, technology, engineering and math leaders, and that is the type of impact I was aiming for."
For information on CSM's Engineer Like a Girl program, call 301-934-7747 or visit CSM's website.
For more about the College of Southern Maryland, visit its Leader member page.