Eight Million Flight Hours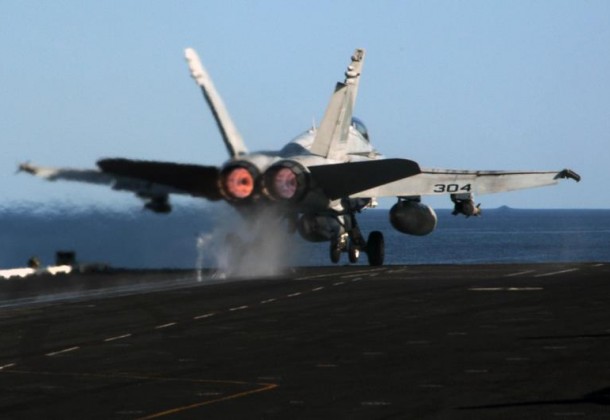 By PEO(T) Public Affairs
The Navy marked eight million accumulated flight hours for the F/A-18 family of aircraft, in service for nearly 35 years, July 12.
The F/A-18 Hornet, along with the F/A-18 Super Hornet and most recently introduced EA-18G Growler, were flying combat missions as the milestone was reached.
"We are proud to be commemorating this milestone in the year of the Centennial of Naval Aviation," said Capt. Mark Darrah, program manager for the F/A-18 and EA-18G Program Office (PMA-265).
"The Hornet, Super Hornet and Growler have been vital components of our wartime efforts and have participated in all major operations since the mid-80s," said Darrah. "We've continually improved the aircraft over the years to incorporate new capabilities so the aircraft operates safely and effectively."
Currently, there are 1,478 Hornet, Super Hornet and Growler aircraft which are part of 63 active, reserve, training and research, development, test and evaluation squadrons within the Navy and Marine Corps fleet. The Hornet and Super Hornet are also represented in international military community.
"All aircrew involved were grateful that they could take part in such an
auspicious occasion and help celebrate a remarkable milestone in aviation history," said Squadron Leader Tytus Rogoyski, Royal Australia Air Force.
The Navy's Blue Angels flight demonstration squadron and seven international partner countries that fly the F/A-18 Hornet and Super Hornet contributed to the total flight hours. As recognition of their contribution to the eight million flight hour milestone, all F/A-18 and EA-18G aircrew flying at 9 a.m. their local time July 12 will receive a commemorative patch and certificate.
"Eight million flight hours doesn't just happen by itself," said Darrah. "This accomplishment is shared by our service men and women in the fleet — the maintainers, pilots, weapons systems operators — industry and government teams, and those at the depot. A lot of great folks made it happen."
The F/A-18A-D Hornets are the nation's first multi-mission strike fighters. The twin-engine tactical aircraft converts between air-to-air fighter missions and air-to-ground strike missions.
Both the Hornet and the F/A-18E/F Super Hornets fulfill many roles, including fighter escort, suppression of enemy air defenses, reconnaissance, forward air control, close air support, and day and night strike missions. The Super Hornet gives the operational commander more flexibility in employing tactical aircraft in rapidly changing scenarios.
The airborne electronic attack EA-18G Growler combines the two-seat, twin-engine F/A-18 Super Hornet Block 2 with the Improved Capability III system of the EA-6B Prowler to provide next-generation electronic attack capability to the warfighter.
Electronic Attack Squadron 132, based at Naval Air Station, Whidbey Island, Wash., was the first operational fleet squadron to transition to the Growler, and recently returned from its first overseas deployment.