Education Students Learn About Options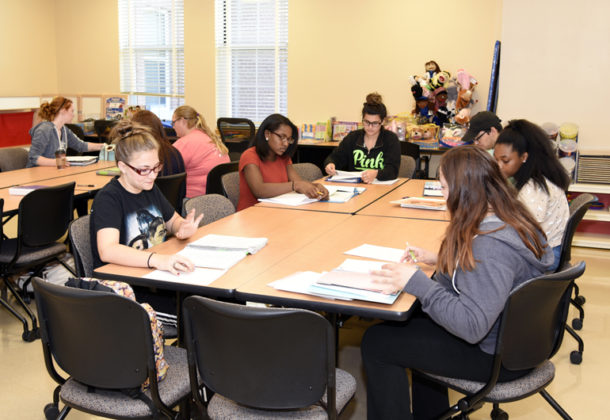 College of Southern Maryland students get ready for a quiz in Introduction to Education, taught by professor Beth Settle, program coordinator of CSM teacher education. The college will hold a Teacher Education Open House on Oct. 19 for high school and college-age students to learn more about teacher education at CSM.
Open House Planned at CSM Oct. 19
High school or college students who are considering a career in teaching can come to an open house for education students at the College of Southern Maryland La Plata Campus from 5 to 7 pm Oct. 19, 2017. The event will be in Room BI-113 at 8730 Mitchell Road.
"It's for CSM students. It's also for anyone in the tri-county area thinking of becoming a teacher," said professor Beth Settle, program coordinator of CSM teacher education. "It's a fact-finding opportunity … all your information in one place."
The fair will make information available about CSM education programs, including a way to complete a bachelor's degree entirely in Southern Maryland. Universities that partner with the college on teacher education programs will be able to answer questions. Also, human resources representatives from all of the Southern Maryland school systems will be there to discuss each county's job opportunities and requirements.
Participants in the open house can learn about CSM's 2+2 Partnership Programs with Notre Dame of Maryland University and Towson University, plus three associate degrees in teacher education that are offered at CSM.
Kayla Watkins of Waldorf is in her second year at CSM, and chose the CSM program because it allowed her to save money, stay close to home and still pursue her goals.
"I chose this school for multiple reasons," Ms. Watkins said. "I was not sure what university I wanted to go to, so CSM was the best start. I'm getting the same education, with an affordable cost. And I could still live at home and still have time to work on other things."
Ms. Watkins is passionate about her choice of career, as she works toward becoming certified as an elementary school teacher. "I want to be a teacher because … I can make a big impact in a positive way."
Ms. Watkins said the college's open house will be an opportunity for future educators to meet other future educators. "They can get a better understanding about what they're going to be doing in the future," she said.
Professor Settle said the open house is designed to assist students as they make decisions about their education and certification options. "The main thing is to see what opportunities are available," Settle said. "We can tell you how to complete your teaching degree locally and maintain and hold that local professional network."
For additional information about teacher education at CSM, visit CSM's website.
For more about the College of Southern Maryland, visit its Leader member page.