Economist Says Sequestration Will Hit St. Mary's County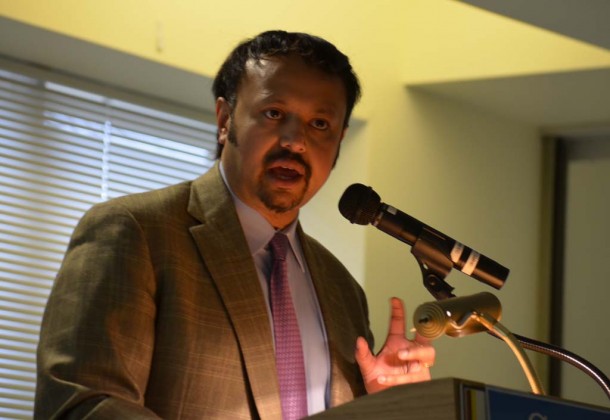 By Jay Friess
Editor
Economist Anirban Basu told the St. Mary's County Chamber of Commerce Wednesday that he believes that an scheduled automatic 8 to 10 percent cut to the defense budget will happen, and that it will be very difficult for St. Mary's County, Maryland.
Speaking at an economic forum hosted by the Chamber at the Southern Maryland Higher Education Center in California, Mr. Basu, CEO of the Sage Policy Group consulting firm in Baltimore, said that the cuts, known as "sequestration" in Congress, pose a significant challenge to the region.
"The economy slowed at the end of last year, and we enter this year with precious little momentum," Mr. Basu said. "Federal employment is now beginning to shrink. This has been very rare in our lifetime, but it is now beginning to happen."
Mr. Basu said that a downturn in defense spending last year can be blamed for a 1.3 percent drop in the U.S. Gross Domestic Product in the fourth quarter of 2012.
Mr. Basu said that the Washington, D.C. region is not adding jobs as fast as the rest of the nation and that the Maryland counties bordering the city are not recovering from recession.
"This is very important for St. Mary's County," Mr. Basu said, noting that sequestration cuts could hit March 27, when the current temporary federal funding law runs out. "Something pretty dramatic is about to happen to us. In the last couple of months, St. Mary's County has lost jobs. … I don't know what the answer to this is, but it's going to be very difficult."
Gary Kessler, Executive Director of the Naval Air Warfare Center Aircraft Division, the largest tenant command at Naval Air Station Patuxent River, emphasized the positive during his turn at the microphone. He noted that Pax River has a full slate of programs through 2015 and that sequestration is likely to only put a 4 percent squeeze on NAWCAD.
"The times are uncertain," Mr. Kessler conceded, noting that sequestration is a near term concern. However, he noted that the base is currently buzzing with activity. "I've never seen a time when we've had so many things going on at Pax River."
Mr. Kessler said his team has been fervently planning to "manager through this silly season." He urged, "Kind of think of it as a bad dream. We will get through it."
How hard sequestration will hit NAWCAD will largely be determined by how Congress allows the Navy to spend its money, Mr. Kessler said. If the Navy cuts into the number of new planes it buys, then NAWCAD will stay busy testing and maintaining the old ones.
"I don't see huge perturbations," Mr. Kessler said. "I have not seen any vertical cuts on a program. … We are going to be very pressurized to be more efficient."
Mr. Kessler noted that the base touches 80 percent of the St. Mary's County economy. Gary Kurtz, Assistant Commander for Corporate Operations and Total Force for the Naval Air Systems Command at Pax River, expounded on that point.
Mr. Kurtz said that 22,000 people work at Pax River, Webster Outlying Field and Navy Recreation Center Solomons. The base complex supports 4,500 retired military personnel and 4,500 dependents. The bases receive 300,000 visitors annually. The base's civilian workers make an average $103,526 salary, and 71 percent of them live in St. Mary's County.
"This puts us in the standing of a Fortune 500 company," Mr. Kurtz said of the base's employment numbers. However, he noted, "Where we are from 2015 to 2020 is uncertain."
Since 2010, NAWCAD's workforce of government and contractors, located at Pax River, Lakehurst, New Jersey and Orlando, Florida, has shrunk from 37, 246 to 35, 320.