Eberly Is Interim Director of Center for Study of Democracy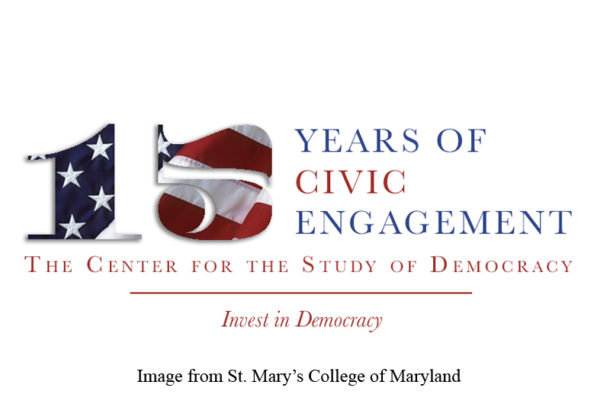 Todd Eberly, associate professor of political science and public policy, has been chosen to serve as the interim director of St. Mary's College of Maryland's Center for the Study of Democracy. His duties begin Aug. 1, and he will be serve until the college completes a search for a new director, as announced by SMCM President Tuajuanda C. Jordan and publicized with help from The Patuxent Partnership.
"The pursuit of democracy has existed since the founding of our country, and now, more than ever, it is important for us to value," President Jordan said. "Professor Eberly, our resident public policy expert, has the knowledge, skills, and vision needed to position the center for success in the 21st century. We are fortunate to have him at the head of our efforts."
Professor Eberly said he is excited for the opportunity. "It will be an important transitional year for the center and I'm looking forward to it," he said. When it comes to continuing programming for the center, Professor Eberly said, "I plan to organize candidate forums in the fall ahead of the November election. Plus, our forum collaboration with The Patuxent Partnership will continue."
Mr. Eberly has a specialty in American politics and public policy as well as Maryland state politics. His first book, titled "American Government and Popular Discontent," was released in June 2013 and his second book, with his co-author Steven E. Schier, "Polarized: The Rise of Ideology in America," was released in 2016 by Rowman and Littlefield. His third, also written with Schier, "The Trump Presidency: Outsider in the Oval Office," published by Rowman & Littlefield in 2017, gives context and insight grounded in political science, showing what is – and what is not – unusual about the Trump White House and what to expect in the future. Professor Eberly's new book, "How Trump Happened: A System Shock Decades in the Making," is set to be published in 2019.
Professor Eberly is an adviser to Project Vote Smart and his commentary and analysis have been featured in The Washington Post, the Baltimore Sun, and public radio/television. He has been an expert witness in cases that challenge gerrymandered congressional districts and has consulted with the centrist organization called Third Way. He has been named among the most influential voices in Maryland politics by Campaigns and Elections magazine. In 2010, the St. Mary's College Student Government Association named him as a recipient of the Faculty Student Life Award.
About The Patuxent Partnership
TPP fosters collaboration and the sharing of knowledge and expertise across a diverse network that includes government, industry, and academia. TPP also supports STEM education and workforce development within the local community including hosting programs of interest to NAVAIR, NAWCAD, and the broader DoD community.
To learn more about The Patuxent Partnership and its programs, visit its Leader member page.