Dowell Receives CSM Faculty Excellence Award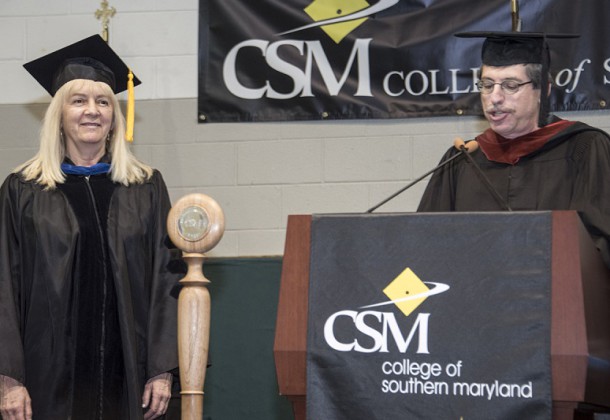 CSM Faculty Senate President Mike Green, right, announces the 2016 Faculty Excellence Award Honoring Adjunct Faculty to Margaret Dowell, left.
Margaret Dowell has received the College of Southern Maryland's Faculty Excellence Award, honoring adjunct faculty for contributions to teaching, professional development, the college's mission, and the community.
From tobacco farming, into art, teaching, and then into a study, book, and website using art as a dialogue tool for drug addiction recovery.
"Margaret Dowell is an excellent artist. Her work inspired my own studio practice," said professor Andrew Wodzianski, who nominated Ms. Dowell for the award. "I was first introduced to Margaret and her paintings during a mutual group exhibit. [She is] technically accomplished and thematically evocative, and when I learned that she lived in the Southern Maryland region, I knew she needed to teach at CSM."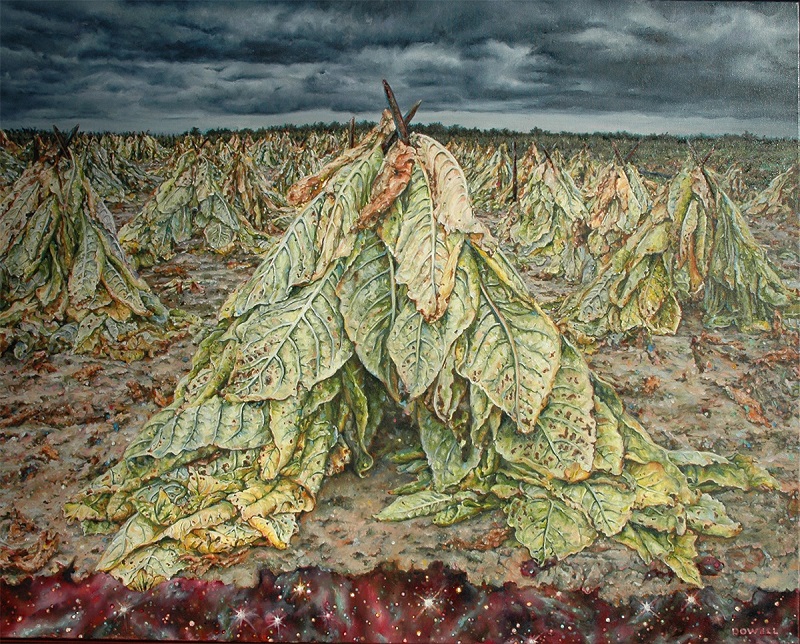 Ms. Dowell grew up working with her family in the tobacco fields of Calvert County. "That was our life; farming tobacco, getting firewood and taking care of a vegetable garden."  But she always knew that she would be an artist and when she wasn't working in the fields, she was drawing in the dirt with a stick, she said.
Ms. Dowell earned bachelor's degrees in studio art and in art education from Frostburg State University, and a master in fine art degree in sculpture, and a doctorate in curriculum and instruction from the University of Maryland College Park.
During her career she transitioned between studio work and education. Following college she worked as a commercial artist before working as an art teacher in Frederick County. She took a sabbatical to pursue her PhD and then worked for Mount Saint Mary's University and Carroll County Community College.
Ms. Dowell believes in the power of visualization both in her art and in her approach to teaching students. "I am a visual artist. I understand that when I am able to visualize an image I am able to create it. I directly apply this understanding to teaching when visualizing success for my students," she said.
"I always share lesson objectives up front orally and up front — literally — on the dry erase board. Always. I lecture about instructional practices/concepts and when appropriate, I model skills. Guided practices follow, often timed. The timing I adapted from watching an Olympian track coach train athletes," Ms. Dowell said.
She ends each class with a final critique of student work, calling critiquing "a powerful tool." Ms. Dowell said. "The process provides insight and closure …  A good critique doesn't just happen.  I first must establish a classroom environment that feels 'safe,' an environment that encourages positive social interaction, active engagement in learning and self-motivation."
In 2009, Ms. Dowell's artwork examining addiction gained the notice of two Johns Hopkins University professors who were working on the topic of innovations in combating substance abuse for an international conference. "They saw my work and asked me to be co-editor for their book," she said. In 2010, "Addiction and Art" provided a study into the practice of art as a dialogue tool for drug addiction recovery. In the year of publication it also won an award from the British Medical Association.
She followed up the book's success with a website which provided access to "people in the trenches" who are not connected with the medical establishment.  The website puts a human face on addiction through the creative work of individuals who have been touched by it.
For a listing of CSM faculty members who have received excellence awards, click here.
For information about the College of Southern Maryland, visit their Leader member page.