DOT&E Report: P-8A Poseidon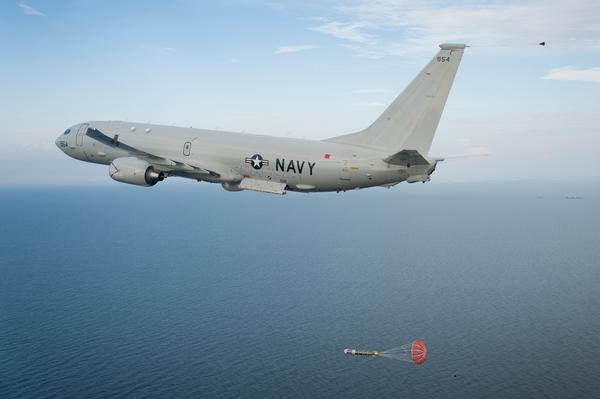 The Pentagon has released its FY2011 Director, Operational Test and Evaluation Report to the public this week, summarizing the state of the military's developmental projects, including those being tested at Naval Air Station Patuxent River.
The Navy's P-8A Poseidon program is developing a jet-powered replacement for the aging, propeller-powered P-3 Orion submarine hunter. The program is scheduled to begin Initial Operational Test and Evaluation in June, but the DOT&E report notes that the program is falling behind schedule.
The report notes that the Poseidon test team is completing 10-14 test flights a week, above the 8-per-week plan. However, it points out that, despite 118 test flights in the program's airworthiness test vehicle, the "P-8A cleared flight envelope does not currently allow for conduct of operationally realistic missions and maneuvering utilizing flight profiles required during the IOT&E."
"Currently, the P-8A has an operational flight envelope limit that precludes it from flying at a bank angle greater than 48 degrees when maneuvering," the report states. "In order to fly operationally realistic tactics during anti-submarine warfare missions, the aircraft will have to fly maneuvers that require a bank angle of 53 degrees."
The report also notes the the project has 369 major software problems to fix before June.
"Although 92 percent of the priority 1 and 2 software problems have been closed, the current closure rate is not sufficient to have all the software problems resolved by the start of IOT&E," the report reads. "Priority 1 software problems prevent a mission-essential capability from being performed. Priority 2 software problems affect mission-essential capabilities, and there is no acceptable workaround for these problems onboard the P-8A."
The P-8A program is also waiting in line behind the Advanced Airborne Sensor program to use the S-1 structural test article for Live Fire testing, which could put the P-8A behind schedule.
The program is currently using three specially-built test planes but will begin testing three production-representative plans this year.
The report concludes: "The Navy is approximately two months behind schedule in collecting test point data based on their re-baselined schedule constructed in January 2011. The primary reasons for the delay have been early-on instrumentation problems on the test aircraft, shortfalls in mission systems maturity, unanticipated delays due to software and hardware upgrades, and delays in the engineering analysis of flight test data. The instrumentation problems experienced early in the flight test program have been resolved. The delay in collecting test point data will probably delay completing the airworthiness testing to clear the entire flight envelope for safe flight."