DOT&E Report: Fire Scout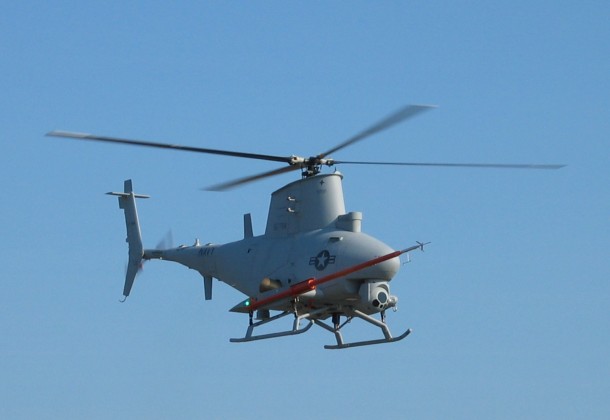 The Pentagon has released its FY2011 Director, Operational Test and Evaluation Report to the public this week, summarizing the state of the military's developmental projects, including those being tested at Naval Air Station Patuxent River.

The shortfalls of the Navy's Fire Scout program were well-documented this summer in a brutal report by the Pentagon's Operational Test and Evaluation office, but the DOT&E office finds the program overcoming those flaws and predicts the unmanned helicopter will be ready for Initial Operational Test and Evaluation by March.
The DOT&E report lists "time spent training additional operators and maintainers, modifying air vehicles, integrating non-program of record payloads, and a requirement to provide spare parts to three operating locations" as the reasons for the program delays.
The program was originally supposed to go to IOT&E in June 2009, but "poor reliability, excessive cautions, warnings, and advisories, and lack of required functionality" slowed the schedule, according to the report.
The report also notes that the current uncertainty over whether the program should proceed with development of the current-generation MQ-8B or wait for delivery of the larger MQ-8C. "This uncertainty results in the lack of a coherent long-range schedule to be ready for IOT&E and field the system," the report notes.
The report notes the difficulties the program had while testing the system on board the USS McInerney and the USS Halyburton over the last two years, including "air vehicle and datalink reliability, incomplete technical publications, spare
parts support, pre-deployment training, and the lack of spatial orientation data on payload imagery."
"The lack of ability to disseminate VTUAV near-real-time imagery off the host frigate limits VTUAV effectiveness," the report reads. "In the foreseeable future, this problem is a function of the shipboard infrastructure and the Navy's overall command and control system. While not required as part of the program of record, it is an area that the Navy should address to maximize the utility of the VTUAV and other Unmanned Aerial Systems."
However, the report did not comment on the program's land-based experiences, gathering intelligence for the US Central Command in Afghanistan last year, due to "lack of data."
The report concludes that, until the drone's shortcomings are fixed, "flight operations will be restricted when operating in other than a benign threat environment. Operations in such an environment require additional real-time intelligence support to increase air vehicle survivability."
The report notes that the program has taken action to correct the vehicle's shortcomings and credits the Fire Scout team with successfully demonstrating communication between the drone and manned Navy helicopters.