Dominion Cove Point Works to Recruit at CSM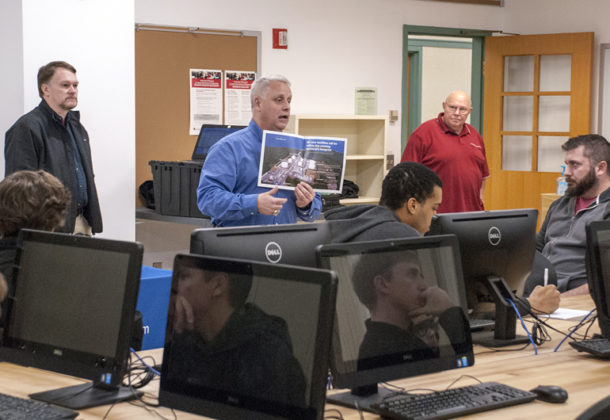 Mike Monfalcone, senior human resources business partner with Dominion Energy, describes to College of Southern Maryland students the Dominion Cove Point facility in Lusby during an intern information session Feb. 16 at CSM's Leonardtown Campus, where students from all three CSM campuses participated. Left, Tom Waybright, supervisor of LNG shift operations, helps with the presentation, with CSM professor Robert Gates at right.
The Dominion Cove Point LNG Terminal in Lusby needs employees, and College of Southern Maryland students need jobs. A recruiting event Feb. 16 at the Leonardtown Campus brought those two needs together.
Representatives from Dominion Energy like Mike Monfalcone, senior human resources business partner, and his colleague Tom Waybright, supervisor of liquefied natural gas shift operations, spent close to an hour at the intern information session that was attended by CSM students from all three campuses.
The two men described Dominion Energy's work at Cove Point LNG Terminal, showing graphics and photos of the Lusby operation — a plant that takes shipments of natural gas from overseas and liquefies the gas for storage. Liquefied natural gas has been super-cooled to -260 degrees F to turn it into a liquid. At the low temperature, it occupies about 1/600th the volume of gaseous natural gas, so it's more efficient to transport and store. The plant is currently being upgraded to also start exporting domestic gas to customers in Japan and India.
Monfalcone and Waybright emphasized that Cove Point could represent an opportunity to college students in Southern Maryland, especially those studying nuclear engineering technology and computer science. It could mean jobs upon graduation with an associate degree. It could mean a student internship this summer as well as participation in a new Cove Point LNG intern program that is expected to be initiated within the next couple of months. The program will create an opportunity for CSM students to work part time throughout the year, while attending school.
The Cove Point LNG facility is adding to its facility and will double the work force at the site to support the plant's future export capabilities. The business has chosen to foster its relationship with area educational institutions like CSM to create a stream of skilled workers. The company's intern program makes that connection with the future area workers.
Mr. Monfalcone said last year Cove Point summer interns were from Texas and Pennsylvania. "Obviously, I think there are a lot of great intern candidates here in the tri-county area," he said. "We're working hard to get the word out about these great opportunities."
There are two intern positions available at the Domini0n Cove Point facility — Intern Mechanical Technology and Intern Instrumentation and Controls Technology. In addition, CSM students who are getting ready to graduate this spring were encouraged to consider applying for a regular full-time position. Students who are expecting to graduate this spring can apply for posted associate operations or maintenance positions that require zero to two years of experience, according to Monfalcone. Starting salaries for these positions can be $50,000 or more. Student candidates will be considered in the same pool as other non-CSM applicants for these positions. A list of current job openings, some of which are these entry-level positions, at Dominion Cove Point was distributed to the information session attendees.
Enzo Walker of Waldorf is a CSM student who attended the information session and is studying computer science at the college. He said the presentation was convincing. "I think Cove Point has a lot of opportunities and openings for entry-level STEM majors, and I'm willing to apply for a position in the field of computer science," he said.
Mr. Waybright said students should not be reluctant to apply at Cove Point because they considered themselves inexperienced. "If you've gone through this program," he said, referring to a CSM associate degree in a technical field, "you've proven you can learn something that is complicated to learn."
For information about intern opportunities with Dominion Energy at Cove Point, visit Dominion's website or call Mr. Monfalcone at 804-310-6557. For work opportunities, visit Dominion's career website.
Dominion Cove Point will participate in CSM's 2017 Tri-County Job and Career Fair on March 28 at the La Plata Campus. For more information on the fair, visit CSM's job fair website.
For more about the College of Southern Maryland, visit its Leader member page.