Digital Media Students Promote Anti-Theft Message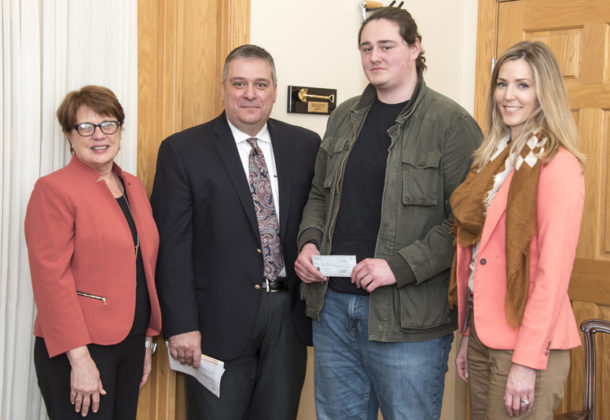 College of Southern Maryland Digital Media Production students earned top honors for promoting anti-theft messaging for the Maryland State Police, Maryland Vehicle Theft Prevention Council, and Maryland/DC Anti-Car Theft Committee annual competition.
Winners in the college's second year of competition were Alyssa-Gene Deato of Waldorf, and Elijah Green of Prince Frederick, and Brenna Grooms of La Plata.
Ms. Deato made a 30-second public service announcement that featured two sisters, portrayed by Ms. Deato's cousin and a friend, as the older sister reminds the younger about the measures she should take if she is going to borrow the car.
Ms. Deato said she was proud of her final product. "To be honest, I was afraid that the equipment I used wasn't going to be sufficient," she said. "There were some technical mistakes I made. But I'm proud of how I was still able to create what I envisioned."
She also said the real-world project was a great way to gain experience. "A lot of preparation goes into it," she said. "First off, there's coming up with an idea. It's actually pretty hard coming up with something original. Then there's storyboarding, finding actors, scheduling (for the weather and the actors). There's just a lot that goes into it that I wasn't expecting. … I would say it was a very rewarding experience."
Mr. Green and Ms. Grooms' PSA, awarded second place in the competition, shows a bearded man ranting about car theft statistics and how often this is due to people leaving their keys in the car.
The PSAs were produced as a project for the students' Digital Media Production 1010 class at CSM, taught by professor Olanyi Areke.
Christopher McDonold, executive director of the MD Vehicle Theft Prevention Council, thanked the students for their participation as he presented them each with cash awards. "Thank you for your participation in this second year of competition. This competition prepares young folks for the job requirements of producing materials that we can use for our anti-theft public awareness," said Mr. McDonold.
The VTPC, Maryland State Police, and the MD/DC Anti-Car Theft Committee have worked together for eight years to present the PSA competition. The contest started with Towson University students producing both audio and video PSAs. "Two years ago, we invited CSM students to create messaging to bring more awareness to the public about ways to prevent becoming a victim of auto theft," said Elena Russo, Maryland State Police public information officer. "To date, the contest includes students from both TU and CSM to cover both the Baltimore and the DC markets."
Ms. Russo noted that the PSAs help spread the message that auto thieves do not only focus on new vehicles and up to 50 percent of vehicles are stolen because the keys were left in the vehicle. "Although on the decline, vehicle theft continues to be a problem," she said. "By decreasing vehicle theft, we are impacting other crimes in progress in the region. Oftentimes, crimes like kidnapping, burglary and insurance fraud go hand-in-hand with vehicle theft crimes."
The PSAs will be aired on social media, on WBAL-TV, and on the VTPC and MSP websites.
See Ms. Deato's PSA here. See Mr. Green and Ms. Grooms' PSA here.
For more about the College of Southern Maryland, visit its Leader member page.