Declaration of Independence Painting Staged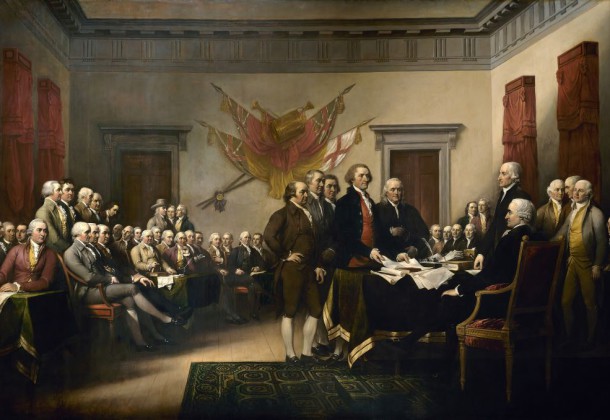 John Trumbull's "Declaration of Independence, July 4, 1776"
Morning Coffee is a robust blend of links to news around the internet concerning the Naval Air Station Patuxent River economic community. The opinions expressed here do not necessarily reflect those of the Leader's owners or staff.

Town Hall debunks John Trumbull's painting, "Declaration of Independence, July 4, 1776" accurate portraits of the founders of the country, but Mr. Trumbull takes some liberties with time, place, and presence.
Images from 4th of July celebrations in port and at sea, from USNI News.
The Hill presents 'four sticking points' as House and Senate GOP defense committee leaders prepare for a week of budget negotiations.;but Democrats say all legislative work is pointless until Republicans begin negotiating over government spending.
Video of live-fire missile exercises with Danish pilots in F-16s in the JHMCS (joint helmet-mounted cueing system) at The Aviationist.
Navy Secretary Ray Mabus tripled paid maternity leave for female sailors and marines to 18 weeks, the other military services provide six weeks of leave, reports Military.com.
The Army is studying the physical requirements for combat jobs that have been closed to women, but USA Today reports, not many women are interested in entering combat arms fields.
Flight Global adds its report of the F-35 test obtained by War is Boring that reports the ability to "shoot and kill" enemies at long distances is the JSF's forte, not maneuverability. Nevertheless, as the Marines' F-35B approaches combat readiness this month, Washington Business Journal reports, past controversies are fading.
Live Science says the US military has reportedly tested an early stage hypersonic jet to fly at five times the speed of sound, more than double the speed of a bullet, perhaps by 2023.
The Navy retired its last EA-6B Prowler electronic attack aircraft the end of June at 'sundown' ceremony at NAS Whidbey Island in Washington, reports IHS Janes 360.