Few Days Left to Help So. Md. Community Resources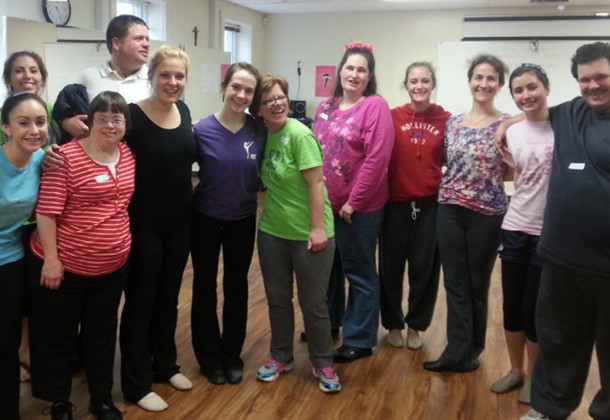 Barry Friedman,  Market Manager at Primary Residential Mortgage Inc. in California, MD, is accustomed to giving mortgage lending advice, and as a result, sometimes other financial advice as well. But Mr. Friedman admits he was somewhat surprised at a recent call for donation advice.
It perhaps shouldn't have come as that big of a surprise. Mr. Friedman, and the PRMI team he leads, are deeply involved in a wide array of community services and nonprofits.
This call came from a man who had donated to a local nonprofit that Mr. Friedman serves and supports, Southern Maryland Community Resources.
Mr. Friedman explains that So. Md. Community Resources develops inclusive programs that involve people with developmental differences with peers without developmental disabilities. "The program benefits everyone," he says.
One of his favorite programs is the award winning Art to Heart program at St. Mary's Ryken High School. The students become buddies with members of  So. Md. Community Resources and together they discover art, music, and dance.
The donor explained that he prefers to make his giving at the end of the year. He'd given to So. Md. Community Resources last year and asked if So. Md. Community Resources was still in need. He asked Mr. Friedman if SMCR would accept a challenge to match his donation.
"Matching challenges are very powerful," Mr. Friedman says. "It is an opportunity to double the power of each donation. Taking advantage of matching opportunities can turn a $1 donation into $2 worth of assistance." He also suggests donors speak with their employers or check into company policies, many of which offer matching gift programs. "You can turn that $1 into $3," he says.
His donor might have heard some of this from Mr. Friedman. Before Mr. Friedman had time to announce the matching challenge, the donor called him back and said he'd already found a match from one if his friends in the community who believes in the work being done by SMCR. A 2015 challenge in the amount of $3,500 was born.
And with 2015 disappearing quickly, there is still a bit to go and we need the community's help to take advantage of the opportunity.
So. Md. Community Resources offers programs and events throughout the year for participants and a wide array of community partners and sponsors listed here. To find out more visit the So. Md. Community Resources Facebook page. To donate directly, contributions can be made via check made out to So. Md. Community Resources, Inc. The organization is a 501 (c) 3 organization and all contributions are tax deductible.
If you can help meet the challenge, Checks may be sent to: Southern Maryland Community Resources, Inc., P.O Box 56, Solomons, MD 20688.
Or contact Barry Friedman, and not only about this year-end giving opportunity, but about mortgage lending as well! He can be reached at Primary Residential Mortgage, Inc., 23131 Three Notch Rd., Suite 200. California MD, 20619, (301) 737-0001, or e-mail [email protected].
Volunteers are also needed at So. Md. Community Resources! To find out more, call SMCR to learn about volunteer opportunities – 301-997-8143.