Daniels Chosen for No Barriers Experience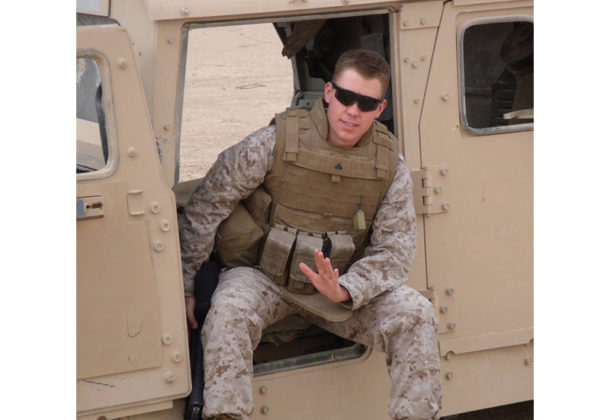 Southern Maryland Electric Cooperative nominated US Marine Corps combat veteran Ryan Daniels of Lexington Park to participate in a five-day trip to Colorado in August. Mr. Daniels was one of 50 soldiers who participated in the expedition in August, made possible through the partnership of CoBank and No Barriers USA.
The partnership between CoBank and No Barriers was created to send combat veterans who suffer physical and psychological damage on a five-day trip to the Red Feather Lakes region of Colorado. Veterans were picked from rural communities across the country. SMECO, as a CoBank business associate, was able to nominate a veteran to participate and chose Mr. Daniels.
After joining the U.S. Marine Corp in 2008, Mr. Daniels primarily served as a combat engineer. He served in Iraq in 2009 and then Afghanistan in 2010. On May 13, 2011, two weeks before he was going to come home, Mr. Daniels and his fire team were hit by an Improvised Explosive Device (IED)—the fourth time in seven months that he and members of his squad were hit. Violent encounters like this left Daniels with traumatic injuries. His physical pain, inability to sleep, and psychological scars have had a lasting impact on him. He now struggles with night terrors, sleepwalking and other issues in relation to his traumatic brain injury and post-traumatic stress disorder.
"I love the Marine Corps and everything it stands for," Mr. Daniels said, but when he came home to his family, he struggled with physical and emotional problems, compounded by his inability to talk with loved ones about the trauma he experienced.
"Last year, SMECO employees raised more than $53,000 through the SMECO 75 Bike Ride and our Annual Charity Golf Outing. Those funds were used to sponsor local veterans in Melwood's Operation: Tohidu rehabilitation program," said Austin J. Slater, Jr., SMECO president and CEO. "When we were given the opportunity to select a veteran to participate in the No Barriers program, we turned to Operation: Tohidu to find an eligible candidate."
Mr. Daniels participated in the local Melwood program in March 2016. "Operation: Tohidu gave me the opportunity to talk openly with others who shared similar experiences, and that opened the door to the healing process for me," Mr. Daniels said. "Operation: Tohidu helped me bridge the communication gap, and I learned how to talk to my family in a way that wouldn't worry them."
When he was selected for the No Barriers trip in August, Mr. Daniels knew the experience would be invaluable. Throughout the five days, the veterans had opportunities to challenge themselves physically and emotionally. "You're inserted into something that helps you find yourself," Mr. Daniels said.
No Barriers USA helps veterans with disabilities transform their lives through curriculum-based experiences and challenging environments. The organization also creates a safe space for veterans to reflect on their past, see where they are in the present, and look positively toward the future.
"SMECO is proud to have made a small contribution to the continued healing and recognition of our local hero, Ryan Daniels," Mr. Slater said. Mr. Daniels was honorably discharged from service in January 2016 as a Staff Sergeant. He currently volunteers with Operation: Tohidu and is earning his master's degree in Management and Leadership at Webster University.
To learn more about SMECO please visit their Leader member page.