CTC Earns Patents for Ammo Cartridge Cases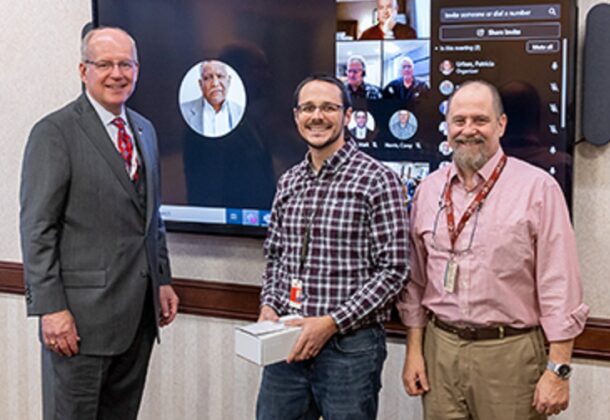 Concurrent Technologies Corp. President and CEO Ed Sheehan, left, and CTC Executive VP and COO George Appley, right, congratulate the team on a successful patent. Shawn Rhodes attended the recognition ceremony, along with the rest of the team who joined via video conference. CTC is a member of The Patuxent Partnership.
Concurrent Technologies Corp. has been awarded two patents for shell case design utilizing metal injection molding. CTC is a member of The Patuxent Partnership.
The patents detail the invention of a single-piece, high-strength metallic cartridge case that is stronger, stiffer, and lighter than traditional brass, according to a CTC news release. The revolutionary new design is a joint development between CTC and the US Army to improve warfighter effectiveness through increased lethality, improved accuracy, and reduced ammunition weight.
"This award comes at a time when global commodity prices for copper and brass are at all-time highs. The use of high-strength, lightweight stainless steel cartridge cases in ammunition production reduces manufacturing costs," Edward J. Sheehan Jr., CTC president and CEO, said in the news release. "The CTC team has done an outstanding job of analyzing requirements, developing a solution, and ensuring it is cost effective and scalable."
"We're extremely excited to get this advanced technology to the warfighter to reduce their combat load and increase their mobility and lethality," said Shawn Rhodes, CTC principal mechanical engineer. "It's an honor to develop technologies that benefit those who protect our country."
The activity that led to the patent is part of CTC's overall ammunition and weapon systems engineering services. The shell casing design inventors are Todd Skowron, Juan Valencia, Shawn Rhodes, and William Brueggen.
CTC is an independent, nonprofit, applied scientific research and development professional services organization. The company collaborates with its technology transition affiliate, Enterprise Ventures Corp., to provide transformative, full lifecycle solutions through research, development, test, and evaluation work.
Read more about the patents here.
About The Patuxent Partnership
The Patuxent Partnership is a nonprofit member organization that fosters collaboration between government, industry, and academia to advance education through STEM-based initiatives; to advance technology through speaker programs, forums, and networking; to advance science and technology transfer through the exchange of ideas, information, and data related to technologies; and to increase workforce development through an array of initiatives.
To learn more about The Patuxent Partnership and its programs, visit its Leader member page.