CSM's Drum Circle Class Sets Its Own Rhythm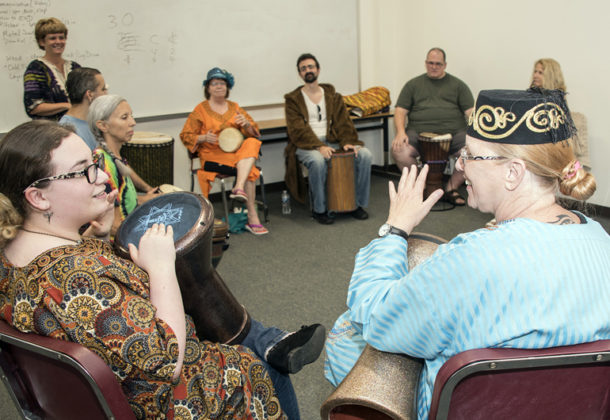 Emily Harris, left, and Shirley Steffey work to match rhythms in CSM's Drum Circle class at the Leonardtown Campus.
The College of Southern Maryland offers close to 400 personal enrichment classes every year, and one class has its students matching rhythms and making noise. The Drum Circle class is a fun and interesting way to make friends, learn a skill, and lose oneself in the lessons.
In a recent class on the Leonardtown Campus, students first set up their beat from a single drum. Boom — boom, boom, boom. Then others began to join in, each on differently sized and toned drums, as they matched the beat created by the first drummer.
Students concentrated on the rhythm, matching up their beats in a satisfying pulse. Some drummers introduced variations, which the instructor of the class, Sheila Klotz, calls "layers."
Drum Circle is a non-credit personal enrichment class at CSM on the Leonardtown Campus. It is just one of about 400 personal enrichment class options, which range from Latin Dancing, Basic Dog Obedience, Backyard Chicken Keeping, numerous cooking classes, Fit Over 40, Build Your Own Drone, The Art of Songwriting, Aqua Zumba, and Pottery. There are so many options, all of which are accessible and designed to help residents find a new skill or hobby or to dust off and polish old ones, including drum circle skills.
Course instructors come with excellent credentials and have a wealth of knowledge and experience.
CSM Program Coordinator Shaunda Holt, who helps develop the programs offered by the college's personal enrichment department, said she sees learning as a way for people to re-create themselves.
"Personal enrichment is just that — living an enriched life creating knowledge, inspiration, and passion, no matter what stage of life you are in. Anyone can re-create themselves and CSM's personal enrichment program helps people to do just that."
This summer's Drum Circle class is the first of its kind offered by CSM. The activity is growing in popularity, where a group of people play hand drums and percussion together. The class takes an hour, one evening a week, to focus on the activity for a variety of reasons.
Lusby resident Shirley Steffey is a member of Daughters of Veda Sereem belly dancers, as are several other members of the Drum Circle class. The dancers use a doumbek, a drum from the Middle East, in their performance. "We wanted to refine our skills," Ms. Steffey said. "Try new things."
Andrew Mauro of Great Mills, an aspiring writer who cares for his parents during the day, says the class is a break for him. "It's fun," he said. "It definitely has a good energy. Makes you want to keep going. Positive vibes."
Grace Calo of California said she was so excited to see that Drum Circle was one of the classes offered by CSM this summer. "For 57 years I've had rhythm in me," Calo said, adding that when she saw the schedule of classes, she knew this was her chance. "I get lost in it."
"We love it. We all love it," Ms. Steffey said of the Drum Circle class. "Our teacher is amazing. Patient."
Ms. Klotz teaches from experience. She has been playing percussion instruments since she was 10. She majored in percussion at West Virginia University and then served in the military, performing as a percussionist in The US Air Force Band in Washington, DC. She later played as a percussionist in the National Guard Band, also in Washington, and after a year became commander and conductor of the Army Guard Band. Now retired, the CSM class allows her to share her expertise with the community.
Ms. Klotz supplies the drums and other percussion instruments used by the class, including the conga, djun djun, djembe, and kenkeni, and then students like the belly dancers may bring their own drums if they prefer. Ms. Klotz teaches about the history of drumming and emphasizes that, done correctly, drumming can be a way to communicate.
Participating in a drum circle also has also shown to have health benefits. "It slows the heartbeat," Ms. Klotz said. "It's a release of tensions."
She has a goal for her students beyond these benefits — the skills and knowledge that will allow them to participate in this activity. "They will be able to go to any city in the United States and sit in on a drum circle and be able to play," she said.
The Drum Circle class will be offered again in the fall as CSM strives to meet the diverse needs of students and the community by providing accessible, accredited, affordable, and quality learning opportunities for intellectual development, career enhancement, and personal growth.
Students can register for personal enrichment classes up until the day of the class, although earlier registration is encouraged because some classes have minimum registrations required to run. For information on non-credit, personal enrichment offerings at CSM, visit CSM's website.
For more about the College of Southern Maryland, visit its Leader member page.