CSM Volleyball Signs Six New Players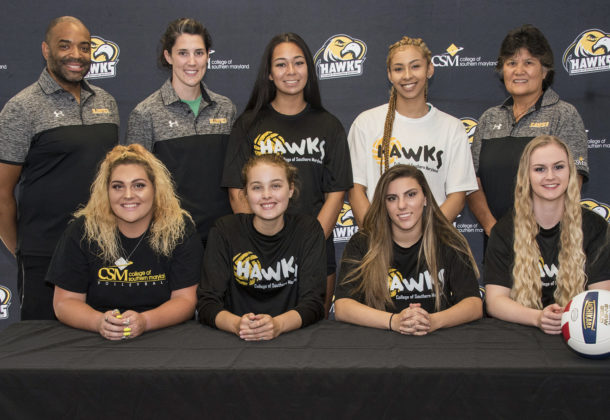 Newly signed Hawks volleyball players are, front row from left, Savannah Carroll, Alexis Lauer, Peyton Boelke and Alexandra Allen and, back row, next to Assistant Coach Ron Swann and Head Coach Ashley Wolfe, Reagan Tuiasosopo and Aliyah Jackson with Recruiting/Assistant Coach Nila Straka.
The College of Southern Maryland volleyball team has signed six new players to the Hawks for the 2017-18 season.
The players are Alexis Lauer, middle hitter from Huntingtown High School; Reagan Tuiasosopo, outside/middle blocker from North Point High School; Aliyah Jackson, outside from Riverdale Baptist High School; Alexandra Allen, from outside/middle hitter Skyview High School in Billings, Montana; Savannah Carroll, right side from Patuxent High School; and Peyton Boelke, defensive specialist from Thomas Stone High School.
"The volleyball coaching staff at CSM is very excited to bring on these six new recruits," said Hawks volleyball Head Coach Ashley Wolfe. "They all have their own abilities and skills to contribute to the team. Bringing together new recruits and returning players can be a challenge, but with this group of athletes we will have no problem. The team gets along well and they are all hard workers. We expect to have a successful 2017 volleyball season."
Assistant Coach Ron Swann and Recruiting/Assistant Coach Nila Straka also will be working with the team.
Competing at the collegiate level is a privilege that approximately 200 young men and women are able to experience each year as they begin their academic careers at the College of Southern Maryland. For the college's student-athletes, life skills such as setting goals, time management, cooperation, and sportsmanship are qualities that are enhanced through participating in organized team sports — prized qualities that will serve students well as they pursue their bachelor's degrees and enter the workforce, said Michelle Ruble, lead director of student life and athletics at CSM.
To view a gallery of photos from the volleyball signing, visit CSM's photo sharing site.
For information about volleyball at CSM, visit the Hawks sports and student life site.
For more about the College of Southern Maryland, visit its Leader member page.