CSM Scholarship Deadline Nears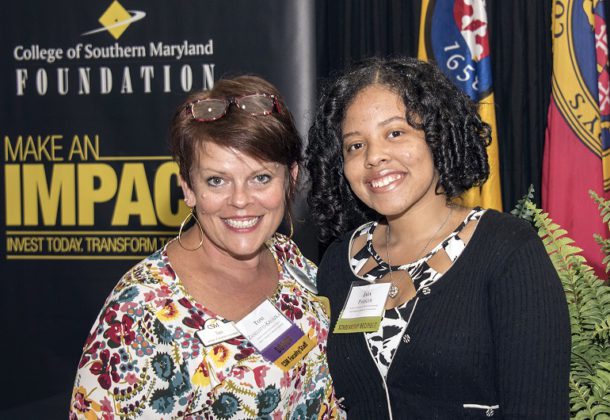 Jaia Parker, 19, of Lusby has been dancing as long as she can remember. "It's in my blood," Ms. Parker said. "It's how I express myself." This soft-spoken theater and dance student at the College of Southern Maryland said there wasn't money in the family budget for her to take formal dance lessons when she was growing up. She and her younger sister were raised in a single-parent household, living with grandparents.
Nevertheless, Ms. Parker practiced her art through liturgical dance at her family's church, Healing and Deliverance Church in Prince Frederick. In addition, she participated in the dance team at Patuxent High School.
When Ms. Parker graduated from high school in 2016, she knew it was her chance to pursue her dream of a career in dance in earnest. "I want to learn more styles and techniques of dancing to be able to teach others," she said. "I hope to invest in my own dance studio as well." The idea of working as a choreographer is her dream career.
Ms. Parker registered at CSM to pursue an associate degree in theater and dance and was awarded two scholarships — the Tony Hungerford Memorial Art Scholarship and the Jerome A. Zanelotti Sr. Memorial Scholarship. This financial help is critical, she said.
"These scholarships have enabled me to focus on my work, not be in debt or carry a heavy load on my shoulders," she said. With this help, "I am able to pay my tuition through scholarships and grants with ease and not have to stress about how I may need to pay a loan back."
At the 2017 CSM Foundation Scholarship Reception on Oct. 27, Ms. Parker had the chance to thank her scholarship donors in person. "Thank you from the bottom of my heart. I am honored and blessed for the gift you all have given to me," she said. "Thank you for investing and helping me even more to reach my goals. I will prosper in my career and show my gratitude by making CSM proud and my scholarship donors proud."
One of those donors, Toni Zanelotti Kruszka, who, along with her siblings created the Jerome A. Zanelotti Sr. Memorial Scholarship in memory of her father, met Ms. Parker at the event. "I think scholarships are about helping people focus on their studies, not having to worry how they're going to pay for it," Ms. Kruszka said.
Ms. Parker said she appreciates her experience at CSM and the encouragement she has received from her advisers. "It's been so amazing," she said with a wide smile. The experience has "given me more confidence."
Once Ms. Parker has earned her associate degree, she plans to continue her education at University of Maryland, Baltimore County or University of Maryland, College Park.
"Entertaining people and making them feel that there's hope for them out in the world and to never be afraid to express themselves is what I strive for through my musicality," she said. "Dance is my way of giving back to the community … my gift to make a better world."
Students seeking scholarship assistance at CSM can learn about all the scholarships that match their circumstances by using the college's Scholarship Finder here. In addition, students can view all available scholarships at the same site.
For additional information or assistance, contact the financial assistance department at 301-934-7531. Applications for spring scholarships will be accepted through Nov. 15, although students are encouraged to apply early for best consideration.
Those who would like to donate to CSM scholarships will have an ideal opportunity Nov. 28 when the college participates in Giving Tuesday, a 24-hour online giving event with multiple matching opportunities. For information on Giving Tuesday at CSM or to donate during the event, visit the college's website.
For more about the College of Southern Maryland, visit its Leader member page.