CSM, Partners Create Student Pathway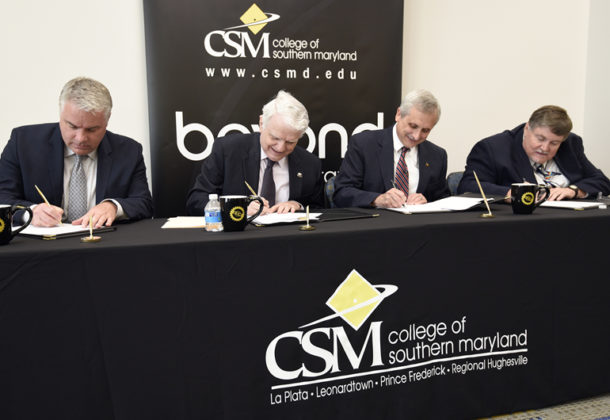 Superintendent of St. Mary's County Public Schools Scott Smith, left, UMUC President Javier Miyares, CSM President Dr. Brad Gottfried, and NAVAIR SES 2.0 James Meade sign copies of an agreement that establishes a pathway business career program.
College of Southern Maryland is dedicated to serving both students and the local workforce, and recently signed an agreement with several partners in the community that is designed to focus the partners on preparing local business students for contracting work at Naval Air Systems Command (NAVAIR) at Naval Air Station Patuxent River. This student pathway will lead to better jobs and better-trained employees.
NAVAIR, University of Maryland University College, and St. Mary's County public schools will work with CSM to design business education to specifically train business students for NAVAIR internships and jobs.
"It's all about workforce development," said CSM President Dr. Brad Gottfried. "These are people who want to live in Southern Maryland. This is where their ties are. This agreement provides a pathway that will have a tangible impact on Southern Maryland."
As a result of the student pathway agreement, students who start in the St. Mary's County Public Schools Academy of Finance at Chopticon High School will be able to follow an educational pathway from Chopticon to CSM to UMUC. When they graduate, they will have earned a bachelor's degree in business administration or management with a minor in contract management and acquisition, and their training will be unique for NAVAIR's needs. Because of the agreement, students will enjoy efficient transfer of between colleges, including transfer of their credits, admissions, and financial aid, plus scholarships.
NAS Pax River has a constant need for engineers that many people know about, NAVAIR SES 2.0 James Meade said. But the base has another staffing deficit that is not as well known. "We have a tremendous need for great business people. We want to bring more local folks on board." Mr. Meade said NAVAIR at Pax River is an acquisition command and his office handles $35 billion in contracts each year, a task that requires many savvy business people.
"It's a natural fit," said Superintendent of St. Mary's County Public Schools Scott Smith. The goal of St. Mary's County Public Schools is that all graduates are college- or career-ready, and the newly established pathway provides that. Also, the relationship between the three institutions and NAVAIR provides an excellent academic program for students and all at a cost much lower than spending all four years at a university outside the region, Mr. Smith said.
"I am thrilled," said Cindy Baden, lead teacher for the Academy of Finance at Chopticon. "It's really going to be a great selling point." Ms. Baden said the academy already has a relationship with naval air station. Students regularly visit the base on field trips and the school hosts guest speakers from the base. The agreement will strengthen the relationship, she said.
"It is a pathway business career program designed to address a NAVAIR need and puts the students in a position to be eligible for employment," said CSM Director of the Nonprofit Institute Barbara Ives, who helped design the agreement.
For information on business and technology degree programs at CSM, visit CSM's website.
For more about the College of Southern Maryland, visit its Leader member page.