CSM Offers Educational Summer Fun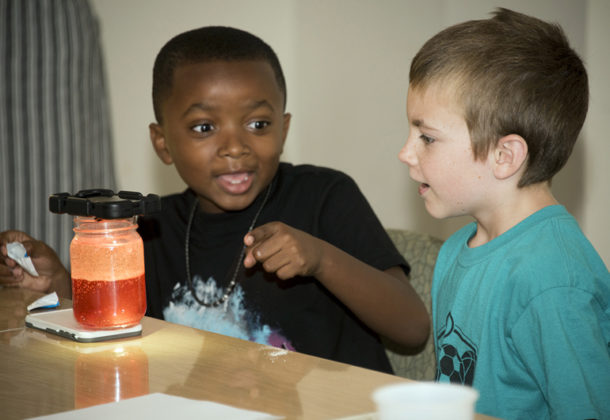 Don't let the hottest months of the year melt kids' brains. College of Southern Maryland offers Educational Summer fun with its Kids' and Teen College, and registration for the 2018 summer opens Feb. 14, 2018. The experience, which is far beyond any ordinary summer camp, is for children ages 5 to 17 and occurs from June 18 to Aug. 17.
"CSM's Kids' and Teen College is designed to be an opportunity — an opportunity to learn new things, try new skills, expand understanding and make new friends — all while having fun," said CSM Youth Program Coordinator Anthony Warrick.
The series of week-long educational experiences includes 115 courses to choose from, including 38 new offerings this summer. Courses happen at the La Plata, Prince Frederick and Leonardtown campuses and all three campuses offer before- and after-care options.
For the coming summer, CSM included another week of classes to accommodate the state's new schedule that starts after Labor Day. "We hope this will help parents when it comes to their family's care and educational needs," Warrick said.
Examples of some of the new courses available for students ages 11-14 include: Advanced 3D Video Game with Unity for Teens; Drones: Fly, Code and Create; Young Entrepreneurs; and Advanced Digital Photography.
Students ages 7-10 can select from new courses like Elementary Engineering for Kids, Comic Book Design, STEM Challenge with LEGOs I and II, and Mad Scientist.
Some of the new courses for students ages 5-6 include Intro to Drone Flying Missions for Junior Pilots, World Traveler, Superhero Camp and JEDI Engineering with LEGOs.
The college emphasizes high standards in its instruction for all ages, working with multiple vendors who specialize in the in-demand areas of STEM (science, technology, engineering and math) education and vendors who hire the most experienced instructors. Vendors like Black Rocket and Circus Camp are returning from previous years and four new vendors are included this year: Goldsmith Education, Playwell Technologies, Drobots and Lessons From Abroad.
New vendor Goldsmith Education was providing courses throughout the state before coming to CSM. The grou's courses this summer will include Engineering and Robotics, Rockets and Robotics, Dissecting Computers, Circuit Fundamentals, All about Technology, Robotics with Mindstorms and Elementary Engineering.
Aaron Goldsmith of Halethorpe, who founded Goldsmith Education after a decade in the industry and five years teaching, applies his experience when designing courses. He hires only Maryland-certified teachers and believes in project-based education, where skills are applied in real situations.
"First they build the robot. Then, they program it. Then, they trouble-shoot it, and that's the most important part," Goldsmith said. "This multi-pronged approach asks students to think in multiple directions at the same time. It's an exciting way to learn and it leads to better understanding of material as they marry the physical and digital world.
"Students are treated as engineers and learn to communicate as such using scientific and engineering terms and ideas. In turn, our young engineers work collaboratively to overcome challenges and learn from one another's experiences," Goldsmith said.
In addition to responding to the demand for more STEM courses, CSM's Kids' and Teen College is offering a number of courses for older students. SAT/ACT Prep and the Great Job Hunt are offered for students who are ages 14-17. "We are also including CPR and First Aid for our Counselor in Training Course this year," Mr. Warrick said.
For information about all available courses and to register for CSM's Kids' and Teen College, visit CSM's website.
For more about the College of Southern Maryland, visit its Leader member page.