CSM, Howard University Partner to Provide Access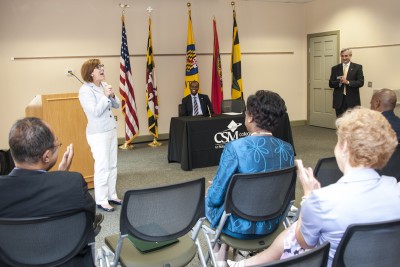 Posted by
College of Southern Maryland
Pax III
The College of Southern Maryland (CSM) and Howard University in Washington, D.C., have agreed to partner to promote successful undergraduate educational experiences for CSM students pursuing bachelor's degrees at Howard. CSM currently has bachelor degree partnerships with more than 25 universities and colleges and continues to expand its partnerships to provide a seamless transition to local and statewide institutions.
"This is a general agreement bringing the two schools together for the benefit of providing a seamless transfer for CSM's students. We look forward to working with the Howard University administrators in providing program-to-program transfers in the near future," said James Spence, CSM's senior coordinator of transfer services and articulation.
"This partnership is about access. It is all about ensuring that our students have the opportunity to get the education they deserve. We believe that access is essential for our students," said CSM President Dr. Brad Gottfried.
"This [articulation agreement] is about employment and jobs and giving our young people opportunity to realize their dream. Our entering class this year at the university has the highest number of transfer students we have ever had," said Howard Provost and Chief Academic Officer Dr. Wayne A.I. Frederick
For information on Howard University, call 202-238-2330, or visit www.howard.edu.
For information on CSM's transfer opportunities, upcoming transfer road trips, transfer requirements or application deadlines, visit www.csmd.edu/TransferServices/. Additionally, students can meet representatives from higher education institutions at the Transfer Fair, 12-2 p.m., Sept. 16 at the Prince Frederick Campus, 1:30-3:30 p.m., Sept. 17 at the Leonardtown Campus or 1:30-3:30 p.m., Sept. 19 at the La Plata Campus. For information, contact Spence at 301-934-7574