CSM Has Nursing Associate-to-Bachelor Pathway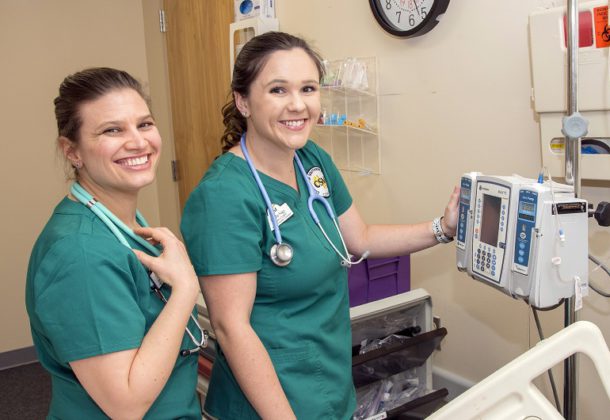 College of Southern Maryland nursing students Tabitha Long of Charlotte Hall, left, and Jennifer Nagy of Mechanicsville participate in CSM's associate to bachelor's degree agreements — Long with Frostburg State University and Nagy with Stevenson University Online. CSM's agreements with these universities allow nursing students to be dual enrolled and work toward both an associate degree and a bachelor's degree at the same time.
Tabitha Long, a local paramedic, has begun her nursing education at the College of Southern Maryland because the program has a great reputation and the college's campuses are close to home. But she also was sold by one of the Associate-To-Bachelor's nursing degree pathways available at CSM.
These pathways, which include agreements with Frostburg State University and Stevenson University Online, give students the opportunity to earn their bachelor's degree potentially faster and more affordably.
"I'm always looking for the next thing to achieve or another goal to strive for," Ms. Long said. The 34-year-old is already a paramedic with the St. Mary's County Advanced Life Support unit, and this fall she started working toward what Long describes as her second career. She is studying to become a nurse practitioner.
"The College of Southern Maryland and Frostburg State University have a partnership that offers a dual enrollment option that allows a student to move through CSM's ADN [associate degree in nursing] program at the same time he or she is enrolled in courses to obtain a BSN [bachelor of science in nursing] degree through FSU," she said.
She was so enthusiastic about "this extreme advantage" that she started working on her requirements at Frostburg this summer, even before beginning her coursework at CSM.
"This is an amazing opportunity because it allows me to obtain my BSN shortly after completion of CSM's ADN program," Ms. Long said.
CSM Associate to Bachelor's Degree Coordinator Mona Weber shared that nurses entering the workforce face increasingly higher education expectations. In a landmark report issued nearly a decade ago, the Institute of Medicine's recommended that nurses should achieve a higher level of education and that the proportion of registered nurses with a bachelor's degree in nursing increase from 50 percent to 80 percent by the year 2020.
"In response to that mandate, CSM has partnerships with four-year institutions to assist student nurses in moving in that direction," Ms. Weber said. "Agreements have been signed with Frostburg State University and Stevenson University Online in spring 2018 which enable CSM nursing students to be admitted into these four-year institutions while they are working on their associate degree. They can take upper-level courses while working on their foundation clinical classes with CSM, making them better prepared and well-rounded nurses once they join the workforce."
Like Ms. Long, CSM nursing student Jennifer Nagy of Mechanicsville is also taking advantage of one of CSM's nursing degree partnerships. After learning about the Stevenson University Online program and its requirements at a CSM information event, Ms. Nagy enrolled.
"The Stevenson booth was the only one I walked up to and I struck up a conversation with the rep about the non-nursing program requirements and the admission requirements," Ms. Nagy said. "She answered all of my questions and immediately I became interested. … I went home that night and applied and was accepted in just about a week. I did not look into any other program because I knew that the BSN program at Stevenson was already a great program according to the Maryland Board of Nursing, and this was where I wanted to complete my bachelor's."
Ms. Nagy said she has been very satisfied with her decision.
"My adviser is phenomenal," she shared. "She registers me for all of the classes and sets up a plan for me to complete all of my classes in a relative time frame. All she does is send me a copy of my schedule and I confirm it. It is extremely easy to gather all of your information for the application process as well. My adviser traveled to Southern Maryland to meet with me to go over all of the classes and what I will need to be a successful student."
Ms. Nagy also sees her dual enrollment status to be a potential bonus when she enters the workforce. "This program benefits me because once I start applying for RN positions, my resume shows that I am already enrolled in a bachelor's program. "Plus, my bachelor's degree will most likely be completed within a year-and-a-half of graduating with my associate's," she said.
Nagy said she wants to work in labor and delivery, and maybe later on as a nurse midwife. She is currently in her OB rotation at CSM and said she has "fallen in love."
"It is amazing seeing everyone work together the way they do and how they support each other," she added. "This is definitely the specialty for me and I will work my hardest to be successful."
Dual Enrollment Makes Nursing Pathway Affordable
CSM's nursing pathway agreements can save students money.
"CSM nursing students have a clear pathway toward their bachelor's degree in nursing by making them aware of the courses needed to complete their four-year degree," Ms. Weber said. "This then allows them to take some of those classes at CSM at a lower cost. In most situations the student will only need to complete 30 to 36 credit hours with the four-year institution, making the total cost for the BSN much lower. Stevenson University Online gives the students a 20 percent discount while they are in the program. Even though it is a private institution, the cost of tuition and fees is less than some public schools. Conveniently, Frostburg State University or Stevenson University Online will handle the nursing student's federal financial aid while they are completing their coursework at CSM."
Both of the college's ATB programs are online and can be completed without leaving Southern Maryland. The ATB Option at CSM has been made possible through the generous support of Nurse Support II Grants from the Maryland Higher Education Commission under the auspices of State of Maryland Health Services Cost Review Commission.
In addition to these pathway agreements with Frostburg and Stevenson, CSM nursing students can also benefit from a dual admission agreement with the University of Maryland School of Nursing. This agreement grants students provisional acceptance to UMSON and allows them to complete several UMSON courses online as "special status" students while enrolled in the CSM nursing program. After these students earn their associate of science degree at CSM, and take and pass the nursing licensure exam, they can work toward a bachelor of science in nursing at UMSON.
To learn about these nursing education opportunities at CSM, contact Weber at 301-934-7638 or [email protected].
In addition, CSM will host several Health Pathways Information Sessions in November to share information about all of the college's health programs as well as information about the competitive admissions and petition process. Information sessions will be held Nov. 2 at the Leonardtown Campus, Nov. 16 at the La Plata Campus and Nov. 30 at the Prince Frederick Campus.
To RSVP, go to the college's website.
For more about the College of Southern Maryland, visit its Leader member page.