CSM Grads Celebrate 59th Commencement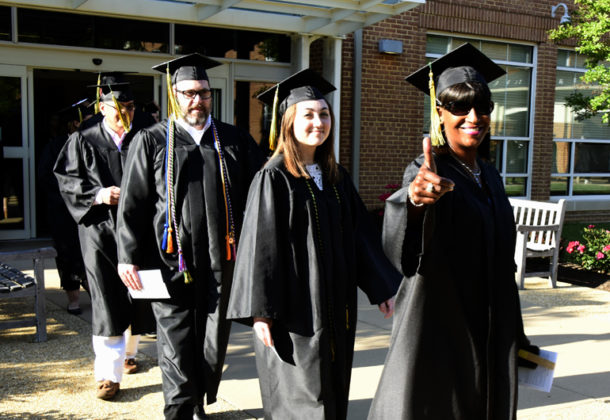 College of Southern Maryland celebrated its 59th Commencement May 24, 2018, as 585 candidates for 669 degrees and 287 certificates were honored at the La Plata Campus.
"We recognize that many of you have completed your studies while working, raising families and volunteering in your community," college President Dr. Maureen Murphy told graduates, who sat in rows in front of their loved ones. "Some of you were able to register as full-time students and finish your degree requirements within a two year window but the majority of you have attended only part time — taking only one or two classes a semester — so it has taken maybe even five years or more to earn this degree. Your determination and persistence has paid off. We hope that the learning you were a part of here at CSM will help you fulfill a lifelong sense of purpose."
Of students who received degrees and certificates at the ceremony, 36.8 percent were from Charles County, 30.9 percent from St. Mary's County and 25 percent from Calvert County, with 7.3 percent from outside of the region.
Most of the associate degrees were awarded in the fields of general studies, nursing, arts and sciences, and business administration, while general studies: transfer, cybersecurity, accounting: basic, business management and criminal justice made up the majority of certificates.
Youngest Grad
The youngest graduate at spring commencement's youngest graduate was Olivia Baumann, 17, of Hollywood. Ms. Baumann earned her high school diploma from the Churchville Homeschooling Program in March, then graduated from CSM just two months later with two associate degrees, one in general studies and the other in arts and sciences.
Ms. Baumann will attend CSM for another semester while working at Southern Maryland Oral and Maxillofacial Surgery as a surgical technician to save money. Then she plans to attend the University of Maryland to continue her education in public health. Eventually, she plans to become a dentist or dermatologist.
Oldest Grad
Edward S. Hill Jr., 67, of Indian Head was the college's oldest graduate. He graduated with an associate degree in social sciences. Already a college graduate, Mr. Hill grew up in Southern Maryland and served four years in the US Navy. He then attended the University of Alabama, Birmingham, where he earned a bachelor's degree while working and helping raise his family. He worked for the US Department of Social Security for 30 years, retiring in 2013.
At retirement, Mr. Hill took nine months off to relax. "But I was bored silly," he said.
He started thinking about going back to school. "To be honest, I was never happy with my grades at UAB. I was working two jobs and trying to raise three children," he said. "I sort of made a promise to myself that I would go back [to college] when I didn't have any distractions and see how I could do."
He accomplished that goal at CSM. "I haven't done too badly," Hill said. "I'm graduating with just short of a 3.5 (grade point average)."
"I find it exciting," he said. "The instructors kept me on task, and I want to give a shout-out especially to Professor Beth Settle and Professor Dr. Suzette Wright."
Convinced that more education will only augment this chapter of his life, Mr. Hill has already started his studies at the University of Maryland as of May 21. And once he earns his second bachelor's degree, he plans to start studying education in graduate school.
"The older you get, the more active you'd better be," Mr. Hill said. "Just keep going."
Student Speaker
The ceremony's student speaker was Dillon Mandley, 21, of Charlotte Hall, who received an associate degree in electrical engineering. While attending CSM, Mandley was a member of the CSM's robotics team, the Talons, competing in the team's work at the VEX U World Championship last year. Mr. Mandley also served as president of the CSM Engineering Club.
"I chose CSM because I knew I could receive a quality education and be connected to a valuable exposure at an affordable price," he said. "What has made my experience at CSM so amazing is the opportunities outside of the classroom due to [the college's] partnerships and ties to employers and the community. The knowledge that is shared by the faculty and staff concerning job, volunteer and extracurricular activities results in paths to success that were not thought possible."
Mr. Mandley said he particularly appreciated learning about programming concepts of various programming languages "because of its usefulness and direct translation to the workforce," adding that the most interesting thing he studied was discrete signal analysis and quantum physics."
Mr. Mandley will continue his education at the University of Maryland's A. James Clark School of education. "My ultimate career goal is to work for NASA and operate my own business that has a strong community presence and positive impact."
Keynote Speaker
The commencement speaker for the ceremony was Vice Admiral Jerome M. Adams, M.D., M.P.H., the US surgeon general. A native of Southern Maryland, VADM Adams grew up in Mechanicsville and graduated from Chopticon High School. He has bachelor's degrees in both biochemistry and psychology from the University of Maryland, Baltimore County, a master of public health from the University of California at Berkeley and a medical degree from Indiana University School of Medicine.
"Never did I imagine giving a commencement speech in my home town, much less as the 20th US surgeon general," VADM Adams said. In congratulating the graduates, he acknowledged the college's alumni, including his mother who is a 1990 alumna, saying, "The truth is, I may not be here today if there was no College of Southern Maryland."
As Surgeon General, Vice Admiral Adams oversees the operations of the U.S. Public Health Service Commissioned Corps, which has about 6,700 uniformed health officers serving in nearly 800 locations around the world to promote, protect and advance the health and safety of the nation and world.
Faculty Excellence Award: Denise Gilmer-Knudson
Denise Gilmer-Knudson, professor of Communication in the Communication, Arts and Humanities Division, received the college's Annual Faculty Excellence Award.
Ms. Gilmer-Knudson creates a classroom climate that encourages students to take risks and uses several techniques to draw in diverse learners. She designs an interactive experience in her classroom, which requires higher-order thinking.
Her efforts outside the classroom are an extension of her commitment to her students' development. Collaborative projects and common intellectual experiences she has organized annually, like Communication Day and Social Justice Day, are opportunities for students to demonstrate knowledge and use their skills while grappling with ethical and social issues in the field.
Nursing Recognition Ceremony
The nursing recognition ceremony held earlier on commencement day honored the program's 49 candidates for the associate degree with guest speaker, Lt Cmdr. Gail Tarlton, a 1998 alumna of the college's nursing program who had earned her class' Academic Achievement Award that year.
"It was here as a nursing student at CSM where I realized my true passion, empowering people with the tools they need to take control of their health," Ms. Tarlton told the audience. "Coming back to why we are here today, I want you to understand that you are no longer ordinary average people; you are nurses and as such every day you will use the skills you learned as a nurse. … Make a commitment to do more than just your job. Make a commitment to your patients and your community, and empower them."
Jennifer Owens of Lexington Park received the Academic Achievement in Nursing Award, earned by the graduate with the highest grade point average in the nursing class. As she presented the award during the Honors Reception, Professor Karen Russell said Ms. Owens identified her nursing career goal while working in the neonatal intensive care unit at Naval Medical Center San Diego and after earning a bachelor of science in nursing, she plans to complete a master of science in nursing and become a nurse practitioner.
Emily Niner of Brandywine earned the Achievement in Nursing Award, presented each year to the graduate who demonstrates academic achievement, clinical competence, community service and leadership potential. Ms. Russell said, "Emily says she found her love for nursing when she was 15 years old. She saw all the exceptional nurses that cared for her mother during her double lung transplant, and she knew this was what she was meant to do."
For more about the College of Southern Maryland, visit its Leader member page.