CSM Golf Competes in Nat'l Tournament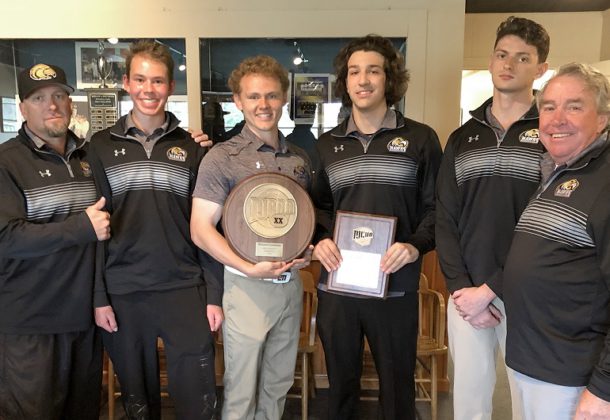 The College of Southern Maryland Golf Team continued its notable season at the national level when it competed in the National Junior College Athletic Association (NJCAA) DII championship after taking first place at the NJCAA Region XX Tournament May 5 and 6 at the Cumberland Country Club.
"Every member of the team carded their best scores for the season and earned the berth on the away-course at the Cumberland Country Club," said Head Coach David Russell about his players' performance at the Region XX tournament.
Previously the team finished first in the Maryland Junior College Athletic Conference (MD JUCO) title at the conference tournament in Hagerstown on April 26.
The May 6 win earned the team the opportunity to compete at the NJCAA DII championship at GlenLakes Golf Course in Foley, Alabama, on May 19-24, 2018.
It was the third Region XX win for the CSM golf program in its history and the third time the team had qualified to travel to Nationals. The Hawks also were Region XX champions in 2006 and 2014, when they also qualified for nationals.
This year's team, comprised entirely of freshmen, includes captain Tyler Potts, Nick Garrafalo, Mark Burgess, and William Garrett. Mr. Garrett was the Region XX Tournament Runner-up and Mr. Potts finished fifth.
Other individual honors for the season included Mr. Garrafalo being named second team ALL JUCO Region XX; Mr. Burgess being named first team All JUCO, second team Region XX; Mr. Garrett was named first team All JUCO Freshman, Region XX Tournament Runner-up and Region XX First Team; and Mr. Potts was named second team All JUCO and Region XX First Team.
"It has been an honor to represent this team as these young players performed under pressure and when it mattered the most," Coach Russell said.
For information about CSM golf, visit the college's website.
For more about the College of Southern Maryland, visit its Leader member page.