CSM Foundation Has New Board Members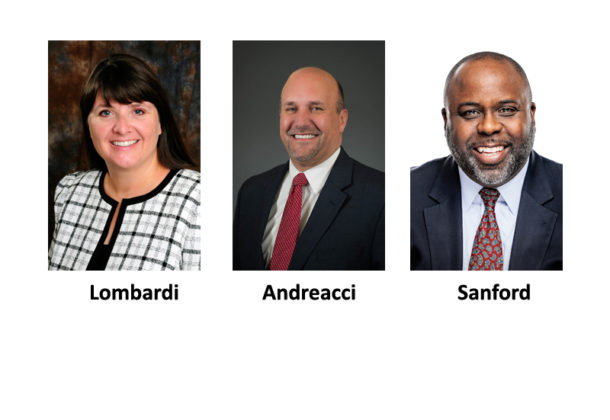 Three new members have been added to the College of Southern Maryland Foundation's board of directors — James Andreacci of Lexington Park, Christy Lombardi of St. Leonard, and Jerry T. Sanford of Bowie.
The CSM Foundation is the arm of the college in charge of fundraising and consists of an all-volunteer board of directors.
Mr. Andreacci is the market president and senior vice president at BB&T, overseeing the three Southern Maryland counties for BB&T plus commercial lending.
"I am committed to development of Southern Maryland and am very excited to be joining the CSM Foundation board," Mr. Andreacci said. "I believe since CSM is in all three counties that I serve, it is a true fit for both CSM and myself. I am ingrained in the St. Mary's community and look forward to growing my networks in Charles and Calvert."
Mr. Andreacci is active in several organizations, including St. Mary's County Chamber of Commerce, United Way of Calvert County, Rotary Club of Lexington Park, Cedar Lane Senior Community, and Southern Maryland Navy Alliance. He enjoys coaching youth football, golfing, and networking. He has a bachelor's degree in finance from Pennsylvania State University and is married with two sons and a daughter.
Ms. Lombardi is chief administrative officer at Community Bank of the Chesapeake, where she handles administrative and corporate governance matters for the bank and oversees human resources.
"I am excited about joining the CSM Foundation board and look forward to supporting our community and college initiatives through the foundation's mission," Ms. Lombardi said. "The educational programs provided by the college contribute greatly to the overall strength of our community and its workforce. The degree I earned from CSM many years ago allowed me to take advantage of opportunities which became a foundation for my career path and future educational achievements. As an employer in Southern Maryland, Community Bank has been able to hire CSM alumni who are well educated, skilled, and prepared to contribute. We are truly fortunate to have this institution in our community, and I'm glad to have the opportunity to give back in some way."
Ms. Lombardi is active with the Tri-County Council for Southern Maryland Audit Committee, the Maryland Banker's Association Council of Professional Women in Banking and Finance Advisory Board, the Southern Maryland Workforce Development Board, and the Calvert County Chamber of Commerce Board of Directors.
She started her education at CSM, where she earned an associate degree in management development. She continued at University of Maryland, University College, earning a bachelor's in HR management; the Maryland Bankers Association, earning a Maryland Banking School diploma of graduation with honors; and master's degrees in both business administration and management/human resources with UMUC.
Ms. Lombardi is married to Gregg Lombardi and has two children, Taylor, 20, and Colin, 16.
Mr. Sanford is economic development manager at Washington Gas, a WGL Company, focusing on the Maryland portion of the company's service territory. He has nearly three decades of experience in economic development, sales, public policy, public/private partnerships, and government/corporate relations, and he partners with the public and private sectors to develop effective sales techniques to reach decision-makers in organizations.
"I am honored to join the College of Southern Maryland Foundation board and look forward to serving the CSM community," Mr. Sanford said. "As an economic development professional, I have learned the importance the impact a well-educated and trained workforce has in the economic vitality of a region. CSM is an important [component] in achieving that workforce."
His public service includes volunteering as a firefighter-emergency medical technician and first aid/CPR instructor in Montgomery County since 1991. In that time he has received commendations for courage, valor and actions above the call of duty. He serves on the Dispute Resolving Board of the Washington Suburban Sanitary Commission and has previously served on the city of Bowie's Administrative Review Board and Board of Appeals.
Mr. Sanford earned his bachelor of science degree in business management with a minor in economics from UMUC and is a Fellow of the Industrial Asset Management Council. He received his economic development education through Pennsylvania State University, Virginia Tech, Urban Land Institute, and the International Economic Development Council.
He is married to Lisa Sanford, who works for Maryland's Governor's Office of Minority Affairs, and has five children, ages 13 to 30, Talisa, Jerin, Leah, Jonathan, and Joseph.
Other foundation board members are Chair Nancy Hempstead, Vice Chair Kimberly Rosenfield, trustee representative James Di Misa, Secretary-Treasurer and CSM President Dr. Maureen Murphy, and CSM Vice President of Advancement Michelle L. Goodwin as executive director of the foundation. Immediate Past Chair is E. Rané Franklin.
Foundation members who represent Calvert County include Dixie Miller, Dr. Stephen Peters, and Stacy Trimble.
Members who represent Charles County are Linda Cox, Leah Estevez, Ruth Ann Ferrell, David Hruda, Reuben F. "Jay" Lilly, Brenda Lowe, Robert V. Price Jr., Trey Proctor, Thomas Quattlebaum, Harry Shasho, and Gary Simpson.
Members who represent St. Mary's County are Eileen Bildman, Alland "Al" Leandre, Micheline Lopez-Estrada, Vickie Kite Milburn, Lisa Oliver, Dr. Ila Shah, Bernadette "Birdie" Shannon, and Jennifer Wamsley.
For more about the CSM Foundation, visit its website.
For more about the College of Southern Maryland, visit its Leader member page.