CSM Celebrates Its Diamond Decade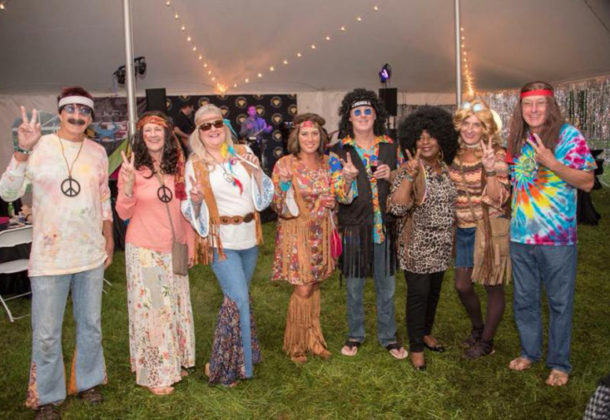 The College of Southern Maryland Foundation held its 60th anniversary "Diamond Decade Mania" bash in September, raising more than $300,000 for CSM student scholarships and student services.
Members of the College of Southern Maryland Foundation, along with college faculty and staff, joined alumni and the entire Southern Maryland community to commemorate CSM's 60th anniversary with a spirited "Diamond Decade Mania" bash on Sept. 29, 2018. The incredible fundraising event garnered more than $300,000 to go into CSM student scholarships and student services.
Hundreds of celebrants were on hand to see scholarship presentations, plus partake in a diamond necklace raffle, live music by BackFin Band, drinks from Quality Street Kitchen and Catering, and a wide variety of food trucks. The evening was made memorable by the many attendees who came in costumes, representing their favorite decade.
"It was 60 years ago on Sept. 17, that CSM, the Charles County Junior College, opened its doors of higher education to everyone in Southern Maryland," said CSM President Dr. Maureen Murphy as she kicked off the evening's festivities. "As the college's fifth president in 60 years, every day I see the value that the College of Southern Maryland brings to our community.
"There is so much pride associated with this college and for good reason," she said. "CSM was named one of the top 150 community colleges in America by the Aspen Institute last year. We have celebrated 27,000 graduates. We serve more than 23,000 students each year and we have more than 1,300 employees working in three counties across four campuses."
Boasting the success of CSM's Kids and Teen College, career and workforce training and the cultural and personal enrichment programs CSM offers throughout the year, Murphy said: "as a newcomer to this college and region, all of you have made me feel welcome, as if I have spent my lifetime here. It is easy to fall in love with CSM and this community."
Highlights of the evening include congratulatory speeches made by House Minority Whip Steny Hoyer, Maryland Del. Edith Patterson and Maryland Senator and 1965 CSM Alumnus Thomas "Mac' Middleton. Also recognized were former Maryland State Senator and Charles County Commissioner Jim Simpson and former State Delegate, Charles County Commissioner, and CSM Trustee Emeritus Danny Mayer.
At the event, Sen. Middleton presented a check to establish the Joseph Donovan Middleton, Class of 1967 Memorial Endowed Scholarship, to honor his late brother.
"Your generosity and investment in CSM, impacts many lives, many families and the prosperity of our region," acknowledged CSM Foundation Board Chair Nancy Hempstead.
Ms. Hempstead took the stage to recognize 1975 Alumnus and Foundation Director Emeritus Jay Lilly, his wife Mary Lilly, and 1976 Alumnus Joel Lilly for their planned gifts to be put toward scholarships at the college. CSM recently named the lobby, wing and conference room in the Community Education Building at the La Plata Campus in celebration of the Lilly family and their legacy gifts that now total more than $500,000. Various rooms were named to honor them, and in memory of Jay and Joel's parents Ethelmae and Reuben.
Current CSM Foundation Director Dr. Ila Shah and her husband Dr. Vinod K. Shah – like the Lilly family and Charles County attorney Hammad Matin – were also recognized as "Diamond Sponsors" of the milestone event. The Shahs presented Hempstead with a $100,000 gift to mark Vinod's recent birthday – funds that will support scholarships for nursing and allied health programs.
Mr. Matin and his family gave the CSM Foundation $100,000 in honor of their mother Shaheen A. Matin, who graduated from CSM in 1990. Her memorial scholarship will support students in early childhood and child care programs.
The Diamond Decade Mania party was one of a number of signature events being held this year to celebrate CSM's 60th Anniversary, including special concerts, the Inauguration of CSM President Murphy, the CSM 60th Birthday Bash at the Blue Crab Stadium presented by CSM Alumni & Friends Connection, and 60th birthday celebrations at all four campuses.
CSM's history began when the Charles County Junior College was created as part of the continuing expansion of the community college in America. At its genesis in 1958, the college was governed by the Charles County Board of Education, with the first classes conducted at La Plata High School in the evenings. The Friendly Hall Campus, which is now the La Plata Campus, was established in 1968. The college expanded its services to St. Mary's County in 1978 and then Calvert County in 1980.
Now, CSM is a regionally accredited community college providing programs and services with a focus on local workforce development. For information about the college's history, visit its 60th anniversary page.
For more about the College of Southern Maryland, visit its Leader member page.