CSM Alum Starts Nonprofit for Children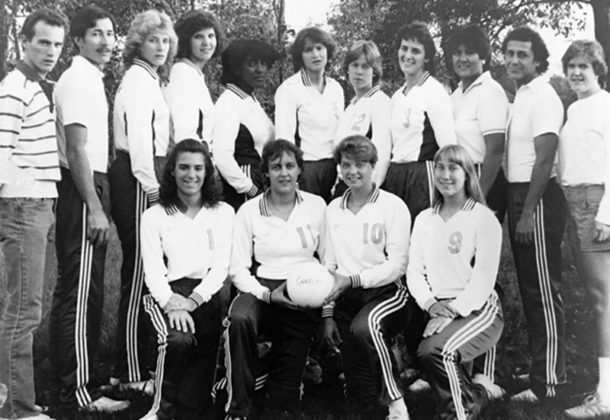 The 1985 CCCC National NJCAA runner-ups included, standing, from left, Manager Ed Auld, Assistant Coach Francis Lightheart, players Diane Roberson, Debbie Woolwine, Michelle Queen, Eva Winlin, Stacey Underwood and Sonya Underwood, Head Coach Nila Toribio-Straka, Assistant Coach Juan Ortega, Manager Dawn Dickerson and, kneeling, players Sharon Millar, Denise Lotscher, Rosie Stinegger and Sally Mertler.
Alumni Stories
For Deb Woolwine Rigney, attending the College of Southern Maryland in the 1980s was a pivotal step in a life that has gone from playing collegiate volleyball to working to help children all over the world.
Ms. Rigney grew up in New Carrolton, where, at the time, she said few of her friends went to college. The all-star volleyball player was not sure what her next step would be after high school graduation. As it turned out, volleyball was key to that next step.
In 1985, Ms. Rigney was recruited to play for CSM, which was then called Charles County Community College, by then-Head Volleyball Coach Nila Toribio-Straka. Ms. Toribio-Straka's team had gone to the National Junior College Athletic Association National Championships the year before and the plan was to return. So Ms. Toribio-Straka offered Ms. Rigney, a 6'1″ middle hitter, an athletic scholarship and the chance to pursue an associate degree.
The two reminisced about those days during a recent visit to CSM's La Plata Campus. The college was the environment Ms. Rigney needed at the time, turning around her performance as a student.
"I just needed a couple of years to get my academics under control. I really needed scholarships," Ms. Rigney said. "I think that was very helpful. I also wanted to play volleyball at a Division I school, and I needed Nila and CSM to help me excel in volleyball to achieve that goal."
Ms. Rigney moved to Charles County and began to focus on her studies, plus the sport she loved.
Ms. Toribio-Straka had created a challenging practice schedule for her athletes, putting together a competitive team that made it to the NJCAA national championships at Miami Dade Community College in Florida four years in a row. In 1985, Ms. Rigney's first year on the team, the Hawks made it all the way to the finals, finishing as national runners-up. In 1986, Ms. Rigney received All-American status as she was named to the NJCAA Volleyball All-American 2nd team.
Ms. Toribio-Straka was proud of her players, both on and off the court. "My whole goal is to not just train volleyball players, but it's about teaching life skills and preparing for life," she said.
With help from an academic adviser specifically assigned to the sports teams, Ms. Toribio-Straka could be sure her athletes paid attention to their academic opportunities as well as their sports-related ones. Many of the players graduated with a 3.0 and higher and received volleyball scholarships at four-year colleges and universities, she said.
Ms. Rigney graduated CSM in 1987 with an associate degree in general studies and received a full scholarship to University of South Florida (USF) in Tampa. "I felt prepared. I was ready," Ms. Rigney said about continuing her education at the much bigger university. "Coming to CSM helped me get in shape both physically and mentally."
After she graduated USF with a bachelor's degree in communication, Ms. Rigney married her husband, Scott, and moved to Carmel, Ind. They adopted two children, Cooper, now 14, from Russia and Piper, now 9, from China.
When they traveled to Russia 14 years ago to adopt Cooper, the Rigneys were embarking on a life-changing journey. The adoption process took more than one trip, providing sufficient exposure to the plight of that country's orphans. The couple were moved to action. "We just couldn't get the idea that so many children won't have a family. It just put a fire in our hearts to help some of the children left behind," Ms. Rigney said.
From this new sense of mission, in 2012 the Rigneys helped form a nonprofit, BarnRaisers of Indiana.
The organization addresses children's issues both locally and abroad. "We primarily focus on raising and distributing funds for sustainable projects that can improve the health and quality of orphaned and/or under-privileged children and youth," Ms. Rigney said.
BarnRaisers of Indiana have since raised nearly $500,000 through activities like raffles, golf tournaments, bingo events and auctions. The organization has used to the money to pay for handicap ramps, projects for schools for the deaf, shelters and more in Indiana. Across the world, the group has helped with a community health center for the BriBri indigenous tribe in Costa Rica, an orphanage in Nepal, clean drinking water and an orphanage in Haiti, school classrooms in Guatemala, an anti-human trafficking project in India, the Shaddra School for Street Kids in India and a chicken project at an orphanage in Kenya.
The nonprofit has been able to provide a better quality of life for children both in the U.S. and abroad. But the BarnRaisers' work has also inspired Ms. Rigney and other board members to travel the world, as they visit and help with the projects. The trips are self-funded by the individuals who go, with none of the funds coming from BarnRaisers of Indiana.
One of those trips recently provided a connection to Ms. Rigney's years at CSM and her former volleyball coach. Ms. Toribio-Straka was keeping up with some of her former players through Facebook and saw all the posts about places Ms. Rigney was going. Ms. Toribio-Straka contacted her former volleyball student-athlete to ask what kind of work she was doing that required so much exotic travel.
Ms. Rigney said she'd show Ms. Toribio-Straka, if she was willing. The BarnRaisers group was planning a trip to Costa Rica, and she invited her volleyball coach and her husband, Joe, to come along and experience a project for themselves. They agreed.
The travelers went by plane, then bus, then a dugout canoe and then a 10-mile horseback ride to eventually reach the community center built in the BriBri village with BarnRaisers' funds. The center provides child care for the families working on banana plantations, as well as medical and dental assistance to the villagers and other services previously difficult to access.
Ms. Toribio-Straka said that on that trip she was struck by the good work her former middle hitter was doing in the world. The coach said that she and Ms. Rigney had not seen each other in nearly 30 years but their bond of coach and player was still strong.
Ms. Toribio-Straka keeps in touch with many of her former players like Ms. Rigney from those 1985 championship teams as well as her other teams. Many of her players began their volleyball careers at CSM and finished their bachelor's degrees at four-year schools on scholarship and are contributing to the good of others like Deb Rigney.
For instance, Ms. Toribio-Straka says that Eva Windlin Jansen ('85-'86) was the former head volleyball coach at Gonzaga University and is now an administrative director on a Native American Reservation in Idaho. Rosie Steininger Dissler ('84-'85) was the former managing director as Head of Group Strategy and M&A in Zurich, Switzerland. Diane Robinson ('85-'86) became a speech pathologist. Denise Lotscher ('84-'85) became a physical therapist in Switzerland. Jennifer Gillespie ('86-'87) played and graduated from Georgia Tech and became one of their assistant coaches. Sonya Trimbath ('83-'85) attended and was an assistant volleyball coach at Coastal Carolina University is now teaching in Colorado.
Jennifer Thomas ('86-'87) is a teaching assistant and helps her husband, the head coach at Dartmouth, with volleyball camps. Allie Schwartz Hayman ('86-'87), former head coach at Washington College, now works as an accountant. Velvet Richardson ('82-'83) works for the federal government. Karen Oglesby ('82-'83) designs custom kitchens. Catherine (Cak) Anderson Lavery ('81-'82) was a former head coach at the University of Maryland Baltimore Campus and Towson University.
Pam Herath ('82-'83) helped establish and runs Strive Leadership Organization, a non-profit dedicated to character-driven leadership development for high school and collegiate athletes and coaches. Patty Johnson ('82-'83) is a math teacher in Charles County. Janice Johnson ('80-'81) is a retired federal government worker.
"The opportunities CSM has given myself and the many women who have played volleyball at this institution is a testament to the structure of a community college system and the benefits that it can offer," Ms. Toribio-Straka said.
"Participation on a collegiate team is true-to-life experience," said CSM Director of Student Life and Athletics Michelle Ruble. "It challenges individuals physically, mentally and intellectually and challenges them to outgrow their individual perspectives and to focus on the greater good. Through that experience with one another, lasting relationships are one of the most gratifying results."
For information about BarnRaisers of Indiana, visit its website.
For information about getting involved with CSM alumni or to share your story, visit the Alumni Stories website.
For information about athletics and student life opportunities at CSM, visit CSM's athletics website.
To see CSM's volleyball team information and schedule, visit the Volleyball website.
For more about the College of Southern Maryland, visit its Leader member page.