Crew Talks Disaster Relief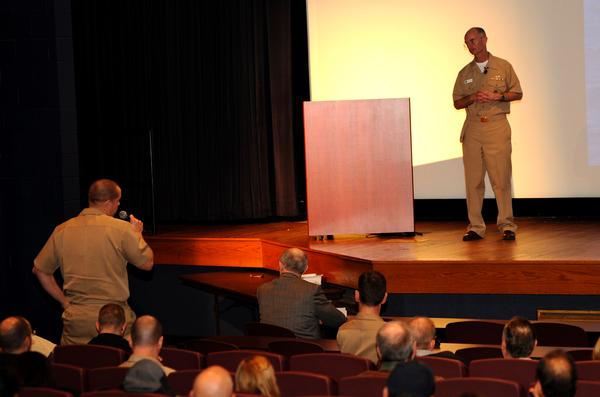 The Ronald Reagan Strike Group adapted its warfighter training and experience to provide disaster relief to the Japanese during Operation Tomodachi, the NAVAIR workforce learned Dec. 13.
Capt. Steve Baxter, Carrier Strike Group (CSG) 7 chief of staff, shared the unclassified details of USS Ronald Reagan's (CVN 76) seven-month deployment during the sixth Meet the Fleet event at Naval Air Station Patuxent River. The fleet post-deployment debriefs serve as part of NAVAIR Commander Vice Adm. David Architzel's initiative to strengthen the command's connection to the warfighter.
"These are incredible opportunities to hear the details at the deckplate of what goes on behind the world events you may hear about in the news, on television or read about," said Kal Leikach, deputy commander, NAVAIR, who opened the event.
Reagan CSG ships were the first on the scene off the coast of Japan after a magnitude-9.0 earthquake and tsunami struck March 11, Baxter said.
Eventually, there were nine American ships assisting the Japanese Maritime Defense Force (JMDF) and 30 helicopters, controlled by the Carrier Air Wing 14 commander, that provided supplies and services to the people of Japan, Baxter said.
"Our challenge was translating our training for core warfighting competencies and adapting them to missions like humanitarian assistance and disaster relief," he said. "We were able to execute those missions purely by using basic fundamental skills of the carrier strike group."
He attributes that ability, in part, to the standardization of pre-deployment training, which enables strike groups from San Diego or Norfolk to aggregate, or work with other strike groups to accomplish any given mission.
"Case in point is Operation Tomodachi," Baxter said. "A challenge was dealing with the nuclear radiation, detected early by the nuclear-powered carrier Reagan's sensors as the carrier approached Sendai, Japan."
"From that point forward, nuclear radiation decontamination was a constant presence in everything we did, from an aircraft, ship and people perspective," he said. To mitigate, the CSG applied the expertise of the nuclear trained people aboard Reagan and established what was called Radiation Control (RADCON) Central, he said.
The RADCON battle staff had a team on duty 24/7, answering questions and coming up with process solutions, such as building a sled that held six or eight radiation detection devices to sweep the 4.5-acre flight deck more efficiently, Baxter said.
Decontamination of the aircraft was added to the aircraft's phased inspection cycle, and decontamination work aboard ship was done concurrently with daily operations, he said.
To deliver supplies ashore as effectively as possible, Reagan CSG personnel developed what became known as "Precision Humanitarian Assistance/Disaster Response" or Precision HA/DR, Baxter said. This response cycle was designed to deliver the right supplies as quickly and efficiently as possible once the Japanese Maritime Self-Defense Force set priorities.
"From the time a need was identified, to putting something into the hands of the people who needed it, the cycle time was down to 20 minutes in some cases," Baxter said.
In a few instances, the people themselves helped set priorities. "People would say, 'we don't need those, but the village on other side of the hill needs it,' Baxter said. "We reprioritized delivery based on real-time information from the people on the ground. That was impressive."
High-tech photography also played a major role. F/A-18s from Strike Fighter Squadron (VFA) 154 captured images from Shared Airborne Reconnaissance Pods (SHARP), indentifying areas impacted by the earthquake or tsunami and passable roads that Japanese ground forces could use to reach those areas.
One SHARP image showed "SOS" spelled out on a soccer field, Baxter said, and other images included drawings of the international landing symbol to let helicopter crews know where to land.
The CSG also applied a grid matrix overlaying a map of the coast of Sendai to communicate with ships in the area and identify floating debris fields, he said. "Again, demonstrating how we adapted things we do on a routine basis, to something that was anything but routine," Baxter said.
Tools were also developed to bridge the language barrier, he said. Helicopter crews showed cards written in Japanese to the villagers so they could either write or point to things on the card to indicate what they needed.
"Sometimes it's tough to equate a military capability to 'a global force for good' for some folks, but it's easier now after Operation Tomodachi," Baxter said.
Three days after their participation in Operation Tomodachi, the Reagan CSG participated in a coalition exercise called "Malabar" with the Indian Navy. Then once in the 5th Fleet area of responsibility (AOR), the Reagan CSG demonstrated its ability to project power across thousands of miles of battlespace, Baxter said.
"While launching strikes to drop weapons in Afghanistan, the ship received a distress call from a merchant marine vessel under attack by pirates 150 miles southwest of the carrier Reagan," he said. The air wing responded to the distress call with F/A-18s, while simultaneously flying missions in Afghanistan.
To put the carrier's span of influence into perspective, Baxter compared the Reagan's reach within the 5th Fleet AOR to the eastern seaboard of the United States.
"It's the same distance as if the carrier Reagan were off the coast of Charlestown, S.C., and conducting simultaneous missions from Florida to the northern tip of Maine," he said.
"That's one aircraft carrier, one air wing, on one day."
The command hopes to continue to invite carrier strike group and Marine air ground task force commanders to give post-deployment debriefs to the NAVAIR workforce.
"There is no better way to find out what's going on with our fleet, than to hear from the fleet," said Leikach. "This is an opportunity to learn how we can serve the fleet better."
Source: NAVAIR Headquarters