Cream of the Shop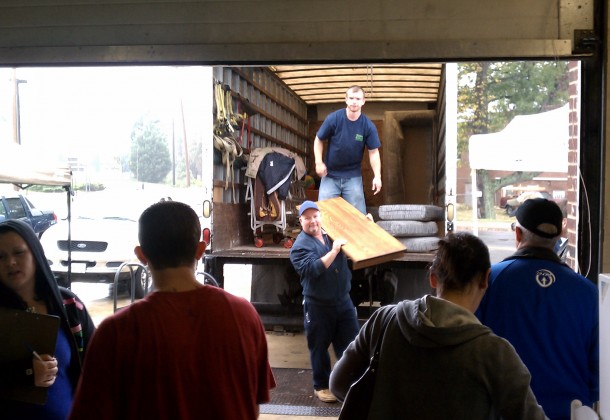 By Jay Friess
Editor
By now, the non-profit Patuxent Habitat for Humanity ReStore in Lexington Park, Maryland has a deserved reputation for the cheapest place to find everything from couches to televisions to building supplies. But if you're only going on the weekend, you might be missing the best stuff.
Every Wednesday, even on the rainy ones like this past week, the ReStore's truck backs up to the loading dock on Coral Place and unloads a fresh batch of gently-used goods donated to Patuxent Habitat.
"We will come pick up their stuff," said Pam Shubert, executive director of Patuxent Habitat, said of donors. "We have trucks that go all the up and down Calvert and St. Mary's Counties."
And once goods arrive at the Lexington Park store, they don't stick around long. The store only has 5,200 square feet with which to work.
"We have to price things to turn over, and things move," Shubert said.
Waiting for the truck each week is a dozen or so regulars who want to be the first to pick over the new selection and claim the choice bits.
Ron Atkins of Lexington Park said he has spent thousands of dollars at the ReStore, outfitting his newly build home with sinks, televisions, doors, wiring, plumbing and paint. What was he looking for? "Whatever I can find," he said. "I've bought just about everything."
James Tawney of Lexington Park said he finally decided to come on a Wednesday morning, because he was tired of missing good bargains.  "I get here late; it's already sold," he said.
Cheryl Jett of Lusby had her eye on a couch. She stated that even as most thrift store prices are rising, she still finds incredible bargains at the ReStore.
"I come here for lamps and different things I need for the house," Jett said. "The prices are good here."
The word has gotten around. Troy Hansen of Great Mills was drawn to the ReStore Wednesday for the first time by the prospect of finding a few cheap chairs for his Leonardtown office. "I heard they have good things for a good price."
Shubert said that by reselling unwanted furniture and building supplies, the ReStore is not only helping families furnish their homes for less, it is also keeping unwanted items out of the waste stream.
"Habitat, internationally, is moving more toward being green," Shubert said. "All of the stuff that sells at the ReStore stays out of the landfill. … We really view ourselves as a resource for the community."
For more information on the Patuxent Habitat ReStore, visit their web site.