County Honors TPP for Economic Contribution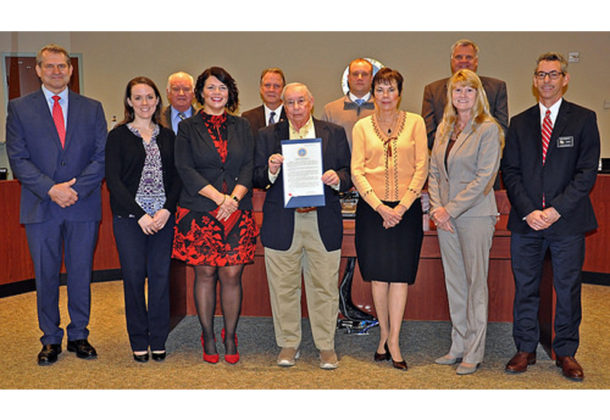 The Patuxent Partnership was recognized by the St. Mary's County commissioners during Economic Development Week Oct. 21-27 for the organization's Economic Contribution to the county.
St. Mary's County has a focus on the value of economic development, and TPP has a big part in that. The Patuxent Partnership is a critical economic partner for the county, working with the government, academia, and industry to advance science, technology, engineering, and math, or STEM, based initiatives in the school system. The organization also supports businesses in the county with speaker programs, networking, educational events for adults, and more through the exchange of ideas, information, and data related to technologies and foster workforce development through an array of initiatives.
"The Patuxent Partnership supports the economic vitality of St. Mary's County by partnering with schools, networking and business organizations, businesses and the US Navy, to host significant events which attracts members of the business community from inside and outside of Southern Maryland while supporting efforts to diversify the county's economic," said Commissioner Mike Hewitt during a presentation honoring TPP.
The St. Mary's County Department of Economic Development is a member of the Maryland Economic Development Association. Established in 1961, the statewide non-profit organization's mission is to enhance its members' knowledge and skills, encourage networking and partnerships among people who are committed to bringing jobs and capital to Maryland, and to promote economic development as an important investment in the state.
In recognition of the overall role played by economic development, the commissioners recently held a ceremony declaring Oct. 21-27 Economic Development Week.
About The Patuxent Partnership
TPP fosters collaboration and the sharing of knowledge and expertise across a diverse network that includes government, industry, and academia. TPP also supports STEM education and workforce development within the local community including hosting programs of interest to NAVAIR, NAWCAD, and the broader DoD community.
To learn more about The Patuxent Partnership and its programs, visit its Leader member page.