Corps Orders Aircraft Safety Reviews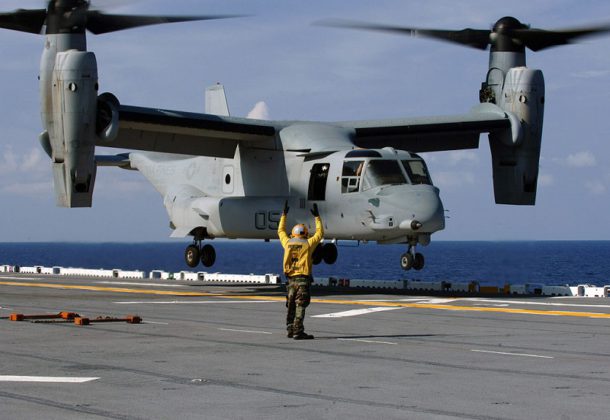 Morning Coffee is a robust blend of links to news around the Internet concerning the Naval Air Station Patuxent River

economic community. The opinions expressed here do not reflect opinions of the Leader's owners or staff.
Marine Corps Gen. Robert B. Neller has directed USMC aviation units  to stand down for safety reviews, Breaking Defense reports. Each squadron must schedule a 24-hour "operational reset" sometime in the next two weeks, so no operational commitments will be impacted. Nineteen Marines have been killed in two aircraft crashes since July 10.
On Thursday, a Navy F-5N Tiger II tactical fighter aircraft from Fighter Composite Squadron 111 crashed into the ocean about 20 nautical miles southeast of Naval Air Station Key West, reports Navy Times. The pilot ejected and was safely recovered. Parts of the jet have been recovered, but the rest is under about 3,000 feet of water, reports US News & World Report. The Navy has no immediate plans of recovering the rest.
Marine Corps Times reports the collision of two Marine Corps F/A-18 Hornets late last year shows the consequences of pilots not getting enough flight hours to train. One of the pilots safely ejected and the other was able to land his stricken plane after the two aircraft collided while practicing basic fighter maneuvers over the Pacific Ocean.
Will Kim Jong Un give the order to fire a ballistic missile toward Guam? The Washington Post reports officials in charge of North Korea's missile program are completing preparations for a launch and then will wait for their president to decide what to do next, potentially inviting retaliation from the US. President Donald Trump on Friday warned that US plans for military action against North Korea are "locked and loaded," Politico reports.
With these latest headlines, the tiny territory of Guam has been center stage. Army Times takes a look at the US military's role on the island, which became a US territory in 1898.
A Government Accountability Office report says the Department of Defense has begun planning and funding "the development of new capabilities" for the F-35 that will cost taxpayers more than $3.9 billion in the net five years, reports The Fiscal Times. So why does the price keep soaring?
The United Kingdom's supercarrier HMS Queen Elizabeth and her escorts are about to finish a series of multinational training exercises off the coast of Scotland. They were joined by the US Navy's USS George W. Bush and members of the Carrier Strike Group Two, The Drive reports.
Five active duty service women, with more than 60 combined years in the military, filed the first lawsuit against President Donald Trump for what they see as an unconstitutional effort to stop transgender personnel from serving, Military Times reports.
A low-flying Russian airplane created a buzz in Washington, DC, last week, but it turns out the surveillance flight over the US Capitol, Pentagon, and other sites was cleared by the US government under a standing global treaty, reports Military Times.
Contracts:
KBRwyle Technology Solutions LLC, Columbia, Maryland, has been awarded a $47,391,270 modification (000226) to contract W52P1J-12-G-0061 for maintenance, supply, transportation and other logistics functions for the Army Prepositioned Stocks-3 Charleston Afloat Program. Work will be performed in Goose Creek, South Carolina, with an estimated completion date of Aug. 14, 2020. Fiscal 2017 operations and maintenance (Army) funds in the amount of $45,599,767 were obligated at the time of the award. US Army Contracting Command, Rock Island Arsenal, Illinois, is the contracting activity.
General Dynamics Advanced Information Systems, Pittsfield, Massachusetts, is being awarded $9,715,997 for modification P00014 to a previously cost-plus-incentive-fee, cost-plus-fixed-fee contract (N00030-16-C-0005) for sustainment of the US and UK SSBN fire control system and the US SSGN attack weapon control system (AWCS) to include training and support equipment. Also included is missile fire control for the US Columbia-class and UK Dreadnought-class common missile compartment program development, through first unit UK production, and strategic weapon interface simulator. Work will be performed in Pittsfield, Massachusetts (90.5 percent); Bremerton, Washington, (3.6 percent); Kings Bay, Georgia (2.7 percent); Dahlgren, Virginia (1.0 percent); Cape Canaveral, Florida (0.9 percent); Portsmouth, Virginia (0.9 percent); and the UK (0.4 percent), with an expected completion date of Sept. 30, 2023. Fiscal 2017 research, development, test and evaluation funds in the amount of $8,526,381; fiscal 2017 operations and maintenance (Navy) funds in the amount of $1,112,982; and 2015 weapons procurement (Navy) funds in the amount of $76,634 are being obligated on this award. Funds in the amount of $1,112,982 will expire at the end of the current fiscal year. Strategic Systems Programs, Washington, District of Columbia, is the contracting activity.
Sodexo Management Inc., Gaithersburg, Maryland, is being awarded $13,653,110 for fixed-price modification P00086 under previously awarded contract number M00027-11-C-0003 for an increase in quantity of meals needed for fiscal 2017 in support of the Marine Corps Regional Garrison Food Services program. This modification increases the cumulative value of the contract to $747,901,910. Work will be performed in Camp Lejeune, North Carolina (47.51 percent); Parris Island, South Carolina (35.5 percent); Quantico, Virginia (6.53 percent); Cherry Point, North Carolina (5.98 percent); Beaufort, South Carolina (2.41 percent); Washington, District of Columbia (1.09 percent); Norfolk, Virginia (0.78 percent); and Bogue, North Carolina (0.20 percent), and work is expected to be completed Sept. 30, 2017.  Fiscal 2017 1105 subsistence-in-kind funds in the amount of $13,653,110 will be obligated at the time of award and will expire at the end of the current fiscal year. The Marine Corps Installation Command, Arlington, Virginia, is the contracting activity for contract M00027-11-C-0003.
Atlantic Diving Supply Inc., Virginia Beach, Virginia, has been awarded a $14,264,820 modification (P00003) to contract W81XWH-15-D-0046 for the purchase of oxygen generator, field portable systems. Work locations and funding will be determined with each order, with an estimated completion date of Aug. 27, 2019. US Army Medical Research Acquisition Activity, Fort Detrick, Maryland, is the contracting activity.
Aurora Flight Sciences Corp., Manassas, Virginia (FA8650-17-D-2715); and Northrop Grumman Systems Corp., Redondo Beach, California (FA8650-17-D-2719), have been awarded a $499,000,000 indefinite-delivery/indefinite-quantity shared ceiling for six contracts for the Aerospace Systems Air Platform Technology Research program. These contracts provide research for affordable, revolutionary capabilities for the warfighter. Work will be performed in Manassas, Virginia; and Redondo Beach, California, and is expected to be completed by 2025.  This award is the result of competitive acquisition and six offers were received. Fiscal 2017 research and development funds in the amount of $100,000 are being obligated to each company at time of award.  Air Force Research Laboratory, Wright-Patterson Air Force Base, Ohio, is the contracting office.