Congress Wants Details of Afghan Strategy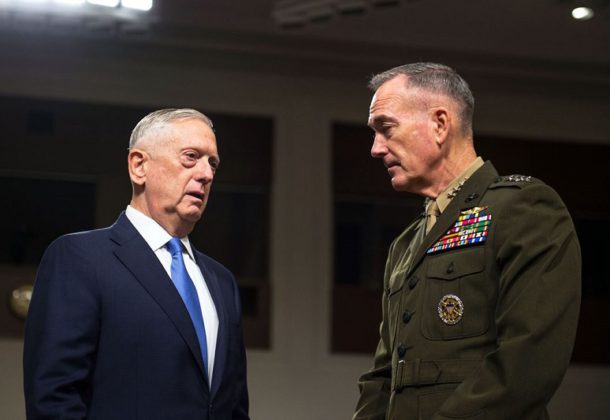 Morning Coffee is a robust blend of links to news around the Internet concerning the Naval Air Station Patuxent River

economic community. The opinions expressed here do not reflect opinions of the Leader's owners or staff.
Will the new Afghanistan strategy and acronym make a difference? Appearing in front of the Senate Armed Services Committee this week, DefSec James Mattis described the strategy as "R4+S," which stands for "regionalize, realign, reinforce, reconcile, and sustain," reports Defense News. Senators expressed skepticism that the strategy truly would change anything on the ground after 16 years of ongoing conflict.
Senate Armed Services Committee Chairman John McCain will hold up nominees to the Pentagon until the Trump Administration communicates its plans for the wars in Afghanistan and Iraq, reports Defense News. So far, Sen. McCain claims that they have only offered vague strategy for sending more troops there. Congress still does not know many of the crucial details of this strategy, The Washington Post reports. "This is totally unacceptable. I repeat: This is totally unacceptable," the senator said.
DefSec Mattis reveals new rules of engagement, reports Defense News. Rules of engagement are classified, but the secretary has loosened several: The removal of proximity requirements for strikes against Taliban forces, and the spreading out of US and allied advisers to lower-level Afghan units.
A FOIA lawsuit has been filed for information about the deadly Osprey crash from 2000 that killed 19 Marines, reports Military Times. The widows of two USMC pilots killed and a congressman who pursued answers about that incident for years announced that they have filed the  lawsuit against the Defense Department to obtain additional documents on the crash. Deputy DefSec Robert Work announced the pilots had been erroneously blamed in 2016, a major milestone for the families, but additional information is needed .
The first female Marine Amphibious Assault Vehicle officer says it is "a privilege and an honor" to serve, reports Marine Corps Times. Second Lt. Mariah Klenke earned the military occupational specialty 1803 for assault amphibian officer when she graduated from the Assault Amphibian Officer Course at Camp Pendleton, California. She will be assigned as a platoon commander at the 3rd Assault Amphibian Battalion.
Congressional defense committees have approved shifting more than $400 million from other accounts into missile defense programs to clear the way for more ground-based interceptors, sensors, and upgrades to Navy anti-missile vessels in the face of threats led by North Korea. Boeing, Raytheon, and Orbital ATK are likely to be the top beneficiaries, reports Bloomberg.
The door to dialogue is still open with North Korea, says Secretary of State Rex Tillerson, reports dw.com. Despite the vicious threats and warnings that have been exchanged in recent weeks between the leaders of the US and North Korea, the two governments appear to have at least a degree of dialogue, a development which analysts say is heartening.
DefSec Mattis says US should stick to the Iran deal, reports Politico.com. "At this point in time, absent indications to the contrary, it is something the president should consider staying in," the secretary told the Senate Armed Services Committee. President Donald Trump must decide by Oct. 15 whether to certify that Iran is keeping up with its end of the deal, which lifted economic sanctions in return for Iran freezing its nuclear weapons development and allowing more intrusive inspections of its atomic facilities.
Two Navy squadrons resume flying after deadly T-45 crash, reports Navy Times. The Navy's two Meridian, Mississippi-based Training Squadrons 7 and 9 have resumed training flights after a one-day pause following Sunday's fatal crash of a T-45 training jet in Tennessee. The names of the two pilots killed were released.
Climate change is making airport planners think again as low-lying airports may become increasingly vulnerable to storm surges. Hotter temperatures may cause tarmacs to melt, restrict takeoff weights or require heavier aircraft to take off later in the day. These are very expensive problems to address, reports The New York Times.
A series of Russian-linked Facebook ads were specifically aimed at Michigan and Wisconsin during the lead-up to last year's presidential election, The Hill reports.
The Veterans Affairs Department's watchdog said it is reviewing Secretary David Shulkin's 10-day trip to Europe with his wife that mixed business meetings with sightseeing, Army Times reports.
Contracts:
DCS Corp., Alexandria, Virginia, is being awarded a $207,596,336 cost-plus-fixed-fee, indefinite-delivery/indefinite-quantity contract to provide system engineering, analysis, research, development, logistics, and configuration and data management services to the Naval Air Warfare Center Weapons Division's aircraft integrated product teams, which are critical in the development, integration, test, evaluation, and fielding of new and upgraded capabilities to naval aircraft, such as the F/A-18, EA-18G, F-35, AV-8B, AH-1/UH-1, and unmanned aerial systems. Work will be performed in China Lake, California (86.5 percent); Eglin Air Force Base, Florida (7 percent); Ridgecrest, California (5 percent); Point Mugu, California (1 percent); Cherry Point, North Carolina (0.2 percent); Yuma, Arizona (0.2 percent); and Patuxent River, Maryland (0.1 percent), and is expected to be completed in October 2022. Fiscal 2017 research, development, test and evaluation (Navy) funds in the amount of $200,000 will be obligated at time of award; all of which will expire at the end of the current fiscal year. This contract was competitively procured via an electronic proposal as a 100 percent small business set-aside; two offers were received. The Naval Air Warfare Center Weapons Division, China Lake, California, is the contracting activity (N68936-18-D-0006).
Chavis Inc., Maxton, North Carolina (W91247-17-D-0015); Outside the Box LLC, Richmond, Virginia (W91247-17-D-0014); CMC Building Inc., Bolton, North Carolina (W91247-17-D-0013); Lifecycle Construction Services LLC, Fredericksburg, Virginia (W91247-17-D-0017); W4 Construction Group, Pontiac, Michigan (W91247-17-D-0018); and Civil Works Contracting LLC, Wilmington, North Carolina (W91247-17-D-0016), will share in a $49,000,000 firm-fixed-price contract for a broad range of  maintenance, repair, and minor construction projects at Fort Bragg, North Carolina. Bids were solicited via the Internet with 17 received. Work locations and funding will be determined with each order, with an estimated completion date of Sept. 29, 2011. Mission Installation Contracting Command, Fort Bragg, North Carolina is the contracting activity.  (Awarded Sept. 30, 2017)
Strategic Alliance Business Group (SABG), Arlington, Virginia, is being awarded a $34,301,873 competitive cost-plus-fixed-fee and cost-plus-incentive-fee contract. Under this new contract, the contractor will provide support with customer and end-user communications about space, services, and cost. The contractor will support the planning and programming for operational requirements to ensure facility availability, to support corporate and regulatory compliance for facility operations and sustainment, and to support and assist in the oversight and management of all aspects of facility operations to create an optimal, safe and cost effective environment for the building occupants and integration for geographically dispersed locations. The work will be performed in Dahlgren, Virginia; Fort Greely, Alaska; Redstone Arsenal, Alabama; Fort Belvoir, Virginia; Pacific Missile Range Facility, Hawaii; Vandenberg Air Force Base, California; and Wake Island, Hawaii, with an estimated completion date of October 2022. This contract was competitively procured via publication on the Federal Business Opportunities website with four proposals received. Fiscal 2017 research, development, test and evaluation funds in the amount of $110,000 are being obligated at time of award. The Missile Defense Agency, Huntsville, Alabama, is the contracting activity (HQ0147-18-C-0004).