Comments Sought on Site 55 at Pax River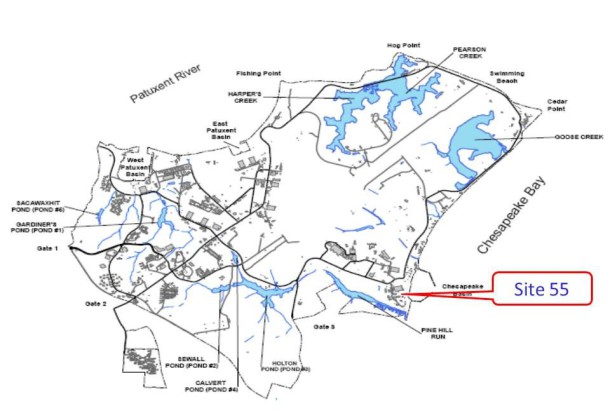 Public comment on the Non-Time-Critical Removal Action (NTCRA) at ER Program Site 55, Former Hazardous Waste Storage Hut
The Department of the Navy invites Public Comment on the Engineering Evaluation/Cost Analysis for Site 55 — former hazardous waste storage hut — under the environmental restoration program at the Naval Air Station Patuxent River, Maryland.
In accordance with the requirements of the Comprehensive Environmental Response, Compensation and Liability Act (CERCLA), NAS Patuxent River invites public comment on the Non-Time-Critical Removal Action at Environmental Restoration (ER) Program Site 55, Former Hazardous Waste Storage Hut.
Public comment opens Aug. 13, 2015, and closes Sept. 11, 2015. The objective at Site 55 is to remove soil and sediment impacted by polychlorinated biphenyls (PCBs) to a level acceptable for human health and the environment.
The Navy has prepared an Engineering Estimate/Cost Analysis  to address environmental concerns at Site 55. The Navy intends to remediate Site 55 by excavation and offsite disposal, post-excavation confirmatory sampling of soil and sediment, and site restoration.
The public is encouraged to comment analysis. Removal action on Site 55 will be implemented only after the public comment period has ended. An alternative removal action may be selected only after all comments have been received from the public. The EE/CA and all other relevant environmental documents for Site 55 are available for review at either of the following repositories:
Naval Air Station Patuxent River Library
22269 Cedar Point Road, Building 407
Patuxent River, MD 20629
(301) 342-1927
Hours:
Mon-Thurs: 7:30 am to 4:30 pm
Fri: 10 am to 2 pm
Closed Saturday and Sunday
St. Mary's County Public Library
Lexington Park Branch
21677 FDR Boulevard
Lexington Park, MD 20653
(301) 863-8188
Hours:
Mon-Thurs: 9 am to 8 pm
Fri.-Sat: 9 am to 5 pm
Sun: 1 to 5 pm
Postmarked by the closing date of Sept. 11, 2015, to any of the following points of contact:
Naval Air Station Patuxent River
Public Affairs Officer
Attn: Connie Hempel
22268 Cedar Point Road
Building 409, Room 209
Patuxent River MD 20670-1154
U.S. EPA Region III
Attn: S. Andrew Sochanski
Hazardous Site Cleanup Division 3HS11
1650 Arch Street
Philadelphia PA 19103-2029
Maryland Department of the Environment
Attn: Rick Grills
Federal Facilities Division
Hazardous Waste Program
1800 Washington Boulevard, Suite 645
Baltimore MD 21230-1719