College to Celebrate 27th Golf Classic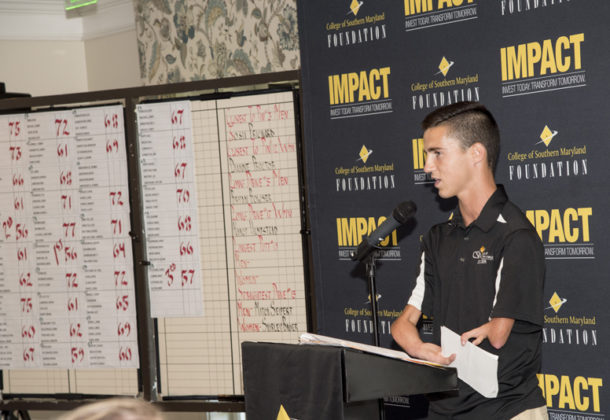 CSM soccer player Max Bode of Nanjemoy speaks about the difference scholarships have made to him in his college career at the 26th annual Golf Classic's afternoon ceremony. Bode was one of four Marrick Homes Scholarship recipients attending the tournament. Marrick Homes has been the Golf Classic's grand tournament sponsor since 2001.
College of Southern Maryland Foundation's 27th Golf Classic will bring a full field of golfers to Swan Point Country Club in Issue, on Thursday, Aug. 9. Proceeds of the annual event support the foundation's efforts to support students, athletic programs, and scholarships for those who may not otherwise be able to afford higher education.
This year, the tournament will pay special tribute to the college's former President Emeritus Dr. John Sine who died in July 2017. The Sine family has created the Dr. John M. Sine Endowed Scholarship, which will be featured at the event. Also, the classic will be part of this year's celebrations of the college's 60th anniversary, recognizing CSM as a force in the region for increasing financial stability and prosperity of residents in Southern Maryland.
The Golf Classic raises money for scholarships and programs through the CSM Foundation, and over the years, it has raised more than $1,000,000. Max Bode, who graduated in spring 2018, can attest to the importance of those scholarships, as he was among the recipients of the 2017 Marrick Homes CSM Foundation Golf Classic Athletic Scholarship.
"When you realize the actual cost of college, any help at all to prevent debt is important," Mr. Bode said. "It really helps going into my future plans." He will continue his education at Shepherd University in West Virginia. The 2016 Lackey High School graduate and Nanjemoy resident graduated with his associate's degree and intends to go into sports management for his career. The student athlete played on the CSM Hawks soccer team in 2016 and 2017.
For the 17th year, the Grand Tournament Sponsor for the event is Marrick Homes. CSM Foundation Director Gary Simpson is the chairman for his second year, after raising $89,515 last year.
Mr. Simpson said the college's partners in the community are the driving force behind the success of the annual golf event, and the CSM Foundation itself.
"The Golf Classic is one of those signature traditions in Southern Maryland that continues through the years because of the generosity of so many partners," Mr. Simpson said. "These partners are individuals, organizations, and businesses — people who realize that the funds generated through this tournament are going to support a great cause, our students and their education."
The popular Sip & Swing will occur simultaneously with the Golf Classic, beginning at 10:30 am that day. The Sip & Swing is open to first-time golfers or experienced players to enjoy interactive clinics featuring chipping, putting, and full-swing techniques followed by a food and wine tasting. "This year is the 60th anniversary of the college and our goal is to celebrate alumni throughout this Golf Classic," said CSM Foundation Director Brenda Lowe, a past president, director and executive officer with Southern Maryland Women's League, the sponsor of this year's Sip & Swing.
"By sponsoring and attending the Sip & Swing, we have the opportunity to socialize with others, be a part of helping to provide golfing technique lessons, while being a part of the 60th anniversary celebration events – especially for those whose time is limited or feel uncomfortable with a golf club in-hand," Ms. Lowe said. "I have been to several of the Sip and Swing events, and they are tons of fun, have good food and lots of laughs."
CSM alumni can participate in Alumni Row and sponsor a 60th anniversary sign featuring their name, graduation year, or business name. Proceeds will benefit the CSM Alumni scholarship.
Sponsorships are still available, and include opportunities for exposure in marketing materials and social media campaigns. The deadline for sponsorship is July 27. For information, contact Erika Abell in the CSM Development Department at 301-934-7647 or email the foundation.
In addition to Marrick Homes, other sponsors include Executive Sponsor Coldwell Banker Jay Lilly Real Estate; Corporate Sponsors Outdoor Creations Landscape Services Inc. , Rotary Club of Charles County (La Plata), and Washington Gas A WGL Company; Mulligan Sponsors Community Bank of the Chesapeake and McDonald and Eudy Printers Inc.; Community Partners Chick-fil-A of La Plata, Nancy Hempstead of Occasions Boutique, Simpson's Olde Towne Insurance, SMECO and Southerwood Roofing and Siding LLC; Sip & Swing Sponsor Southern Maryland Women's League; and Food and Beverage Sponsors Bozick Distributors Inc. and Chick-fil-A of La Plata.
Registration and continental breakfast begin at 7:30 am and shotgun start is 9 am. Breakfast, lunch, dinner, and refreshments are included with several contests, prizes, and awards. Registration deadline is July 27.
Sip & Swing registration begins at 10:30 am, with clinics at 11 am, food and wine tasting at 12:30 pm and awards ceremony at 1:30 pm. Tickets are $75 and can be purchased through Aug. 1.
For information, to sponsor or register, visit the Foundation website.
For more about the College of Southern Maryland, visit its Leader member page.