College Scholarships Awarded by SMECO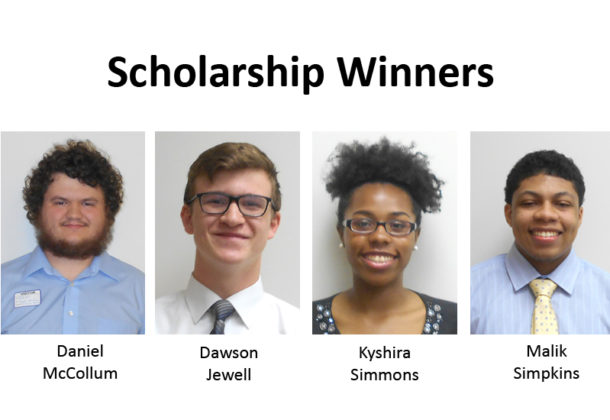 Four high school seniors have been awarded scholarships by Southern Maryland Electric Cooperative. Every year, the co-op awards four college scholarships to students who live in its service area. The recipients are chosen based on scholastic achievement, financial need, and involvement in their school and community. Since the program began in 1993, SMECO has awarded scholarships to 100 students. Each student will receive a $1,500 college scholarship.
Recipient Dawson Jewell is the son of Kevin and Melissa Jewell of Charlotte Hall. He is a graduate of La Plata High School. Kaitlyn Lavin, his English teacher, said: "Dawson is an enthusiastic, intelligent, and positive student. Each day, he enters the classroom with a smile and an eagerness to learn. Although he is charismatic, he is also extremely introspective. Dawson considers all viewpoints and addresses multiple perspectives when completing assignments. He works well with all of his peers and he is always willing to lend a helping hand." Mr. Jewell plans to obtain a degree in criminal justice at the College of Southern Maryland. He has been active in sports, including football, track, and lacrosse; served as a volunteer firefighter; and participated in the Navy Junior ROTC.
Recipient Daniel McCollum is the son of Theresa McCollum of Mechanicsville and graduated from Great Mills High School. McCollum was a mentor in Oakville Elementary School's Future Leaders of the World program, and president and a founder of the Great Mills Debate Club. He will attend Christopher Newport University in Virginia, studying to become a teacher. In his scholarship application essay, he wrote: "I simply want to change the world for the better. I want to help bring up the next generation of doctors, engineers, soldiers, lawyers, politicians, and everything else. I want to be a teacher." Daniel Morris, a teacher of English at Great Mills, said Mr. McCollum is a student who would regularly engage in discussions of current events, literature, politics, and science, and whose questions and conversations revealed an ever-growing depth of understanding. Mr. Morris said, "I am confident that Daniel will excel in the future in whatever path he chooses to pursue."
Recipient Kyshira Simmons is the daughter of Quitasha Simmons of Brandywine and graduated from the Academy of Health Sciences at Prince George's Community College. When students graduate the academy, they have met the requirements for both a high school diploma and an associate degree. Ms. Simmons is in the National Society of High School Scholars, the National Society of Collegiate Scholars, and the National Honor Society. She has been Student of the Month and Scholar of the Week, and she was Employee of the Month at the Sonic Drive-In in Waldorf. She has been awarded for academic excellence in US history and chemistry and received an Outstanding Leader Award. Simmons will pursue a degree in psychology at Towson University. Teacher Jason Ray said, "I attribute her outstanding academic success to pure determination, raw intelligence, and her clear goal to graduate from our selective early college program with a strong enough record to matriculate into a well-regarded institution. She is serious about her progress in a way that is rare for students her age, and I am certain that she will bring this determination to her college courses."
Recipient Malik Simpkins is the son of Danyale Ury of Waldorf and graduated from North Point High School. He was in the symphonic band, and for his academic achievements, he received an Academic Letter and Academic Pin. He was in the National Honor Society and listed on the principal's honor roll. He has been an active member of Winning Souls Evangelistic Church, participating in the church's outreach ministry, youth ministry, and hospitality team. At the church, he is a junior usher and a junior member of the Fellowship Society, which raises money for scholarships. Engineering teacher Doug DeCook said, "Malik can be found helping his peers and putting in extra time practicing MatLab programming. He works well in an individual setting, but excels when working collaboratively, and his focus and good habits seem to rub off on his classmates. He serves as an engineering ambassador and talks to middle school students about entering North Point's engineering program." Mr. Simpkins will attend the University of Maryland and study computer engineering.
To learn more about SMECO please visit their Leader Member Page.