Help Clean Up Litter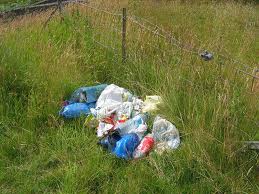 Citizens are encouraged to assist the St. Mary's County Department of Public Works and Transportation and the Maryland State Highway Administration in maintaining and improving the visual landscape of our roadsides. Litter just doesn't appearit's a result of careless attitudes and improper waste handling. It is time for a new era of environmental responsibility, especially in terms of litter reduction. Clean communities have a better chance of attracting new businesses than those where litter is common. Litter is ugly and it is costly! So, how can citizens support a cleaner and litter free St. Mary's County?
Clean Community Programs
Clean Community Programs are available to residents wanting to maintain and to enhance their neighborhood's appearance. Through the program, neighbors can address issues such as littering, junk filled yards, inoperative vehicles as well as poor community pride and image. The programs are designed to help residents implement neighborhood-based initiatives to reduce such problems. A community's appearance reflects on everyone within the community. While everyone feels some degree of concern about litter and neglected neighborhood properties, very few people realize that it is a problem they can influence. This effort represents and encourages a program led and run by community volunteers. However, the program is dependent upon neighborhood leadership for actual implementation and success. DPW&T representatives are available to support the communities, but true success happens only with the efforts and work of the neighborhood. To set up your Program, please contact our Solid Waste Manager at 301-863-8400 or fill out our Clean Community Registration Form located online.
Neighborhood Litter Critter Program
Through DPW&T's new Litter Critter Program, the Solid Waste & Recycling Divisions will park collection receptacles on your street on Friday, let you and your neighbors fill it up with garbage and debris over the weekend, then haul it away on Monday. The containers may be filled with just about anything, shy of appliances, tires and large amounts of commercial construction materials like sheet-rock and roofing materials.
The Program is designed to be customer friendly by giving the homeowner more opportunity to plan. If a homeowner and several neighbors want to clean up a specific area, or just perform a general clean-up of their neighborhood, they can call the Solid Waste Manager @ (301) 863-8400 or fill out a Clean Community Registration Form located at http://www.co.saint-marys.md.us/dpw/cleancommunity.asp.
Adopt-A-County-Road Program
The existence of unsightly litter, garbage, posters, advertisements and other refuse along County roads detracts from the scenic and rural character of St. Mary's County. In an effort to preserve the aesthetic beauty of the County, the Board of County Commissioners adopted a program to encourage citizens to voluntarily help "clean up" our County's roadways. Under this program, a homeowners association, business, group or other community organization may volunteer to clean up those roads within their subdivision or general geographic area. Get together and clean it up and DPW&T will haul it away for free. The Department provides safety vests, sticks, trash bags, safety signage and scheduled litter pick-up (optional) for community groups upon request. Individuals, churches, businesses, civic groups and other organizations are encouraged to "Help Keep St. Mary's County Clean" by volunteering their time in this rewarding program. For more information on this community initiative, visit our Adopt-A-Road Program web-site at http://www.co.saint-marys.md.us/dpw/adoptaroad.asp.
Litter Pick-up Program
The need for litter pick-up is based on routine field observation by a road crew foremen and requests from citizens. In general, the months of May through November are scheduled for these activities. Individuals may also submit a litter pickup request electronically, by calling the DPW&T at 301-475-8400 or by filling out our Maintenance Request Form located online. Due to budgetary constraints, the majority of the DPW&T efforts are seasonal and of lesser year-round priority than safety and other infrastructure maintenance needs. However, we do keep a listing of known "problem areas" which we schedule on a more routine basis. In St. Mary's County, legal responsibility for many roads lies with the Maryland State Highway Administration (SHA). Specific requests along State Roads (i.e. MD 4, MD 235, MD 237, MD 236, MD 5…) can be reported directly to the SHA office in Loveville at 301-475-8035.
Reporting Roadside Litter
An obvious cause of litter in the community is the pedestrian or motorist who tosses litter on the road, roadside, sidewalk or yard. All motorists should carry and use car litter bags. Remember, the operator/owner is responsible for litter dropped, thrown from the vehicle or placed onto a public roadway. It is also illegal to drive with an unsecured load. Allowing items to fall from the back of a vehicle is equal to tossing trash out of a car window. If litter is seen coming from a vehicle, the owner or operator of the vehicle can be held accountable. Littering is against the law and litterers can be prosecuted. In most cases, the offense is considered a misdemeanor which prevents a sheriff's deputy, unless a witness to the violation, from taking direct enforcement action against a possible offender. An officer cannot issue a citation based on an individual complaint. Depending on what extent a citizen wishes to pursue the offense, littering offenses can be reported in several ways which may result in the assessment of up to 2 points against an offender(s) driver's license.
Source: St. Mary's County Public Information Office