Check Out Day of Cyber at CSM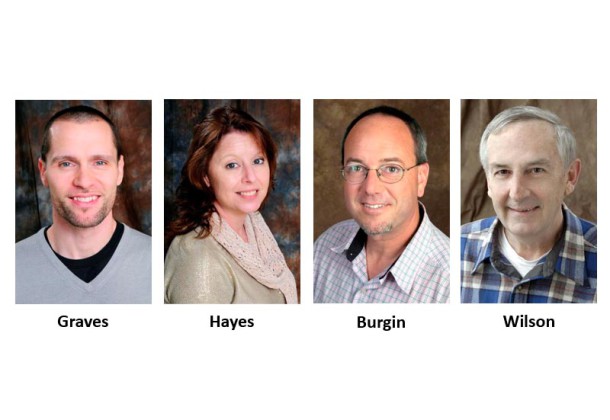 Professors Guide Students Through NSA Event
The National Security Agency's Day of Cyber continued through the entire month of March. College of Southern Maryland technical studies professors Joe Burgin, James Graves, Wendy Hume Hayes, and John Wilson spent the month guiding their students' participation in the program.
Students who participated in the Day of Cyber learned about seven career fields, from cyber threat center director to network operator to vulnerability analyst.
Hackers have become increasingly sophisticated, so the need for cybersecurity professionals with excellent training has become dire. Better training and excellent skills have become critical to reduce the country's vulnerability in commerce, communication, and security, according to the National CyberWatch Center, a consortium of businesses, higher education institutions, and government agencies.
To learn about CSM's cybersecurity, computer science, and information services technology programs, visit them online.
Mr. Burgin has been teaching computer science at CSM since 1999. Cybersecurity is one of his areas of expertise for classes, which include Information Age: Emerging Technologies; Program Design and Development; Introduction to Linux; Windows Programming; Windows Programming for the Web; Web Programming; Algorithms and Data Structures; and Capstone Experience.
Mr. Burgin has been encouraging his students to participate in the NSA Day of Cyber. "[Through this experience] they have been exposed to cutting edge ideas and issues at the heart of our digital economy and culture," he said.
Mr. Graves was first an adjunct professor and has been teaching full time since 2013. He teaches courses in Ethical Hacking, Digital Forensics and Networking I and II.
"Cyber threats continuously evolve and shape the direction we must embark upon to ensure the three pillars of Information Security, confidentiality, integrity and availability (C.I.A.), remain intact within our networks of tomorrow," said Mr. Graves. "The NSA Day of Cyber provides great insight into our society and how technology is intertwined in our everyday lives. The individual activities allow students to see the ways cybersecurity plays a primary role in protecting technology infrastructure."
Ms. Hayes is the college's cybersecurity program coordinator. She began working at CSM in 2002 and has taught Computer Security, which ensures students are ready for the CompTIA Security+ exam, Ethical Hacking and Penetration Testing, Network and Infrastructure Defense, and Information Systems Security Capstone.
"I made the NSA Day of Cyber activities available to my students because there is a big misconception about what a cybersecurity professional does," said Ms. Hayes.
Mr. Wilson began working at CSM in 2000 and teaches Cyber Ethics.
"NSA is part of the national intelligence community and I wanted to expose students to the varied work they do," said Mr. Wilson. "Some students might not think of working in the intelligence field but there are many jobs in this area. The work is challenging and those who work in this field can see the results of their work, so there is great job satisfaction."
For more about the College of Southern Maryland, visit their Leader member page.